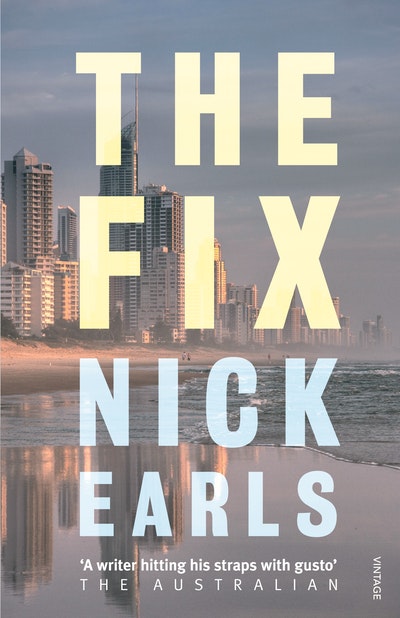 Published:

2 July 2012

ISBN:

9781864711516

Imprint:

Vintage Australia

Format:

Paperback

Pages:

304

RRP:

$22.99
The Fix
---
---
---
Josh whores himself to his brother's PR firm and inadvertently becomes part of 'the fix'. Shortlisted for The Courier Mail Queensland Book of the Year
Josh whores himself to his brother's PR firm and inadvertently becomes part of 'the fix'. Shortlisted for The Courier Mail Queensland Book of the Year
In need of some quick cash when he returns to Brisbane after years in London, Josh whores himself to his brother's PR firm and inadvertently becomes part of 'the fix'.
Josh went to London with investigative journalism on his mind, but he carved out a reputation as a fixer instead and mastered the art of spinning any client out of a crisis. Now he's home in Brisbane, and this time the job is supposed to be good news. The client is a law firm, the talent is Ben Harkin, and the story is the Star of Courage Ben is about to be awarded for his bravery in a siege.
But it was Josh's messy past with Ben that was a big part of his move to London in the first place, and the closer he gets to Ben's story the more the cracks start to show. Throw in a law student who's an exotic dancer by night, and a mini-golf tour of the Gold Coast, and Josh's pursuit of the truth becomes way more complicated than he'd ever expected.
Written with warmth, humour and a touch of the detective, The Fix will leave you guessing until the very last page.
Published:

2 July 2012

ISBN:

9781864711516

Imprint:

Vintage Australia

Format:

Paperback

Pages:

304

RRP:

$22.99
Nick Earls is always an easy read. That is not to say his writing is unintelligent; on the contrary The Fix is consistently smart and funny. It's easy because Earls has a natural style which invites you into a story. The Fix is not concerned with confusing you. Instead it's concerned with the slippery notion of the truth. To what length can it be manipulated into a more desirable shape before it just becomes a lie? And when is the lie better than the difficulties truth often brings? Along the way Earls captures many of the absurdities of modern life, particularly that of being a man as Josh tries to scrape together an acceptable 'adult life'.

Lisa, The Nile
Earls has absorbed tropes from contemporaries Garry Disher and Christos Tsiolkas and added rich humour to create a novel that threatens to defy genre classification. It is in the awkward family scenes, however, where his narrative truly excels. Josh's visit to his brother's house for a barbecue is the most genuine portrayal of an Australian family tradition since Tsiolkas rebooted the notion in The Slap. The toneof The Fix is one of quiet confidence, of a writer who is enjoying his work: contemporary, cliche-free Australian fiction that is sure to have a very wide appeal. An important work, then, for Earls, a writer hitting his straps with gusto.

Chris Flynn, The Australian
Queensland Literary Awards
Shortlisted • 2012 • Queensland Literary Awards