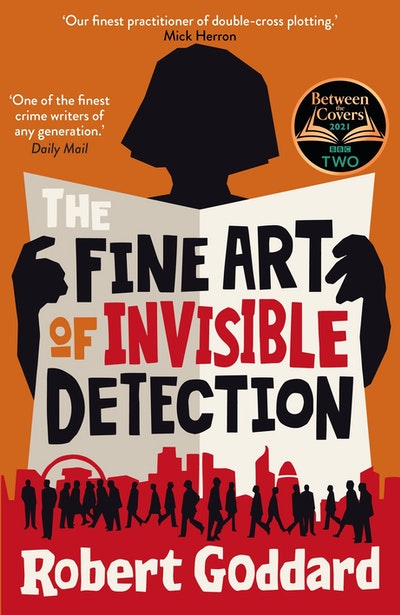 Published:

30 November 2021

ISBN:

9780552172622

Imprint:

Corgi

Format:

Paperback

Pages:

384

RRP:

$22.99
The Fine Art of Invisible Detection
The thrilling BBC Between the Covers Book Club pick
---
---
---
A BBC 2 Between the Covers Book Club pick: An unlikely heroine. An even more unlikely detective. And a cold case that's resurfacing with deadly consequences. The new book from 'the world's greatest storyteller' (Guardian).
The no. 1 ebook from the Sunday Times bestseller
'He's the high priest of plot ... deftly woven, but also beautifully written ... I loved it.' Mel Giedroyc
'One of the finest crime writers of any generation' Daily Mail
Umiko Wada has recently had quite enough excitement in her life. With her husband recently murdered and a mother who seems to want her married again before his body is cold, she just wants to keep her head down.
As a secretary to a private detective, her life is pleasingly uncomplicated, filled with coffee runs, diary management and paperwork.
That is, until her boss takes on a new case. A case which turns out to be dangerous enough to get him killed. A case which means Wada will have to leave Japan for the first time and travel to London.
Following the only lead she has, Wada quickly realises that being a detective isn't as easy as the television makes out. And that there's a reason why secrets stay buried for a long time. Because people want them to stay secret. And they're prepared to do very bad things to keep them that way...
What readers are saying:
***** 'Guaranteed and satisfying escapism'
***** 'Edge-of-the-seat stuff'
***** 'The master of twists and suspense ... sublime'
Published:

30 November 2021

ISBN:

9780552172622

Imprint:

Corgi

Format:

Paperback

Pages:

384

RRP:

$22.99
Praise for The Fine Art of Invisible Detection
...the plot unwinds with a deceptively light touch that does not falter ... genuinely entertaining [with an] explosive finale

Evening Standard
One of the finest crime writers of any generation, Goddard here exercises all of his elegant, understated style and meticulous eye for detail...Goddard at his impeccable best: do not miss it.

Daily Mail
A fascinating and satisfyingly complex mystery with dark tones..Wada is a superb character... very enjoyable.

New Books
Top-class action packed storytelling

Choice Magazine
A deftly plotted page turner from this much loved author'

Saga Magazine
Mixes gentle character comedy with an alarming body count and pounding suspense... Goddard manages to pull it off perfectly.

Daily Express
'In the smartest of prose and with a stunningly fast-moving plot, Goddard brings us the heroine we've been waiting for. Umiko Wada is an unexpected joy: unassuming and tenacious, inventive and brave. If The Fine Art of Invisible Detection isn't the first in a series, then it jolly well should be!'

Lesley Kara, bestselling author of The Rumour
'If it wasn't written by Robert Goddard, you'd say 'Alexander McCall Smith meets Robert Goddard' because few people are as brilliant at plots as he is - or the broad, sweeping, twists and turns that we never see coming - that final epilogue-ultra-twist was really clever...It's an incredibly courageous move on Robert's part and it's worked in spades. . Wada's a perfect new character: intelligent, wryly funny, unhampered by domestic concerns and completely unswerving once she's set her mind on something. I sincerely hope she turns up again - often.'

Manda Scott, author of A Treachery of Spies, Sunday Times Thriller of the Month and McIlvanney Prize winner