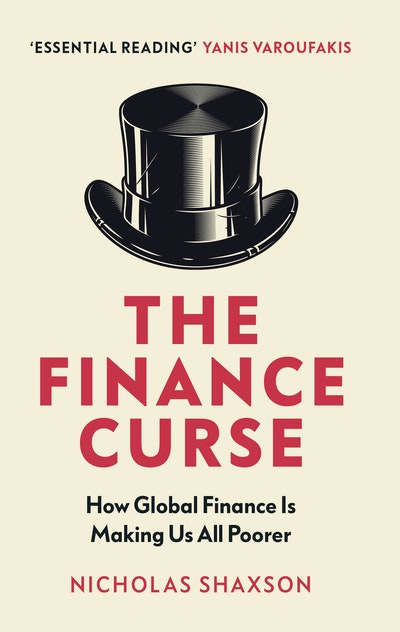 Published:

4 October 2018

ISBN:

9781473546936

Imprint:

Vintage Digital

Format:

EBook

Pages:

384
The Finance Curse
How global finance is making us all poorer
---
---
---
An agenda-setting, campaigning book that shows how global finance is a system that works for the few and not the many.
This is a book that none of us can afford to ignore – an agenda-setting, campaigning investigation that shows how global finance works for the few and not the many.
** A Financial Times Book of the Year **
'Essential reading' YANIS VAROUFAKIS
We need finance – but when finance grows too big it becomes a curse.
The City of London is the single biggest drain on our resources, sucking talent out of every sphere, siphoning wealth and hoovering up government time. Yet to be 'competitive', we're told we must turn a blind eye to money laundering and appease big business with tax cuts.
Tracing the curse back through economic history, Nicholas Shaxson uncovers how we got to this point. Moving from offshore tax havens to the bizarre industry of wealth management, he tells the explosive story of how finance established a stranglehold on society – and reveals how we can begin to break free.
'A radical, urgent and important manifesto for improving our country'
Oliver Bullough, Observer

'Superbly written… A must-read'
Misha Glenny, author of McMafia
'Hard-hitting, well written and informative'
Financial Times
Published:

4 October 2018

ISBN:

9781473546936

Imprint:

Vintage Digital

Format:

EBook

Pages:

384
Praise for The Finance Curse
If you want to understand why walls of money can be bad for an economy like Britain's, and what we should do about it, The Finance Curse is essential reading.

YANIS VAROUFAKIS
If you want to understand why walls of money can be bad for an economy like Britain's, and what we should do about it, The Finance Curse is essential reading.

YANIS VAROUFAKIS
If you want to understand why walls of money can be bad for an economy like Britain's, and what we should do about it, The Finance Curse is essential reading.

YANIS VAROUFAKIS
If you want to understand why walls of money can be bad for an economy like Britain's, and what we should do about it, The Finance Curse is essential reading.

YANIS VAROUFAKIS
A powerful call to arms against a self-serving, over-bearing and growth-sapping global finance system.

Stewart Lansley, author of A Sharing Economy and The Cost of Inequality
A powerful call to arms against a self-serving, over-bearing and growth-sapping global finance system.

Stewart Lansley, author of A Sharing Economy and The Cost of Inequality
A powerful call to arms against a self-serving, over-bearing and growth-sapping global finance system.

Stewart Lansley, author of A Sharing Economy and The Cost of Inequality
A powerful call to arms against a self-serving, over-bearing and growth-sapping global finance system.

Stewart Lansley, author of A Sharing Economy and The Cost of Inequality
This superbly written book shows definitively how global finance has been grossly mis-sold to us all. It's a must-read for anyone who lives, works and spends in this country

MISHA GLENNY, author of McMafia
This superbly written book shows definitively how global finance has been grossly mis-sold to us all. It's a must-read for anyone who lives, works and spends in this country

MISHA GLENNY, author of McMafia
This superbly written book shows definitively how global finance has been grossly mis-sold to us all. It's a must-read for anyone who lives, works and spends in this country

MISHA GLENNY, author of McMafia
This superbly written book shows definitively how global finance has been grossly mis-sold to us all. It's a must-read for anyone who lives, works and spends in this country

MISHA GLENNY, author of McMafia
The book's principle virtue springs from Shaxson's skill in unpicking the complexity of the system and explaining it in layman's terms… enlightening

Emma Duncan, The Times
The book's principle virtue springs from Shaxson's skill in unpicking the complexity of the system and explaining it in layman's terms… enlightening

Emma Duncan, The Times
The book's principle virtue springs from Shaxson's skill in unpicking the complexity of the system and explaining it in layman's terms… enlightening

Emma Duncan, The Times
The book's principle virtue springs from Shaxson's skill in unpicking the complexity of the system and explaining it in layman's terms… enlightening

Emma Duncan, The Times
A vital contribution to the debate on the future of capitalism and a riveting account of how we got where we are

Richard Brooks, author of Bean Counters
A vital contribution to the debate on the future of capitalism and a riveting account of how we got where we are

Richard Brooks, author of Bean Counters
A vital contribution to the debate on the future of capitalism and a riveting account of how we got where we are

Richard Brooks, author of Bean Counters
A vital contribution to the debate on the future of capitalism and a riveting account of how we got where we are

Richard Brooks, author of Bean Counters
Eight years ago Nick Shaxson wrote one of the best books about modern finance… Now Shaxson is back, with something bigger to say… forensic accounting analysis, sharp reporting and interviews

John Arlidge, Sunday Times
Eight years ago Nick Shaxson wrote one of the best books about modern finance… Now Shaxson is back, with something bigger to say… forensic accounting analysis, sharp reporting and interviews

John Arlidge, Sunday Times
Eight years ago Nick Shaxson wrote one of the best books about modern finance… Now Shaxson is back, with something bigger to say… forensic accounting analysis, sharp reporting and interviews

John Arlidge, Sunday Times
Eight years ago Nick Shaxson wrote one of the best books about modern finance… Now Shaxson is back, with something bigger to say… forensic accounting analysis, sharp reporting and interviews

John Arlidge, Sunday Times
Utterly convincing… The Finance Curse is a radical and important manifesto for improving Britain

Oliver Bullough, author of MONEYLAND
Utterly convincing… The Finance Curse is a radical and important manifesto for improving Britain

Oliver Bullough, author of MONEYLAND
Utterly convincing… The Finance Curse is a radical and important manifesto for improving Britain

Oliver Bullough, author of MONEYLAND
Utterly convincing… The Finance Curse is a radical and important manifesto for improving Britain

Oliver Bullough, author of MONEYLAND
Searing… Shaxson has form on being prescient ... his ideas should not be dismissed lightly

Caroline Binham, Financial Times
Searing… Shaxson has form on being prescient ... his ideas should not be dismissed lightly

Caroline Binham, Financial Times
Searing… Shaxson has form on being prescient ... his ideas should not be dismissed lightly

Caroline Binham, Financial Times
Searing… Shaxson has form on being prescient ... his ideas should not be dismissed lightly

Caroline Binham, Financial Times
Gripping . . . a superbly written overview

Times Literary Supplement
Gripping . . . a superbly written overview

Times Literary Supplement
Gripping . . . a superbly written overview

Times Literary Supplement
Gripping . . . a superbly written overview

Times Literary Supplement
Compelling

Prospect
Compelling

Prospect
Compelling

Prospect
Compelling

Prospect
Nicholas Shaxson's previous compelling work on tax havens makes him a brand you can trust if you like to purple with indignation at financial impropriety on the largest scale

Strong Words
Nicholas Shaxson's previous compelling work on tax havens makes him a brand you can trust if you like to purple with indignation at financial impropriety on the largest scale

Strong Words
Nicholas Shaxson's previous compelling work on tax havens makes him a brand you can trust if you like to purple with indignation at financial impropriety on the largest scale

Strong Words
Nicholas Shaxson's previous compelling work on tax havens makes him a brand you can trust if you like to purple with indignation at financial impropriety on the largest scale

Strong Words
This is a splendid polemic against modern finance, in general, and the City of London, in particular. It is hard-hitting, well written and informative. Instead of enabling productive investment, the predominant activity of contemporary finance is rent extraction. This comes in many different guises: modern finance does not only promote tax avoidance and evasion, but, argues Shaxson, enables gangsterism and corruption on an enormous scale. I fear he is right.

Martin Wolf, Financial Times
This is a splendid polemic against modern finance, in general, and the City of London, in particular. It is hard-hitting, well written and informative. Instead of enabling productive investment, the predominant activity of contemporary finance is rent extraction. This comes in many different guises: modern finance does not only promote tax avoidance and evasion, but, argues Shaxson, enables gangsterism and corruption on an enormous scale. I fear he is right.

Martin Wolf, Financial Times
This is a splendid polemic against modern finance, in general, and the City of London, in particular. It is hard-hitting, well written and informative. Instead of enabling productive investment, the predominant activity of contemporary finance is rent extraction. This comes in many different guises: modern finance does not only promote tax avoidance and evasion, but, argues Shaxson, enables gangsterism and corruption on an enormous scale. I fear he is right.

Martin Wolf, Financial Times
This is a splendid polemic against modern finance, in general, and the City of London, in particular. It is hard-hitting, well written and informative. Instead of enabling productive investment, the predominant activity of contemporary finance is rent extraction. This comes in many different guises: modern finance does not only promote tax avoidance and evasion, but, argues Shaxson, enables gangsterism and corruption on an enormous scale. I fear he is right.

Martin Wolf, Financial Times
Through Shaxson's journalistic, investigative and analytical mind, he holds a mirror up to us, exposing big data sets, offshore networks and the hidden extraction engines of private equity and hedge funds. He helps us broaden our minds to the subtle webs and cultural and materialistic engines which undermine liberal principles of freedom, democracy, fairness and equality.

Atul K. Shah, London School of Economics
Through Shaxson's journalistic, investigative and analytical mind, he holds a mirror up to us, exposing big data sets, offshore networks and the hidden extraction engines of private equity and hedge funds. He helps us broaden our minds to the subtle webs and cultural and materialistic engines which undermine liberal principles of freedom, democracy, fairness and equality.

Atul K. Shah, London School of Economics
Through Shaxson's journalistic, investigative and analytical mind, he holds a mirror up to us, exposing big data sets, offshore networks and the hidden extraction engines of private equity and hedge funds. He helps us broaden our minds to the subtle webs and cultural and materialistic engines which undermine liberal principles of freedom, democracy, fairness and equality.

Atul K. Shah, London School of Economics
Through Shaxson's journalistic, investigative and analytical mind, he holds a mirror up to us, exposing big data sets, offshore networks and the hidden extraction engines of private equity and hedge funds. He helps us broaden our minds to the subtle webs and cultural and materialistic engines which undermine liberal principles of freedom, democracy, fairness and equality.

Atul K. Shah, London School of Economics
An exceptional book

Communist Party of Britain Marxist-Leninist
An exceptional book

Communist Party of Britain Marxist-Leninist
An exceptional book

Communist Party of Britain Marxist-Leninist
An exceptional book

Communist Party of Britain Marxist-Leninist