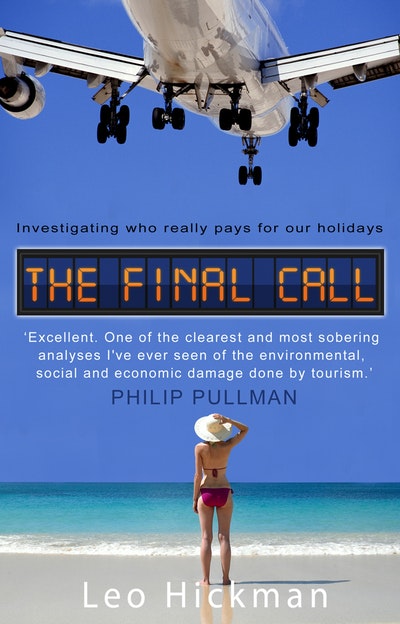 Published:

1 September 2010

ISBN:

9781407036298

Imprint:

Transworld Digital

Format:

EBook

Pages:

416
The Final Call
Investigating Who Really Pays For Our Holidays
---
---
---
A brilliant critique of the travel industry - compelling and essential reading for all holiday-makers at home and abroad.
No industry in the world employs more people or is the world's largest foreign currency earner than tourism. Long billed as the cleanest industry for developing countries to invest in, tourism seems to offer everyone involved a positive experience.
This is the official line, anyway. In truth, the reality is much more complex . For The Final Call Hickman travels the world on a range of holidays and finds that behind the sunny facade of pools, smiling locals, sightseeing trips and exquisite cuisine is an ugly reality and it is spreading unchecked to all corners of the globe. But none of us are going to stop holidaying and at the heart of this is a heartfelt attempt to discover the best way to holiday wherever you are.
Published:

1 September 2010

ISBN:

9781407036298

Imprint:

Transworld Digital

Format:

EBook

Pages:

416
Praise for The Final Call
Well written, entertaining and hugely important.

Zac Goldsmith
Hickman is very persuasive and travels with heart and brain fully engaged to reveal the environmental havoc wreaked by the exponential growth in international travel.

Barbara Gunnell, New Statesman
Persuasive and sobering . . . a page-turner unlikely to be found poolside.

Financial Times
A project [Hickman] pursues intelligently and thoroughly . . . Other writers might have contented themselves with aloof tut-tutting. What makes The Final Call absorbing as well as persuasive is that Hickman illuminatingly talks to people ranging from fishermen and bar girls to developers and activists.

Guardian
Hickman has hit on an important subject and it deserves to be taken seriously.

John Humphrys
We have got to find a way to shift to a slow-travel culture. Our very survival as a species could well hinge on it. I very much hope this important book helps to awaken people, and make them want to join the debate.

Jeremy Leggett
Dazzling. There is nothing else quite like it and yet it addresses such an important aspect of our lives today.

Chris Stewart, author of DRIVING OVER LEMONS
Timely and well-researched . . . this book makes for uncomfortable, yet necessary, reading for anyone who enjoys travel.

Sunday Telegraph
An elegantly written, well-researched, investigative travelogue that provides a valuable eye-witness account of the way holidays can impact - positively and negatively - on their destinations: environmentally, socially and economically . . . it arms the reader with a greater understanding of how to make more informed choices about where and how to holiday.

Richard Hammond, Resurgence
Despite the polemic, there is plenty of interest here, not least in [the book's] accessible description of how the travel industry works and the structures in place around the globe . . . Hickman acknowledges the increasing acceptance of environmental standards . . . But the argument he presents is a stark one - travel is damaging the world, and if we don't act soon, it may be too late. Sobering stuff.

Travel Weekly
A major new exposé . . . This is not yet another doomsday read about the perils of flying, or debating the pros and cons of carbon off-setting, it's an honest account of the huge impact we have on the destinations we frequent . . . Rather than throwing reams of statistics at us, Hickman paints a more graphic picture of the impact our travelling makes by telling the story through the eyes of locals he meets on his way round the globe. His discoveries of what lies behind the glossy veneer of a resort hotel make for sober reading.

Scotsman
A fascinating and harrowing read. I doubt anyone has spelt out the inherent dangers of tourism so clearly before. The publication of this could well prove to be a 'tipping point'.

Jason Webster, author of GUERRA
Leo Hickman's enthralling book should be read by politicians, students and, most of all, by every would-be tourist.

Tahir Shah, author of THE CALIPH'S HOUSE
This is a really excellent critique of the travel industry . . . If you are interested in the tourist industry this book is highly recommended, being easy to read, while being very thorough and searching in the questions it asks.

Fiona Archer, www.ecozine.co.uk
Excellent and thoroughly compelling . . . The Final Call deserves to be read by those of us lucky enough to be able to fly on a regular basis . . . Hickman's book is a sobering, thoughtful and intelligent reminder that it is a privilege we need to be forcefully reminded not to take for granted.

Irish Times
Thoughtful and thought-provoking.

Mick Herron, GEOGRAPHICAL magazine
Well written and engaging without being too gloomy and prescriptive, this book makes for uncomfortable, yet necessary, reading for anyone who enjoys travel.

Telegraph
This much appreciated book should be a must-read for everyone who likes to travel, and should be translated into the languages of the world's tourism champions. It should also be a must-read for politicians and decision makers in development agencies to finally understand that tourism has lost the 'virginity' of a harmless leisure sector to develop into a dangerous global driving force which needs to be regulated and restricted.

Contours magazine
Excellent. One of the clearest and most sobering analyses I've ever seen of the environmental, social, and economic damage done by tourism...This is a necessary book.

Philip Pullman