Calley Gibson shares some of the highs and lows of dog-fostering.
Fostering companion animals has been one of the greatest things I have ever done.  The feeling of being a proud animal foster parent is a very hard thing to describe in just a few short words. What I love most about the 'job' is the sense of being needed and the sense of accomplishment. These little animals may come to you as brand new puppies or kittens, or maybe they'll come to you as older, pre-loved or not-so-loved; sometimes their hearts might be broken and sometimes they might be really ill or unwell. Whatever their state, when they come to you they need you. They need you to step up and become their parent, teacher and friend. You work really hard to get them as happy, healthy and well-adjusted as possible, so when they leave for their forever home, they are whole again. They go off to their new families with all they learnt and all the love and care you've given them. It is absolutely uplifting and satisfying. For that one little life, you have made a world of difference; and for that forever family, you have gifted them a new family member.
When I started fostering I was working full time but I had the flexibility to come home on my lunch breaks or hire a dog walker to stop in and check on my foster pup/s.  Now I'm pretty much home 24/7 so I foster animals that need the extra care and attention. Finding a foster pet that suits your lifestyle is relatively easy, rescues and shelters will work with their carers to match the right animal to the right environment just like they would should it be a forever home.
The very first thing people often say when I tell them I am now a full-time foster carer is that they could never foster a dog or a cat because they would get too attached and end up keeping them all. They'll then go on to ask, 'How do you do it?' The hardest part of fostering is not saying goodbye or letting them go, truly it's not. For me the hardest parts are all the little things that go on behind the scenes. Taking on mostly young puppies, as we do, means that things like lack of sleep, cleaning up never ending puppy poop, toilet training and managing the destruction of my furniture from puppy teeth add up to being 'my' tough parts. Saying goodbye is always a little bittersweet, and for my very first foster dog I did find it really very hard to say goodbye – I was in a flood of tears, I thought I'd never see him again. I was wrong, he still remains in my life as do all my other fosters. I am a carer that stays in touch and I seek out adopters who are like-minded.
As I became more experienced as a foster carer, I got more actively involved in the adoptions of our fosters, and I soon came to love adoption day. Matching the perfect family to my foster kids is all about process. I interview and home-check suitable candidates myself. The rescues and shelters we have fostered for have mostly all been of the belief that the foster carer knows the pet best and so is going to have the best judgment on what family and home environment is most suited. I couldn't possibly foster for a rescuer who took that away from me, it doesn't make much sense to have a stranger to the animal decide on their future. So I put a lot of effort into each adoption and almost always I am entirely confident that the adoptive family are exactly the right fit.
No matter how prepared we are, there will always be occasions where things don't always work out, but these have been very few and far between. There have been times when we have taken back on old foster, and the search for a forever home has started all over again. It always works out in the end – the right family does eventually find their way to us and it will always have been worth the wait.
Adoption days are only ever filled with happy tears now, I never cry because I'm upset, just tears of joy, if any. Photo and phone call updates are imperative and by the time we start to feel like the house is too quiet or empty, a new foster arrives. There is always a needy puppy or two. Fostering saves lives. It's the bridge from hopelessness to everlasting love. What could be more valuable than that?
---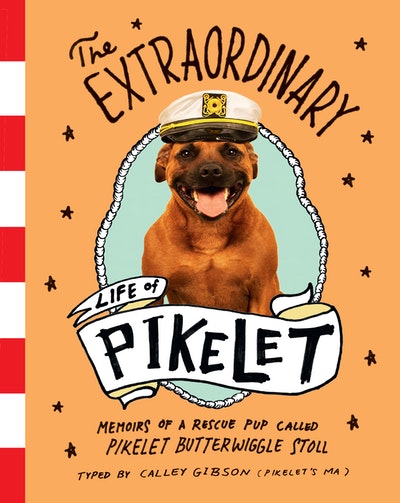 The memoirs of Australia's premiere rescue dog and foster bro extraordinaire, Pikelet Butterwiggle Stoll.
Buy now
Buy now
---