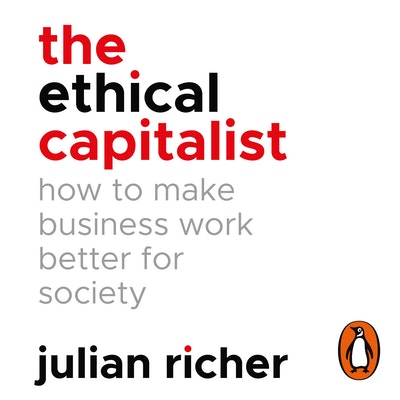 Published:

24 May 2018

ISBN:

9781473563445

Imprint:

Cornerstone Digital

Format:

Audio Download

Length:

3 hr 26 min

Narrator:

Julian Richer

RRP:

$18.99
The Ethical Capitalist: How to Make Business Work Better for Society
---
---
---
The founder of Richer Sounds calls for a kinder capitalism for the 21st century
Random House presents the audiobook edition of The Ethical Capitalist, written and read by Julian Richer.
*A Financial Times Book of the Month*
Capitalism has lost its way. Every week brings fresh news stories about businesses exploiting their staff, avoiding their taxes, and ripping off their customers. Every week, public anger at the system grows. Now, one of Britain's foremost entrepreneurs intervenes to make the case for putting business back firmly in the service of society, and setting out on a new path to a kinder, fairer form of capitalism.
Drawing on four decades of hands-on management experience, the founder of Richer Sounds argues that ethically run businesses are invariably more efficient, more motivated and more innovative than those that care only about the bottom line. He uncovers the simple tools that the best leaders use to make their businesses fair, revealing how others can follow suit. And he also delves into the big questions that modern capitalism has to answer if it is to survive and to thrive. When should – and shouldn't – the state intervene in the workings of commercial enterprises? What does business as a whole owe back to the wider community? Is the relationship between leaders of big corporations and politicians too cosy, and, if so, what is to be done about it?
At heart, The Ethical Capitalist is a plea for a new sense of moral purpose in business. If that takes hold, Julian Richer believes, we might just save capitalism from itself.
'The founder of Richer Sounds is one of the finest entrepreneurs we have.' Archie Norman, chairman of Marks & Spencer
Published:

24 May 2018

ISBN:

9781473563445

Imprint:

Cornerstone Digital

Format:

Audio Download

Length:

3 hr 26 min

Narrator:

Julian Richer

RRP:

$18.99
Praise for The Ethical Capitalist: How to Make Business Work Better for Society
The founder of Richer Sounds is one of the finest entrepreneurs we have.

Archie Norman, chairman of Marks & Spencer
This is a real eye-opener for people on the left and the right of the political spectrum.

John Sentamu, the Archbishop of York
What is the right order to rank the various stakeholders in a business? . . . One philosophy is that staff should come first. This perspective is put forward persuasively in a new book called The Ethical Capitalist, written by entrepreneur Julian Richer. I was briefly in business with Julian and came to admire his talents. He has huge energy, sound instincts, and enormous loyalty to the staff in his retail firm Richer Sounds.

Luke Johnson, Sunday Times
If you are thinking of a great book to read look no further than Julian Richer's The Ethical Capitalist.

James Timpson, Chief Executive, Timpson