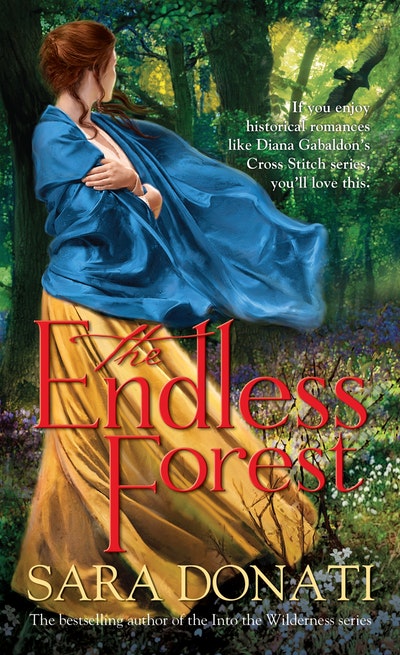 Published:

4 January 2011

ISBN:

9781863255592

Imprint:

Bantam Australia

Format:

Paperback

Pages:

640

RRP:

$19.99
The Endless Forest
#6 in the Wilderness series
---
---
---
With a master storyteller's skill and a devoted historian's precision, Sara Donati brings us the last installment in the Into The Wilderness Series.
With a master storyteller's skill and a historian's precision, Sara Donati has delighted readers and critics alike with her bestselling novels of the nineteenth-century New York frontier. Now she brings us The Endless Forest, set in the remote village of Paradise, where the Bonner family that readers first met in Into the Wilderness make their home.
The spring of 1824 is a challenging one for the inhabitants of Paradise N.Y. when a flood devastates the village. But for Nathaniel and Elizabeth Bonner, it's also a time of reunion as their children return from far-off places: Lily and her husband from Italy, and Martha Kirby, the Bonners' ward, from Manhattan. Although Lily is nursing her own grief, it is Martha, fleeing a crushing humiliation, who brings with her trouble that will reverberate in all their lives. In the sudden peace that follows the storm, as families struggle to rebuild, childhood friends Martha and Daniel, Lily's twin brother, suddenly begin to see each other in a new light. But their growing bond is threatened when Martha's mother arrives back in Paradise a decade after abandoning her daughter. Jemima Southern is a dangerous schemer who has destroyed more than one family, and her anger touches everyone, as do her secrets.
Has Jemima come to claim her daughter-or does she have something else in mind? Whatever happens, Martha and Daniel and all the Bonners must stand united against the threats to both heart and home. Painful secrets and hidden sorrows, joy, heartbreak, and passion follow the Bonners through a season of change and renewal. A rich, passionate, multilayered portrayal of family strength and endurance in a fascinating place and time, The Endless Forest will be remembered long after the last page is turned
Published:

4 January 2011

ISBN:

9781863255592

Imprint:

Bantam Australia

Format:

Paperback

Pages:

640

RRP:

$19.99
Praise for The Endless Forest
A smoothly written, engrossing adventure . . . readers will devour it.

Booklist
Praise for Fire Along The Sky: [An] entertaining novel held together by the kind of family loyalties that defy cruelty, war and even fate itself.

Publishers Weekly
Praise for Into The Wilderness: One of those rare stories that let you breathe the air of another time, and leave your footprints on the snow of a wild, strange place ...

Diana Gabaldon
Praise for Dawn on a Different Shore: 'A story of epic proportions, akin to those wonderful wilderness classics by James Fenimore Cooper, but with the modern twist of a Diana Gabaldon.'

Romantic Times