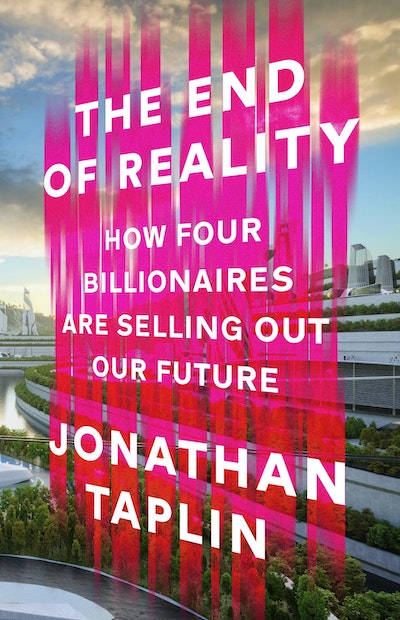 Published:

5 September 2023

ISBN:

9781911709503

Imprint:

Torva

Format:

Trade Paperback

Pages:

336

RRP:

$36.99
The End of Reality
How four billionaires are selling out our future
---
---
---
A withering takedown of four billionaires (from Andreessen to Zuckerberg) who are selling us fantasies while the world burns.
At a time when multiple crises are compounding to create epic inequality, four billionaires are hyping schemes that are designed to divert our attention away from issues that really matter. Each scheme - from the metaverse to cryptocurrency, space travel and transhumanism - is an existential threat in moral, political, and economic terms. In The End of Reality¸ Jonathan Taplin shines a light on the enormous cultural power of Peter Thiel, Elon Musk, Mark Zuckerberg, and Marc Andreessen, questioning whether we want our society to be run by people who receive blood transfusions to stay young. Will we really want our children anywhere near the metaverse? Do we trust Musk to rule over Mars?
Tech monopolies have brought middle-class wage stagnation, the hollowing out of towns where normal people live, a radical increase in income inequality, and unbounded public acrimony. Meanwhile, the enormous amount of taxpayer money to be funnelled into dystopian ventures, the benefits of which will accrue to billionaires. The End of Reality is both a scathing critique of the warped worldview of a tiny minority and a vision of a truly regenerative economics to build a sustainable society with healthy growth and full employment.
Published:

5 September 2023

ISBN:

9781911709503

Imprint:

Torva

Format:

Trade Paperback

Pages:

336

RRP:

$36.99
Praise for The End of Reality
Tech culture has to improve for the sake of humanity, and that's not going to happen without critiques like The End of Reality. Please take the time to read this carefully, especially if you are sure it must be wrong.

Jaron Lanier, author of <i>Ten Arguments For Deleting Your Social Media Accounts Right Now</i>
Tech culture has to improve for the sake of humanity, and that's not going to happen without critiques like The End of Reality. Please take the time to read this carefully, especially if you are sure it must be wrong.

Jaron Lanier, author of <i>Ten Arguments For Deleting Your Social Media Accounts Right Now</i>
Tech culture has to improve for the sake of humanity, and that's not going to happen without critiques like The End of Reality. Please take the time to read this carefully, especially if you are sure it must be wrong.

Jaron Lanier, author of <i>Ten Arguments For Deleting Your Social Media Accounts Right Now</i>
Tech culture has to improve for the sake of humanity, and that's not going to happen without critiques like The End of Reality. Please take the time to read this carefully, especially if you are sure it must be wrong.

Jaron Lanier, author of <i>Ten Arguments For Deleting Your Social Media Accounts Right Now</i>
A wake-up call as to what happens when a society elevates people who don't have the public's best interests in mind. Taplin has a gift for storytelling that turns the bitter pill (reality check) into a fascinating read.

Scott Galloway, bestselling author of <i>Adrift</i>
A wake-up call as to what happens when a society elevates people who don't have the public's best interests in mind. Taplin has a gift for storytelling that turns the bitter pill (reality check) into a fascinating read.

Scott Galloway, bestselling author of <i>Adrift</i>
A wake-up call as to what happens when a society elevates people who don't have the public's best interests in mind. Taplin has a gift for storytelling that turns the bitter pill (reality check) into a fascinating read.

Scott Galloway, bestselling author of <i>Adrift</i>
A wake-up call as to what happens when a society elevates people who don't have the public's best interests in mind. Taplin has a gift for storytelling that turns the bitter pill (reality check) into a fascinating read.

Scott Galloway, bestselling author of <i>Adrift</i>
Persuasive and insightful, this cutting portrait of America's slide toward oligarchy hits home.

starred review, Publisher's Weekly
Persuasive and insightful, this cutting portrait of America's slide toward oligarchy hits home.

starred review, Publisher's Weekly
Persuasive and insightful, this cutting portrait of America's slide toward oligarchy hits home.

starred review, Publisher's Weekly
Persuasive and insightful, this cutting portrait of America's slide toward oligarchy hits home.

starred review, Publisher's Weekly
For those who profit from our polarization, isolation, and extremism, a failed democracy is not a bug but a feature. The End of Reality is an urgent warning about the concentration of power and privilege, an alarm that seeks to break through the captivating distractions of our age.

Beto O'Rourke
For those who profit from our polarization, isolation, and extremism, a failed democracy is not a bug but a feature. The End of Reality is an urgent warning about the concentration of power and privilege, an alarm that seeks to break through the captivating distractions of our age.

Beto O'Rourke
For those who profit from our polarization, isolation, and extremism, a failed democracy is not a bug but a feature. The End of Reality is an urgent warning about the concentration of power and privilege, an alarm that seeks to break through the captivating distractions of our age.

Beto O'Rourke
For those who profit from our polarization, isolation, and extremism, a failed democracy is not a bug but a feature. The End of Reality is an urgent warning about the concentration of power and privilege, an alarm that seeks to break through the captivating distractions of our age.

Beto O'Rourke
[Written] with eloquence and conviction... His great virtue as a writer is his humanity, an ability to clearly and elegantly state the case. The persuasive way Taplin builds his arguments, and the direct, uncompromising conclusions he draws, are what make this book so valuable. The End of Reality weaves together an ambitious and far-reaching critique of "our culture of escape from reality".'

Irish Independent
[Written] with eloquence and conviction... His great virtue as a writer is his humanity, an ability to clearly and elegantly state the case. The persuasive way Taplin builds his arguments, and the direct, uncompromising conclusions he draws, are what make this book so valuable. The End of Reality weaves together an ambitious and far-reaching critique of "our culture of escape from reality".'

Irish Independent
[Written] with eloquence and conviction... His great virtue as a writer is his humanity, an ability to clearly and elegantly state the case. The persuasive way Taplin builds his arguments, and the direct, uncompromising conclusions he draws, are what make this book so valuable. The End of Reality weaves together an ambitious and far-reaching critique of "our culture of escape from reality".'

Irish Independent
[Written] with eloquence and conviction... His great virtue as a writer is his humanity, an ability to clearly and elegantly state the case. The persuasive way Taplin builds his arguments, and the direct, uncompromising conclusions he draws, are what make this book so valuable. The End of Reality weaves together an ambitious and far-reaching critique of "our culture of escape from reality".'

Irish Independent
Scathing but humane... It's Taplin's contention that through their brain-dead ventures, they are avoiding reality - and would have us follow them... I found his pessimism strangely invigorating... A rousing rallying cry to resist the technocrats.

Business Post
Scathing but humane... It's Taplin's contention that through their brain-dead ventures, they are avoiding reality - and would have us follow them... I found his pessimism strangely invigorating... A rousing rallying cry to resist the technocrats.

Business Post
Scathing but humane... It's Taplin's contention that through their brain-dead ventures, they are avoiding reality - and would have us follow them... I found his pessimism strangely invigorating... A rousing rallying cry to resist the technocrats.

Business Post
Scathing but humane... It's Taplin's contention that through their brain-dead ventures, they are avoiding reality - and would have us follow them... I found his pessimism strangely invigorating... A rousing rallying cry to resist the technocrats.

Business Post