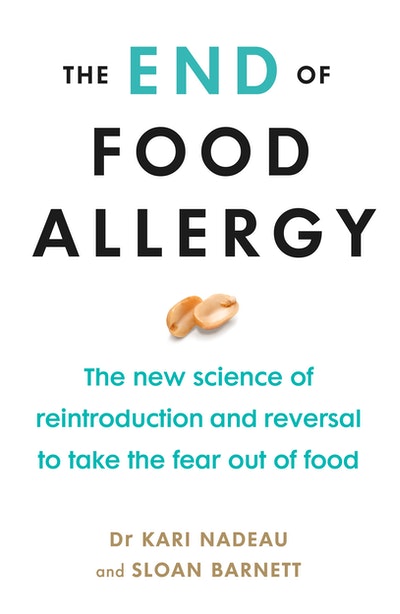 Published:

17 November 2020

ISBN:

9781785043215

Imprint:

Vermilion

Format:

Trade Paperback

Pages:

352

RRP:

$35.00
The End of Food Allergy
The New Science of Reintroduction and Reversal to Take the Fear Out of Food
---
---
---
The first revolutionary, research-based programme for preventing, diagnosing and reversing food allergies.
The revolutionary, research-based programme for preventing, diagnosing and reversing food allergies
The problem of food allergy is exploding around us: an estimated 2 million people are living with a diagnosed food allergy in the UK alone. This book offers the first glimpse of hope with a powerful message: you can work with your family and your doctor to eliminate your food allergy forever.
Drawing on her trailblazing research at Stanford University and work with thousands of children with allergies, Dr Kari Nadeau reveals that food allergy is not a life sentence because the immune system can be retrained. Food allergies - from mild hives to life-threatening airway constriction - can be disrupted, slowed and stopped. The key is a strategy called immunotherapy (IT), the controlled, gradual reintroduction of an allergen into the body.
Fully anglicised for UK readers, The End of Food Allergy makes Dr Nadeau's life-changing research accessible for parents, carers and professionals alike. Together with co-author New York Times bestselling author Sloan Barnett - herself a mother of two children with food allergies - she walks readers through every aspect of food allergy, offering a clear, supportive plan that readers can work with alongside a health care professional to break free from any kind of food allergy. Includes:
· What to do, learn and ask following a food allergy diagnosis - and how to find the right treatment
· The science behind immunotherapy and early introduction
· How to gradually reintroduce foods not working for you and your family
· Advice on what to eat during pregnancy to help your baby avoid developing food allergies
· How to cope with the emotional toll of living with food allergy and eliminate all fears
Clear, comprehensive and reassuring, The End of Food Allergy offers a life-changing, research-based programme to take the fear out of food and end food allergies in children and adults alike.
Published:

17 November 2020

ISBN:

9781785043215

Imprint:

Vermilion

Format:

Trade Paperback

Pages:

352

RRP:

$35.00
Praise for The End of Food Allergy
Our daughter's world changed dramatically after Dr. Nadeau successfully treated her life-threatening food allergy. If you suffer from food allergy, or have a loved one who does, this book is a must-read!

Nancy and Steve Carell
Kari Nadeau is a true pioneer: she has steered the allergy world out of the dark ages and into the light of scientific cures. For anyone who has suffered from food allergies or lived in fear of them, this book is a ray of hope.

Adam Grant, New York Times bestselling author of Originals and Give and Take
As a physician, I'm excited for the impact of Kari's work to unlock new treatments for deadly food allergies. As a mother of children with a history of food allergy, I am grateful for the hope that this book gives families - the hope that we no longer have to live their lives in fear of accidental exposure. Thank you Kari Nadeau for changing our world.

Priscilla Chan, MD; CEO, Chan Zuckerberg Initiative