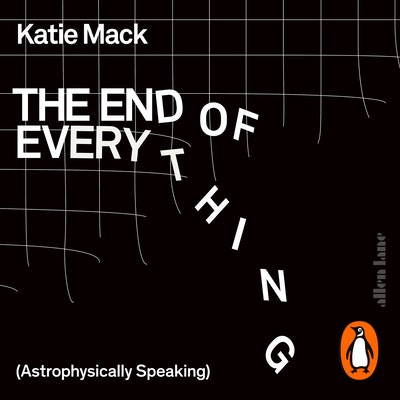 Published:

4 August 2020

ISBN:

9780241441466

Imprint:

Penguin Audio

Format:

Audio Download

RRP:

$27.99
The End of Everything
(Astrophysically Speaking)
---
---
---
From one of the most dyamic rising stars in astrophysics, a mind-blowing look at how the universe could end - and what it reveals about the most important ideas in physics
Brought to you by Penguin.
We know the universe had a beginning. But what happens at the end of the story?
With lively wit and wry humour, astrophysicist Katie Mack takes us on a mind-bending tour through each of the cosmos' possible finales: the Big Crunch, Heat Death, Vacuum Decay, the Big Rip and the Bounce. Guiding us through major concepts in quantum mechanics, cosmology, string theory and much more, she describes how small tweaks to our incomplete understanding of reality can result in starkly different futures. Our universe could collapse in upon itself, or rip itself apart, or even - in the next five minutes - succumb to an inescapable expanding bubble of doom.
This captivating story of cosmic escapism examines a mesmerizing yet unfamiliar physics landscape while sharing the excitement a leading astrophysicist feels when thinking about the universe and our place in it. Amid stellar explosions and bouncing universes, Mack shows that even though we puny humans have no chance of changing how it all ends, we can at least begin to understand it.
The End of Everything is a wildly fun, surprisingly upbeat ride to the farthest reaches of all that we know.
Published:

4 August 2020

ISBN:

9780241441466

Imprint:

Penguin Audio

Format:

Audio Download

RRP:

$27.99
Praise for The End of Everything
A rollicking tour of the wildest physics. . . Like an animated discussion with your favourite quirky and brilliant professor. What stands out most is Mack's pure enjoyment of physics, and it is contagious. . . If you need a moment to be distracted from everyday life and journey to the deep cosmic future, I highly recommend it

Leah Crane, New Scientist
Mack is brilliant, and my neighbour's six-year-old daughter loves her. I love her. . . The cosiest way to read The End of Everything, her fast-paced book about universal death, is as a murder mystery. In the middle of the carpet is our butchered universe. How did it die? Squashed ('The Big Crunch')? Boiled ('Heat Death')? Eviscerated ('The Big Rip')? Burst apart from every pore ('Vacuum Decay')? To one side, almost dancing with excitement, is Inspector Mack. . .

Alexander Masters, The Spectator
One of the most popular voices on science. . . Katie Mack achieves two improbable feats. First, she writes about the end of the universe with a jauntiness that makes it not actually that depressing. And second, she takes concepts in cosmology, string theory and quantum mechanics and makes them accessible

Tim Lewis, Observer
Joyous, beautiful and strange. . . filled with brilliant moments where you just have to stop and stare out of the window for a while

Robin Ince
The End of Everything combines deep thinking about physics and big-picture awe in the style of Carl Sagan

Randall Munroe, author of What If?
Everything dies, even the universe. But will it be a peaceful fading-away, or a dramatic cataclysm? Scientists don't know for sure, but Katie Mack provides an expert and entertaining guide to the possibilities. Who knew a book about the end of the universe could communicate so much passion for science?

Sean Carroll, author of Something Deeply Hidden
This book teaches you that the universe could end at any moment, but is so good that you will be rooting for it not to-at least, not until you finish the book. Katie Mack's witty, lucid prose is endlessly delightful

Alexandra Petri, author of Nothing Is Wrong and Here Is Why
An engrossing, elegant timeline of the cosmos. . . Mack sprinkles in delightful esoterica along the way, while providing a guide to some of the most plausible scenarios about the end of the universe

New York Times
Mack is a great science communicator and I suspected I was going to like this book as soon as I saw her name. I am pleased to say it does not disappoint

BBC Sky at Night
Mack creates an accessible, easy-to-digest guide to how the universe might end, speaking in a casual way that feels like sitting down for coffee with a good friend - one who can break down the physics of destruction into bite-sized delights

Discover
Katie Mack is a great scientist, a passionate inquirer of nature, a great companion in this exploration, full of wit and lightness. I have learned from her plenty of things I did not know. And I have found myself staring out of the window, meditating about the end of it all

Carlo Rovelli, Observer Books of the Year
An engrossing and often funny tour of all the ways our cosmos might come to a close. Mack's enjoyment of physics stands out - and is contagious. She describes primordial black holes as "awfully cute in a terrifying theoretical kind of way", antimatter as "matter's annihilation-happy evil twin" and the universe as "frickin' weird". All true, and Mack's explanations are entertaining and informative

New Scientist Books of the Year
Mack's humour and eclectic references (from Shakespeare to 'Battlestar Galactica') carry the book along. Even through discussions of cutting-edge science, the general reader is never bewildered

The Economist Books of the Year
Irreverent humour helps compensate for the inherent morbidity

The Independent
An enthusiastic celebration of the fact that we exist at all, here, right now, and are able to wonder about such stuff. . . By introducing concepts such as entropy and heat death with metaphors of unscrambling eggs or your coffee going cold, she takes the reader from the cosmos to the kitchen, and Mack's true skill is to do all this without a whiff of condescension or self-importance. . . while dealing with many of the same mind-bending cosmic conundrums, she succeeds brilliantly where Hawking failed

Sydney Morning Herald
Tremendous... makes me laugh the kind of laugh that puts doom in perspective. How useful! I feel weirdly lulled when I read about all the many ravishing ways the universe might, and will, end

Johanna Hedva, White Review
In which everything ends, or doesn't, with bangs and whimpers. Like many good serious books, it's also funny

Sarah Bakewell
A rollicking tour of the wildest physics. . . Like an animated discussion with your favourite quirky and brilliant professor. What stands out most is Mack's pure enjoyment of physics, and it is contagious. . . If you need a moment to be distracted from everyday life and journey to the deep cosmic future, I highly recommend it

Leah Crane, New Scientist
Mack is brilliant, and my neighbour's six-year-old daughter loves her. I love her. . . The cosiest way to read The End of Everything, her fast-paced book about universal death, is as a murder mystery. In the middle of the carpet is our butchered universe. How did it die? Squashed ('The Big Crunch')? Boiled ('Heat Death')? Eviscerated ('The Big Rip')? Burst apart from every pore ('Vacuum Decay')? To one side, almost dancing with excitement, is Inspector Mack. . .

Alexander Masters, The Spectator
One of the most popular voices on science. . . Katie Mack achieves two improbable feats. First, she writes about the end of the universe with a jauntiness that makes it not actually that depressing. And second, she takes concepts in cosmology, string theory and quantum mechanics and makes them accessible

Tim Lewis, Observer
Exactly the sort of book I would have given to myself at 14, 24, 34 and honestly pretty much every age after. Weird science, explained beautifully

John Scalzi
Joyous, beautiful and strange. . . filled with brilliant moments where you just have to stop and stare out of the window for a while

Robin Ince
Everything dies, even the universe. But will it be a peaceful fading-away, or a dramatic cataclysm? Scientists don't know for sure, but Katie Mack provides an expert and entertaining guide to the possibilities. Who knew a book about the end of the universe could communicate so much passion for science?

Sean Carroll, author of Something Deeply Hidden
This book teaches you that the universe could end at any moment, but is so good that you will be rooting for it not to-at least, not until you finish the book. Katie Mack's witty, lucid prose is endlessly delightful

Alexandra Petri, author of Nothing Is Wrong and Here Is Why
An engrossing, elegant timeline of the cosmos. . . Mack sprinkles in delightful esoterica along the way, while providing a guide to some of the most plausible scenarios about the end of the universe

New York Times
Mack is a great science communicator and I suspected I was going to like this book as soon as I saw her name. I am pleased to say it does not disappoint

BBC Sky at Night
Mack creates an accessible, easy-to-digest guide to how the universe might end, speaking in a casual way that feels like sitting down for coffee with a good friend - one who can break down the physics of destruction into bite-sized delights

Discover
Excellent, far-reaching... the perfect antidote to the malaise of mundane worries

Science
In which everything ends, or doesn't, with bangs and whimpers. Like many good serious books, it's also funny.

Sarah Bakewell, author of At the Existentialist Café
I found it helpful -- not reassuring, certainly, but mind-expanding -- to be reminded of our place in a vast cosmos.

James Gleick, The New York Times Book Review
Witty, clear and upbeat

Bill Clinton, Guardian