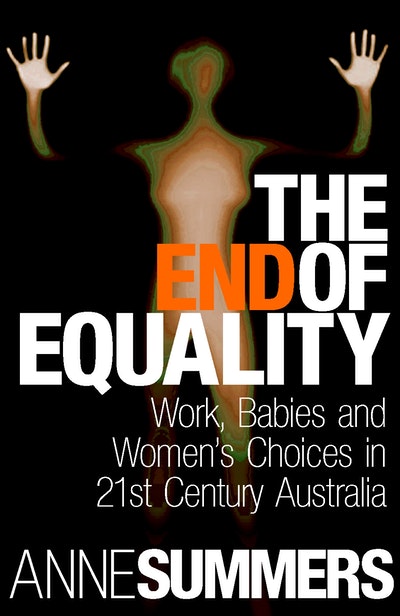 Published:

3 November 2003

ISBN:

9781740512879

Imprint:

Random House Australia

Format:

Trade Paperback

Pages:

272

RRP:

$32.99
The End Of Equality
Work, Babies and Women's Choices in 21st Century Australia
---
---
---
A ground-breaking and explosive new book on how women have been shortchanged by the Howard government - one of the hottest and most contentious issues the nation faces in the first decade of the 21st century.
In 1975, Anne Summers' groundbreaking book DAMNED WHORES AND GOD'S POLICE changed forever the way we thought about women and their place in Australian history and society. In 2003 Summers' new book, THE END OF EQUALITY, promises to do for a new age and a new generation of women what DAMNED WHORES did for women in the 1970s and '80s. Prepare for the revolution!
Among the most contentious issues Australia faces at the beginning of the 21st century is one that many thought had been dealt with in the 70s: the condition of Australian women. Debate still rages over their position in the workplace, their alleged failure to 'breed' sufficiently, their lack of true economic equality, and their inability to penetrate in any real numbers the proverbial glass ceilings in corporate and public life.
What happened to the so-called feminist revolution? Why do most women feel exhausted and trapped? Is there real choice in women's lives today?
Bestselling author of DAMNED WHORES AND GOD'S POLICE, Anne Summers blows this issue wide open in THE END OF EQUALITY, a work of formidable political and economic analysis, as well as a passionate and personal one. Threading through its pages are the voices and experiences of many Australian women of different ages and backgrounds. Their words, and Summer's startling conclusions, will shock, inspire and lead to a new revolution.
Published:

3 November 2003

ISBN:

9781740512879

Imprint:

Random House Australia

Format:

Trade Paperback

Pages:

272

RRP:

$32.99
Praise for The End Of Equality
- 'The End of Equality, withit stirring call for women, in a practical fashion, to "restart the revolution", is a welcome return to reality.' The Weekend Australian