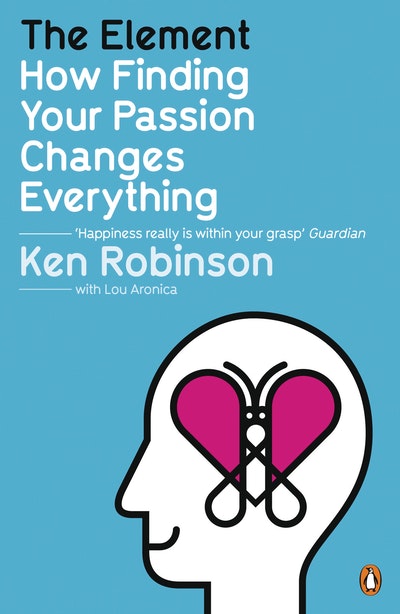 Published:

15 December 2009

ISBN:

9780141045252

Imprint:

Penguin Press

Format:

Paperback

Pages:

288

RRP:

$24.99
The Element
How Finding Your Passion Changes Everything
---
---
---
'The Element offers life-altering insights about the discovery of your true best self' Stephen Covey, author of The 7 Habits of Highly Effective People
The element is the point at which natural talent meets personal passion. It is here that people feel most themselves, inspired and able to achieve at their highest levels.
In this ground-breaking book, world renowned creativity expert Ken Robinson identifies a crisis in education and business: whether it's a child bored in class, a disillusioned or misused employee or someone who feels frustrated but can't quite explain why, too many people don't realize what they are capable of achieving.
Through stories of people - like Vidal Sassoon, Ariana Huffington and Matt Groening - who have recognized their unique talents and been able to make a successful living doing what they love, Robinson argues that age and occupation are no barrier and explains how it is possible for each one of us to reach our element.
With a wry sense of humour, Ken Robinson inspires us, above all, to reconnect with our true self - it could just change everything.
Published:

15 December 2009

ISBN:

9780141045252

Imprint:

Penguin Press

Format:

Paperback

Pages:

288

RRP:

$24.99
With a crackling wit and a deep humanity, (Ken Robinson) urges us to ignore the naysayers, bypass the crowd and find the place where our talents and desires intersect

Daniel Pink, author of A Whole New Mind
A book that lightens and lifts the minds and hearts of all who read it

Susan Jeffers, author of Feel the Fear and Do It Anyway
Happiness really is within your grasp

Guardian
The Element gives you the feeling that all is possible if we dig deeply within ourselves, using our imaginations and curiosity

Vidal Sassoon