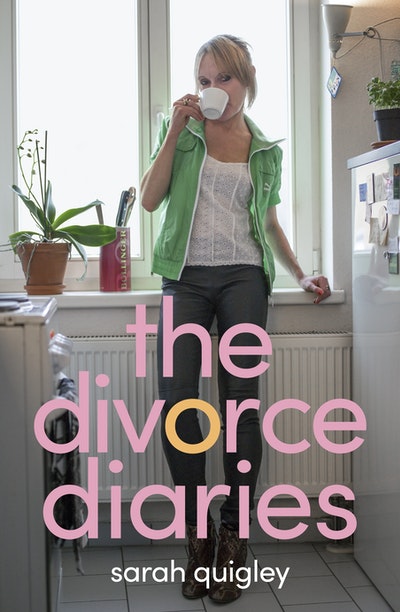 Published:

31 March 2020

ISBN:

9780143772941

Imprint:

Random House NZ

Format:

Trade Paperback

Pages:

272

RRP:

$32.99
The Divorce Diaries
---
---
---
Hard-hitting and frank, this is an entertaining reflection on divorce and starting all over again.
Funny, honest, confronting and wise, this is a bitter-sweet true story of breaking up . . . and breaking through.
'I hear you're divorced?' a friend greets me. 'Congratulations!'
The Divorce Diaries outlines the difficult and often heart-breaking process of leaving a marriage and starting over. Sarah Quigley has garnered numerous accolades for her articles on the subject, including Columnist of the Year in the MPA Awards. Now she revisits and reconsiders the tumultuous months leading up to exiting her marriage and the equally confusing emotions that followed.
Living in a tiny rooftop apartment, surrounded by glossy millionaire neighbours, Quigley begins the process of overcoming grief and loneliness. As she takes the first tentative steps back into the world of dating, she shares both her darkest and most hilarious moments as a divorcee. Against the colourful bohemian backdrop of her adopted city, Berlin, she rediscovers the satisfaction and joys of independence.
'Brave, insightful and utterly compelling' — Judges on The Divorce Diaries column, MPA Awards, Columnist of the Year
Published:

31 March 2020

ISBN:

9780143772941

Imprint:

Random House NZ

Format:

Trade Paperback

Pages:

272

RRP:

$32.99
Praise for The Divorce Diaries
It is beautifully written, full of feeling and emotion and best of all it is a profile of life in one of the great cities of the World, Berlin. Leaving a relationship is a process and this six part book goes through the process from love is blind, marriage and all that it promises, through to separation, learning to live alone, becoming open to other relationships and finally contentment and acceptance. It is compelling reading . . . it is riveting.

Bob Docherty, Bobs book Blog
I always enjoy Sarah Quigley's novels. This, of course, is a memoir of her relationship breakdown. So honest and so incredibly articulate about why people stay with abusive (physical or mentally) partners. Because, in this instance anyway, the majority of the time they had something beautiful and special so it was easy to gloss over the other times. Very enlightening and also very brave. On another note Berlin and particularly East Berlin sounds incredibly fascinating!

Sarah, Goodreads
. . . such a skilled translator, who is not afraid to be brutally honest as she makes a gradual emergence from despair to recovery, but leaves room for plenty of humour. Quigley' s skills as a writer shine through this developing story of divorce and its aftermath and her descriptions of the streets and inhabitants of her part of Berlin are clear enough to make you feel you are there with her. . . . Because she so bravely takes readers into her confidence you become immersed in her story, willing her to succeed. . . . this is thoroughly recommended.

Pat Thwaites, Otago Daily Times