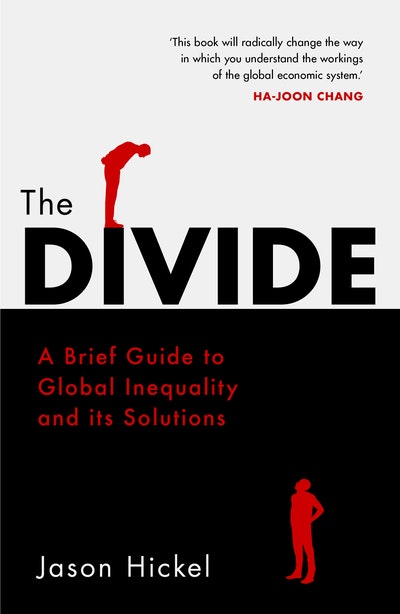 Published:

18 May 2017

ISBN:

9781473539273

Imprint:

Cornerstone Digital

Format:

EBook

Pages:

368
The Divide
A Brief Guide to Global Inequality and its Solutions
---
---
---
A groundbreaking new examination of global inequality, and how to fix it
________________
As seen on Sky News All Out Politics
'There's no understanding global inequality without understanding its history. In The Divide, Jason Hickel brilliantly lays it out, layer upon layer, until you are left reeling with the outrage of it all.' - Kate Raworth, author of Doughnut Economics
· The richest eight people control more wealth than the poorest half of the world combined.
· Today, 60 per cent of the world's population lives on less than $5 a day.
· Though global real GDP has nearly tripled since 1980, 1.1 billion more people are now living in poverty.
For decades we have been told a story: that development is working, that poverty is a natural phenomenon and will be eradicated through aid by 2030. But just because it is a comforting tale doesn't make it true. Poor countries are poor because they are integrated into the global economic system on unequal terms, and aid only helps to hide this.
Drawing on pioneering research and years of first-hand experience, The Divide tracks the evolution of global inequality - from the expeditions of Christopher Columbus to the present day - offering revelatory answers to some of humanity's greatest problems. It is a provocative, urgent and ultimately uplifting account of how the world works, and how it can change for the better.
Published:

18 May 2017

ISBN:

9781473539273

Imprint:

Cornerstone Digital

Format:

EBook

Pages:

368
There's no understanding global inequality without understanding its history. In The Divide, Jason Hickel brilliantly lays it out, layer upon layer, until you are left reeling with the outrage of it all.

Kate Raworth, author of Doughnut Economics
In this iconoclastic book, Jason Hickel shakes up the prevailing paradigm of "development" at its root. He not only exposes the fatal flaws in the standard model of development but also shows how the "development aid" given to the poor countries in order to promote that erroneous model is vastly outweighed by the resource transferred to the rich countries through an unfair global economic system. Many of the proposals that Hickel makes for institutional reform and intellectual re-framing may sound "mad", as he himself acknowledges, but history has taught us that mad ideas have the habit of becoming respectable over time. This book will radically change the way in which you understand the workings of the global economic system and the challenges faced by poor countries trying to advance within it.

Ha-Joon Chang, University of Cambridge, author of 23 Things They Don't Tell You About Capitalism and Economics: The User's Guide
This is a book that if our world is to have any chance of meeting the challenges of the 21st century, people need to read. It challenges so much received wisdom via a well-argued, flowing prose that guides you through economic history, international trade, colonialism, politics and power, and the limits to growth debate. In setting out the reality of global inequality and its tangled roots, Hickel, matador-like, destroys the statistical pivots used by official agencies and unpicks their portrayal of an optimistic account of the state of global poverty and inequality.

Open Democracy
With passion and panache, Jason Hickel tells a very different story of why poverty exists, what progress is, and who we are. The Divide is myth busting at its best. The West has controlled the rest through colonization, coups, trade and debt. Poor countries are made poor by this; but a dramatic change is coming.

Danny Dorling, author of Inequality and the 1%
Hickel masterfully weaves together the most radical currents in political and economic thought to plot the course of global development… I appreciated his ability to translate such a disorienting amount of complex information into a clear, compelling narrative. Hickel is one of the few academics taking responsibilities as a public intellectual seriously, willing to ask difficult questions that challenge and inform our political discourse.

Bright Green
Jason Hickel tears apart the destructive myths surrounding global inequality. He shows that colonialism has not disappeared, only changed form. Full of explosive information and devastating argument, The Divide is essential reading.

Raoul Martinez, author of Creating Freedom
We all like to think of aid and development as benign in a world full of inequality and violence. Jason Hickel rightly challenges this dangerous myth with a book that crackles with facts, indignation and heart. Why hasn't global poverty and hunger really declined in the last decades? A combination of NGO and government obfuscation, denial and wishful thinking is not helping the world's most vulnerable but marking them as numbers. Journalists, aid workers and anybody who has ever given aid (i.e. nearly everybody) should read this book to understand why we all have a responsibility to better serve our fellow human beings. Hickel should be applauded.

Antony Loewenstein, author of Disaster Capitalism
The Divide should be on the curriculum of every undergraduate course in international development and international relations. It explains better than most how poor countries are impoverished by rich country policies.

Ann Pettifor, author of The Production of Money
The Divide is an exceptional, necessary and essential book about the processes that produce and perpetuate impoverishment. Jason Hickel provides here not only a devastating critique of 'development' and the aid industry, but also one of the best explanations of how it all works. Written in a captivating and easy to read style, this book must become the standard text for everyone studying, working or interested in development.

Firoze Manji, author of African Awakening: The Emerging Revolutions
This is a timely book that cuts to the heart of the problem of global inequality. Jason Hickel lays down a challenge to policy makers everywhere which must not be ignored. Poor countries are poor because the system isn't working. It's an issue of power and a political problem requiring political solutions – and these solutions must be bold and radical.

Jonathan Bartley, Co-Leader of the Green Party
The Divide provides an evolutionary leap in our understanding of inequality and poverty. It should be required reading for anyone hoping to realise a better world.

Alnoor Ladha, Greenpeace
For years now, we have all been sold a false story about international development. In this broad, compelling book, Dr Hickel deconstructs every false assumption, misleading statistic and overblown claim to expose a sector in crisis. If international development charities and institutions want to turn the ship around, they need to read this book.

Martin Kirk
Jason Hickel offers a compelling analysis of economic inequality in our world today. He takes apart distorted statistics used by institutions like the UN and mega-philanthropists like Bill Gates, who want to pretend that poverty is being addressed. Hickel explains how current models of Western development and philanthropy have actually made the problem worse, as if they were designed explicitly to support entrenched structures of power and privilege. The book is ultimately an outcry for a new politics based on empathy and shared responsibility.

Daniel Pinchbeck, author of How Soon is Now?
Jason Hickel's bold book is full of stark facts and assumption-busting pronouncements.

Geographical
Well-written, accessible and thoroughly referenced. The Divide is a timely reminder of the pain, misery and suffering forced on so many worldwide in the name of 'development' and of the need to constantly rekindle our anger and passion for what is THE key story in today's world. As an introduction to the debate on international development and inequality, it is hard to better Hickel. Without doubt, a 'must read'.

Colm Regan, Development Education
A radical and original approach… a well-argued and bracing alternative account of world development and sustainability.

Irish Times
The Divide is well researched, very readable and highly recommended, though it should make uncomfortable reading for many of us.

Make Wealth History