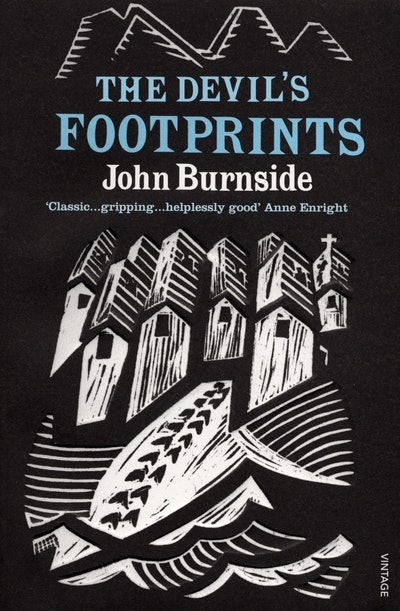 Published:

18 January 2011

ISBN:

9781446444801

Imprint:

Vintage Digital

Format:

EBook

Pages:

224
The Devil's Footprints
---
---
---
A breathtaking novel by the author of A Lie About My Father.
Once, on a winter's night many years ago, after a heavy snow, the devil passed through the Scottish fishing town of Coldhaven, leaving a trail of dark hoofprints across the streets and roofs of the sleeping town.
Michael Gardiner has lived in Coldhaven all his life, but still feels like an outsider, a blow-in. When Moira Birnie decides that her abusive husband is the devil and then kills herself and her two young sons, a terrible chain of events begins. Michael's infatuation with Moira's teenage daughter takes him on a journey towards a defined fate, where he is forced to face his present and then, finally, his past...
Published:

18 January 2011

ISBN:

9781446444801

Imprint:

Vintage Digital

Format:

EBook

Pages:

224
Praise for The Devil's Footprints
Burnside does darkness in prose the way Leonardo did enigmatic smiles.. The Devil's Footsteps is convincing, occasionally disturbing and ultimately comforting

Hugh MacDonald, Herald
A spare, bewitching, beautifully written book... Burnside nimbly delineates the border where the actual and illusory meet: on both sides he finds dark, flinty human truths

Tom Gatti, The Times
The Devil's Footprints is a classic tale with an old-fashioned, gripping plot. But it is also helplessly good at the things that Burnside loves best: geography, the neighbours, the way people's lives go, and the way people's other, secret lives turn out

Anne Enright, Guardian
Both this novel and Gift Songs are superb achievements. To be both a poet and a novelist is highly unusual. To write so outstandingly well in both genres is a rarity indeed

Melissa McClements, Financial Times
His is a devouring eloquence, unfazed by generic difference and widely admired... what happens on almost every page is absorbing... It can be said of John Burnside's novel what was said by this journal at their outset: that they are the work of an "extraordinarily good writer"

Karl Miller, TLS
works in which propitiation, unexpected epiphanies and reconciliation are as thrilling, haunting and provocative as violence and horror

Stuart Kelly, Scotland on Sunday
Burnside's dark lyricism gives the ordinary surfaces of life a sinister geometry and his startling images cling to the imagination

Sunday Times
Part of the charm of [Burnside's] writing comes from its appeal to people's longing, in this atheistical age, for the miraculous, for grace, for forgiveness... Burnside has a new collection of poems, Gift Songs, which echoes St Augustine and T S Eliot. It works well alongside the novel, exploring how a writer puts experience into language, how language paradoxically shapes experience, how a poet must strive to express the seemingly unsayable

Independent
Burnside is a writer of great skill and subtlety... As befits a poet of Burnside's considerable reputation, both the inner and outer landscapes are beautifully realised and the novel has the resonant simplicity of the folklore from which it is drawn

Nicholas Foxton, Time Out
Undeniably entertaining throughout

Matt Thorne, Sunday Telegraph
[An] engaging and well-written novel, which reads almost as a piece of folklore

Big Issue