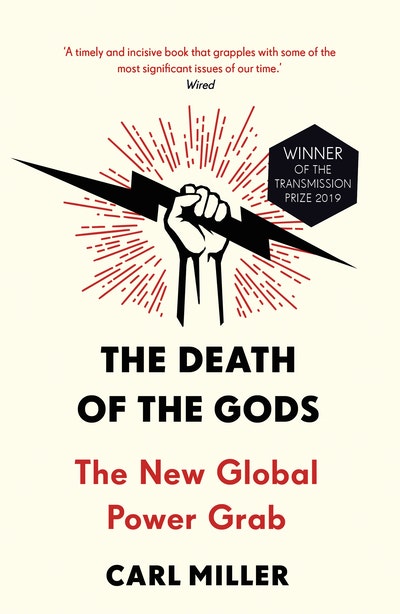 Published:

23 August 2018

ISBN:

9781473539785

Imprint:

Cornerstone Digital

Format:

EBook

Pages:

400
The Death of the Gods
The New Global Power Grab
---
---
---
A groundbreaking examination of the new centres of power and control in the twenty-first century
**Winner of the Transmission Prize 2019**
THE OLD GODS ARE DYING.
Giant corporations collapse overnight. Newspapers are being swallowed. Stock prices plummet with a tweet.
NEW IDOLS ARE RISING IN THEIR PLACE.
More crime now happens online than offline. Facebook has grown bigger than any state, bots battle elections, coders write policy, and algorithms shape our lives in more ways than we can imagine.
The Death of the Gods is an exploration of power in the digital age, and a journey in search of the new centres of control. From a cyber-crime raid in British suburbia to the engine rooms of Silicon Valley, pioneering technology researcher Carl Miller traces how power is being transformed, fought over, lost and won.
'A timely and incisive book that grapples with some of the most significant issues of our time.' Wired
'Uncovers the fascinating and often hidden characters that are changing the world. Essential reading.' Jamie Bartlett, author of The People vs Tech
'A magisterial guide to the impact of the digital revolution on our institutions and our lives.' Anthony Giddens
Published:

23 August 2018

ISBN:

9781473539785

Imprint:

Cornerstone Digital

Format:

EBook

Pages:

400
Praise for The Death of the Gods
A timely and incisive book that grapples with some of the most significant issues of our time. There will be countless volumes on "disruption" and "innovation" published this year, but Miller cuts through the noise and examines how the ascendancy of technology is fundamentally shifting economic models and the effect that this is having on society and individuals.

Greg Williams, Wired
The best sort of tech book: extensive field work, accessible, and ultimately about people rather than computers. The Death of the Gods uncovers the fascinating and often hidden characters that are changing the world. Essential reading if you want to know why the old rules don't apply any more – and what might come next.

Jamie Bartlett, author of The People Versus Tech
There are plenty of books on the market exploring the the insidious impact of technology platforms on democracies, but Carl's is one of the most gripping. He takes you on a journey through Silicon Valley's rise to power, during which you meet hackers, cybercriminals, fake news factory owners, activists and psyops agents. It's thrilling and terrifying in equal measure.

Olivia Solon
A whirlwind ride through huge forces shaping and disrupting the world. Miller encounters new elites and grassroots movements, state actors and companies as big as countries, nerds and visionaries, bad men and some pretty amazing women. Prepare to be terrified, exhilarated and occasionally inspired.

Catherine Mayer, author and co-founder of the Women's Equality Party
A highly readable and at times disturbing account of how in the digital age power over aspects of our everyday lives has shifted from long established to new and untried sources. Carl Miller deftly guides us through the darker recesses of the modern world to meet some of the new global demi-gods that now influence our lives in ways we need urgently to understand.

Professor Sir David Omand, former Director of GCHQ
A magisterial guide to the impact of the digital revolution on our institutions and our lives. Profound, yet packed with intriguing interviews and vignettes, this is a tour de force.

Anthony Giddens, Emeritus Professor at the Department of Sociology, LSE
Digital technologies are uprooting many long-held assumptions about how the world works, from politics and business to media and crime, forcing us to think again about the sources of power and the new ways it is being used. Carl Miller is the ideal guide to this strange new world.

Andrew Gamble, author of Between Europe and America and The Spectre at the Feast
Enthralling. Alarming. And the essential guide to the power map of the twenty-first century.

Liam Byrne MP
A series of horror stories that will pretty much convince you that your worst nightmares about the internet are well-founded. Here Miller's expertise is at its most effective... As Miller points out, the cascades of counter-narratives issued by Putin's cyber-goons are not meant to be believed, they are meant to destroy belief. Of course we are lying, is the real message, but everybody does. This is warfare and we need to recognise that.

Bryan Appleyard, Sunday Times
Highly readable... striking. Miller's aim is not a new theory of power... the value of the book is in how its insights might trouble such theories and extend our understanding of the emerging intricacies. The question this poses is how theories of power might cope with the verve and dynamism of the shifting power base that Miller's book deftly illuminates.

David Beer, Catholic Herald