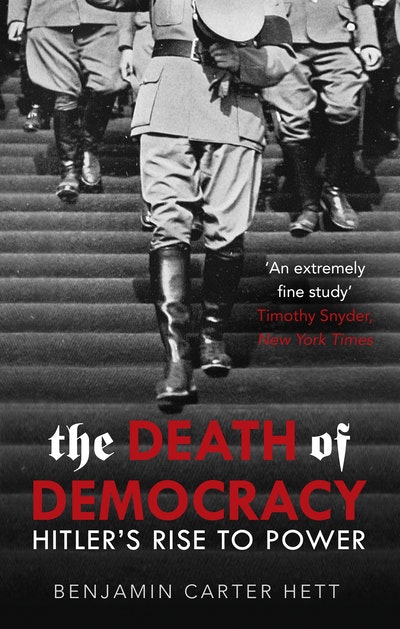 Published:

5 April 2018

ISBN:

9781473544987

Imprint:

Cornerstone Digital

Format:

EBook

Pages:

304
The Death of Democracy
---
---
---
A landmark account of the fall of the Weimar Republic and the rise of Hitler, based on award-winning research, and recently discovered archival material.
*A TIMES AND TELEGRAPH BOOK OF THE YEAR*
WHAT CAUSED THE FALL OF THE MOST PROGRESSIVE GOVERNMENT IN TWENTIETH-CENTURY EUROPE, AND THE RISE OF THE MOST TERRIFYING?
In the 1930s, Germany was at a turning point, with many looking to the Nazi phenomenon as part of widespread resentment towards cosmopolitan liberal democracy and capitalism. This was a global situation that pushed Germany to embrace authoritarianism, nationalism and economic self-sufficiency, kick-starting a revolution founded on new media technologies, and the formidable political and self-promotional skills of its leader.
Based on award-winning research and recently discovered archival material, The Death of Democracy is a panoramic new survey of one of the most important periods in modern history, and a book with a resounding message for the world today.
'Extremely fine... with careful prose and scholarship, he brings these events close to us.' Timothy Snyder, The New York Times

'Intelligent, well-informed... intriguing.' The Times

'With the injection of fresh contemporary voices, The Death of Democracy is also a thoughtful reflection of how our time more resembles the Thirties than the Noughties.' Daily Telegraph
Published:

5 April 2018

ISBN:

9781473544987

Imprint:

Cornerstone Digital

Format:

EBook

Pages:

304
Praise for The Death of Democracy
The Death of Democracy is a thought-provoking new look at the collapse of German democracy in 1930-34 with a clear and careful emphasis on those individuals who operated behind the scenes to bring Hitler to power. Benjamin Carter Hett also offers insight into the steps Hitler took to consolidate his power, including his 1934 thwarting of a real plot against him by members of the vice-chancellor's staff as contrasted with the Nazi fairytales of a plot by the SA.

Gerhard Weinberg
Histories of Nazi Germany can be overwhelming. The Death of Democracy is carefully focused on the conditions and cynical choices that enabled Nazism, in just a few years turning one of the world's most advanced and liberal societies into a monstrosity. Its author is also that rarity, a specialist who writes lucidly and engagingly. In this post-truth, alternative-facts American moment, The Death of Democracy is essential reading.

Kurt Andersen, author of Fantasyland
Benjamin Carter Hett is one of the few historians who is able to think out of the box and knows how to tell a story well - without simplifying it. His new book tackles one of the most interesting questions in German history: How was it possible that an educated and developed country like Germany could fall for Adolf Hitler?

Stefan Aust, author of The Baader-Meinhof Complex
A brilliant account of the twentieth century's great political catastrophe: the Nazi capture of power. Full of arresting images and ideas, this gripping new book charts the rise and fall of the first German republic, and the unlikely victory of Adolf Hitler. A timely reminder of the fragility of democracy and the dangers of extreme nationalism.

Nikolaus Wachsmann, author of KL: A History of the Nazi Concentration Camps
The story of how Germany turned from democracy to dictatorship in the fifteen years following World War I is not a simple one. But the moral lessons are exceptionally clear. Benjamin Carter Hett honours that complexity in this account while never straying from the path of moral clarity. An outstanding accomplishment.

Rick Perlstein, author of Nixonland and The Invisible Bridge
Intelligent, well-informed... intriguing. Hett provides a lesson about the fragility of democracy and the danger of that complacent belief that liberal institutions will always protect us.

Gerard DeGroot, The Times
Readable and well-researched, with the injection of fresh contemporary voices, The Death of Democracy is also a thoughtful reflection of how our time more resembles the Thirties than the Noughties.

Daily Telegraph
A fast-paced narrative enlivened by vignette and character sketches.

Financial Times
Fascinating.

Daily Telegraph, 'Summer Reads'
Extremely fine... with careful prose and scholarship, with fine thumbnail sketches of individuals and concise discussions of institutions and economics, he brings these events close to us. Hett... sensitively describes a moral crisis that preceded a moral catastrophe.

Timothy Snyder, The New York Times
A welcome retelling of the demise of Weimar.Hett writes well, ably sketching the depressing tale.

BBC History Magazine
Benjamin Carter Hett deftly summarises this dismal period... Hett refrains from poking the reader with too many obvious contemporary parallels, but he knew what he was doing when he left "German" out of his title. On the book's final page, he lays his cards on the table... "Suddenly, the whole thing looks close and familiar." Yes, it does.

Alex Ross, New Yorker
Hett's brisk and lucid study offers compelling new perspectives inspired by current threats to free societies around the world . It is both eerie and enlightening how much of Hett's account rings true in our time.

Washington Post
Chilling reading . Serves as a warning to the West's imperilled democracies . Faced with jingoist politicians who resort to poisonous lies, [Hett's] book fairly proclaims, the forces of democracy can prevail only if they muster courage, resolve and cooperative spirit.

Roger Lowenstein, Washington Post
Hett's brisk and lucid study offers compelling new perspectives inspired by current threats to free societies around the world. It is both eerie and enlightening how much of Hett's account rings true in our time. The larger story he tells resonates, too.

E. J. Dionne, Washington Post
A superb explanation of how democracy died in Weimar Germany. Too much of this story seems painfully familiar today.

Gerard DeGroot, The Times, 'Books of the Year'
Weimar Germany. was arty, tolerant, and forward-looking. But other forces lurked. Hett explains these forces, and their devastating effects, superbly well.

William Leith, Evening Standard
A first-rate history lesson with a surprisingly prescient message for the world of today... Hett's sharp prose and careful use of newfound material not only sets the work apart from that of his peers, but also effectively draws significant (and particularly scary) parallels with current socio-political climates.

Essential Journalism