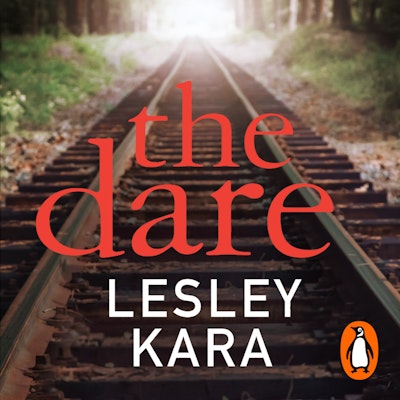 Published:

18 February 2021

ISBN:

9781473587960

Imprint:

Transworld Digital

Format:

Audio Download

RRP:

$29.99
The Dare
From the bestselling author of The Rumour
---
---
---
THE TWISTY NEW THRILLER FROM THE SUNDAY TIMES BESTSELLING AUTHOR OF THE RUMOUR
As a child, it was just a game. As an adult, it was a living nightmare.
Brought to you by Penguin.
THE TWISTY NEW THRILLER FROM THE SUNDAY TIMES BESTSELLING AUTHOR OF THE RUMOUR
As a child, it was just a game. As an adult, it was a living nightmare.
When teenage friends Lizzie and Alice decide to head off for a walk in the countryside, they are blissfully unaware that this will be their final day together - and that only Lizzie will come back alive.
Lizzie has no memory of what happened in the moments before Alice died, she only knows that it must have been a tragic accident. But as she tries to cope with her grief, she is shocked to find herself alienated from Alice's friends and relatives. They are convinced she somehow had a part to play in her friend's death.
Twelve years later, unpacking boxes in the new home she shares with her fiancé, Lizzie is horrified to find traumatic memories and paranoia suddenly surfacing. Is the trauma of the accident finally catching up with her, or could someone be trying to threaten her new-found happiness?
Twelve years is a long time to wait, when you're planning the perfect revenge . . .

PRAISE FOR LESLEY KARA
'Lesley Kara keeps you guessing until the final page.'
Paula Hawkins, No.1 bestselling author of The Girl on the Train
'Lesley Kara does an excellent job of making readers' heads spin as we are forced constantly to change our minds about who is ally and who enemy.'
Sunday Express
'Instantly immersive, then intriguing, then insanely suspenseful, then ... the truth.
Believe me, Lesley Kara knows what she's doing'
Lee Child
© Lesley Kara 2021 (P) Penguin Audio 2021
Published:

18 February 2021

ISBN:

9781473587960

Imprint:

Transworld Digital

Format:

Audio Download

RRP:

$29.99
A real page turner. An engrossing and suspenseful tale with absorbing characters and plenty of shocking twists.

Susan Lewis, Sunday Times bestselling author of My Lies, Your Lies
Lesley Kara has done it again. The Dare is a gripping tale of secrets, betrayal and love's power to corrupt and redeem. Brilliantly plotted, The Dare keeps you guessing to the very end, and like Lizzie, the reader never knows who to trust. Destined for the bestseller charts and deservedly so.

Adam Hamdy, author of Pendulum
I read The Dare in two big gulps - it's pacey, has great characters and there's a flip worthy of Simone Biles.

Fiona Barton, bestselling author of The Widow
Intelligent, packed with intrigue, and charged with an unstoppable tension, The Dare is a gripping tale which shows yet again that Lesley Kara is the queen of psychological thrillers.

Lauren North, author of The Perfect Betrayal
This psychological thriller gets under your skin, meaning some late nights till you finish it.

Heat
You'll race through it.

Best Magazine
The deeply submerged memories of Kara's heroine Lizzie (whose best friend was killed in an accident) resurface to threatening effect. Kara's cogent prose and grasp of mounting tension pay dividends.

Financial Times
This twisty psychological thriller will grip you within minutes

NOW!
A plot packed with surprises, and it has an ending that won't disappoint.

Daily Mail
Kara uses the old box of tricks so effectively, misdirecting your attention with expert cunning and then biffing you on the back of the head with her twists.

Daily Mirror
An easy-to-read thriller about the dark pull of the past.

Real People Magazine
Lesley Kara keeps you guessing until the final page

Paula Hawkins