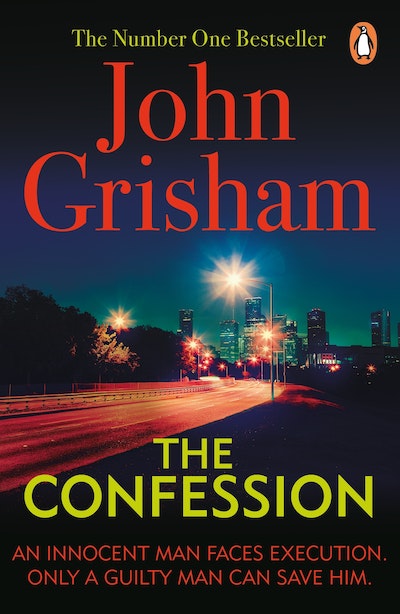 Published:

1 November 2010

ISBN:

9781409021551

Imprint:

Cornerstone Digital

Format:

EBook

Pages:

464
The Confession
---
---
---
AN AMERICAN CLASSIC FROM THE NO.1 BESTSELLING MASTER THRILLER WRITER.
_______________________________________
An innocent man is just days from execution... Only a guilty man can save him.
Travis Boyette is a murderer. In 1998, in the small Texas city of Sloan, he abducted, raped, and strangled a popular high-school cheerleader. He buried her body where it would never be found. Then, he watched and waited as police and prosecutors arrested Donte Drumm, a local black football star with no connection to the crime. Tried, convicted and sentenced, Drumm was sentenced to death row.
Nine years later, Donte Drumm is four days away from execution. Over 400 miles away in Kansas, Travis also faces death, suffering from an inoperable brain tumour. At last, he decides to do what's right. After years of silence, he is ready to confess...
However, the law doesn't want to hear it. As far as they're concerned, they've got their man.
So how can a guilty man convince lawyers, judges and politicians that the man they're about to execute is really innocent?
_______________________________________
'A master at the art of deft characterisation and the skilful delivery of hair-raising crescendos' - Irish Independent.
'John Grisham is the master of legal fiction' - Jodi Picoult.
'The best thriller writer alive' - Ken Follett
'John Grisham has perfected the art of cooking up convincing, fast-paced thrillers' - Telegraph
'Grisham is a superb, instinctive storyteller' - The Times
'Grisham's storytelling genius reminds us that when it comes to legal drama, the master is in a league of his own' - Daily Record
'Masterful - when Grisham gets in the courtroom he lets rip, drawing scenes so real they're not just alive, they're pulsating' - Mirror
'A giant of the thriller genre' - TimeOut

Published:

1 November 2010

ISBN:

9781409021551

Imprint:

Cornerstone Digital

Format:

EBook

Pages:

464
Praise for The Confession
...another great read from Grisham and a welcome return after what seems like a long break.

www.crimesquad.com
...another great read from Grisham and a welcome return after what seems like a long break.

www.crimesquad.com
The Confession is an airing for the beliefs of the author, but it is also a page-turner. Grisham is careful never to preach ... he never forgets his primary purpose which is to entertain ... Grishamites will find all their buttons pressed.

Barry Forshaw, Independent
The Confession is an airing for the beliefs of the author, but it is also a page-turner. Grisham is careful never to preach ... he never forgets his primary purpose which is to entertain ... Grishamites will find all their buttons pressed.

Barry Forshaw, Independent
A masterful storyteller...The Confession stands out as one of the best novels of the year, certainly in this genre, and one of the author's best novels...Brilliant, gripping, superbly written, this is classic Grisham and can stand proudly with the best of his novels.

civilian-reader.blogspot.com
A masterful storyteller...The Confession stands out as one of the best novels of the year, certainly in this genre, and one of the author's best novels...Brilliant, gripping, superbly written, this is classic Grisham and can stand proudly with the best of his novels.

civilian-reader.blogspot.com
Full of suspense, it will have you on tenterhooks reading deep into the night.

Stylist
Full of suspense, it will have you on tenterhooks reading deep into the night.

Stylist
Grisham has come up with yet another near-flawless plot... ****

Mirror
Grisham has come up with yet another near-flawless plot... ****

Mirror
Grisham's The Confession is a masterpiece in suspense. The narrative is taut and has a wonderful flow to it ensuring an enviable pace from beginning to end.

Milorambles.com
Grisham's The Confession is a masterpiece in suspense. The narrative is taut and has a wonderful flow to it ensuring an enviable pace from beginning to end.

Milorambles.com
Grisham's storytelling genius reminds us that when it comes to legal drama, the master is in a league of his own.

Shari Low, Daily Record
Grisham's storytelling genius reminds us that when it comes to legal drama, the master is in a league of his own.

Shari Low, Daily Record
John Grisham is of course celebrated for his brilliant legal thrillers and in that field he has few equals

Barry Forshaw, Daily Express
John Grisham is of course celebrated for his brilliant legal thrillers and in that field he has few equals

Barry Forshaw, Daily Express
Nobody knows the inside of a courtroom and the workings of the legal system like a lawyer. That's what makes John Grisham's legal-based thrillers such gripping reading... A master of his genre, Grisham twists and turns you through the legal minefield of last-minute appeals...

Press Association, Syndicated review
Nobody knows the inside of a courtroom and the workings of the legal system like a lawyer. That's what makes John Grisham's legal-based thrillers such gripping reading... A master of his genre, Grisham twists and turns you through the legal minefield of last-minute appeals...

Press Association, Syndicated review
The Confession is a campaigning novel, attacking the death penalty and a way of doing justice (with a malign nexus of thuggish cops, supine judges and officials elected on promises of being hard on crime) that Texas epitomises ... another engrossing, teeming portrait of the Deep South.

John Dugdale, Sunday Times
The Confession is a campaigning novel, attacking the death penalty and a way of doing justice (with a malign nexus of thuggish cops, supine judges and officials elected on promises of being hard on crime) that Texas epitomises ... another engrossing, teeming portrait of the Deep South.

John Dugdale, Sunday Times
The format of The Confession may be slow-burn thriller but it is in fact a devastating indictment of so-called justice in the Deep South...This is education and entertainment of the highest order.

Evening Standard
The format of The Confession may be slow-burn thriller but it is in fact a devastating indictment of so-called justice in the Deep South...This is education and entertainment of the highest order.

Evening Standard