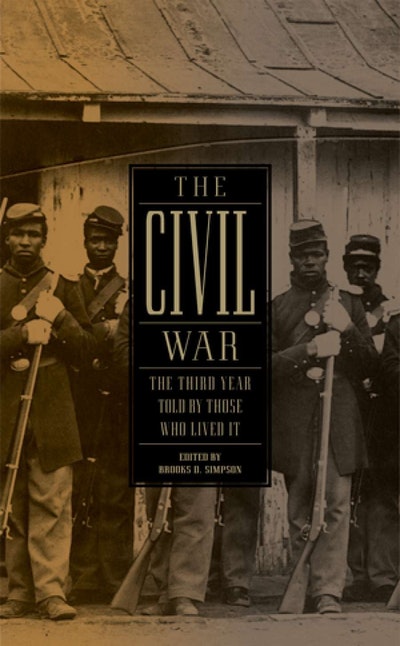 Published:

2 May 2013

ISBN:

9781598531978

Imprint:

Library of America

Format:

Hardback

Pages:

936

RRP:

$69.99
The Civil War
The Third Year Told by Those Who Lived It (LOA #234)
---
---
---
This is the third volume of the ground-breaking eyewitness narrative that has been called a "masterpiece."
Spanning the crucial months from January 1863 to March 1864, this third volume of The Library of America's highly acclaimed four volume series presents an incomparable portrait of a nation at war with itself while illuminating the military and political events that brought the Union closer to victory and slavery closer to destruction. It brings together more than 140 contemporary letters, diary entries, speeches, articles, messages, and poems by more than eighty participants and observers, among them Abraham Lincoln, Jefferson Davis, Ulysses S. Grant, William T. Sherman, Robert E. Lee, Frederick Douglass, Walt Whitman, Herman Melville, Mary Chesnut, Clement Vallandigham, Henry Adams, Charlotte Forten, Joshua Lawrence Chamberlain, and George Templeton Strong, as well as Union officers Robert Gould Shaw, Charles B. Haydon, and Henry Livermore Abbott; Confederate diarists Catherine Edmondston, Kate Stone, and Judith McGuire; and Alabama soldier Samuel Pickens, Iowa housewife Catharine Peirce, Kentucky preacher George Richard Browder, and Kansas clergyman Richard Cordley. The selections include vivid and haunting eyewitness narratives of some of the war's most famous battles—Chancellorsville, Gettysburg, Vicksburg, Fort Wagner, Chickamauga, Chattanooga—as well as firsthand accounts of the merciless guerrilla war in Missouri and Kansas; the Richmond bread riot and the New York draft riots; the controversies surrounding the use of black soldiers and the Lincoln administration's curtailment of civil liberties; and the struggles of civilians both black and white to survive increasingly harsh wartime conditions.
Each volume features a detailed chronology of events, biographical notes about the writers, textual and explanatory notes, and original hand-drawn endpaper maps by expert Civil War cartographer Earl McElfresh.
The Civil War: The Final Year Told by Those Who Lived It will be published in 2014.
LIBRARY OF AMERICA is an independent nonprofit cultural organization founded in 1979 to preserve our nation's literary heritage by publishing, and keeping permanently in print, America's best and most significant writing. The Library of America series includes more than 300 volumes to date, authoritative editions that average 1,000 pages in length, feature cloth covers, sewn bindings, and ribbon markers, and are printed on premium acid-free paper that will last for centuries.
Published:

2 May 2013

ISBN:

9781598531978

Imprint:

Library of America

Format:

Hardback

Pages:

936

RRP:

$69.99