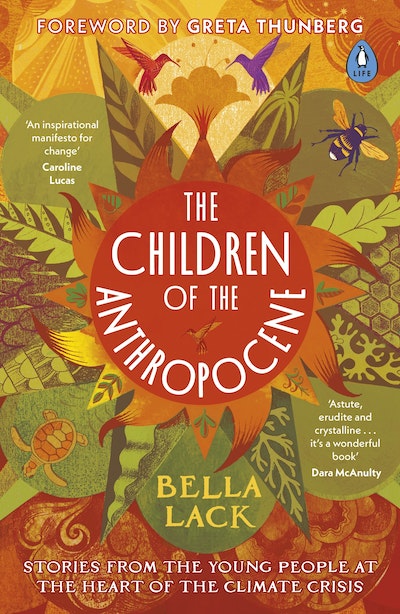 Published:

5 October 2022

ISBN:

9780241501085

Imprint:

Penguin Life

Format:

Paperback

Pages:

272

RRP:

$22.99
The Children of the Anthropocene
Stories from the Young People at the Heart of the Climate Crisis
---
---
A critical book chronicling the lives of young people on the frontlines of the global environmental crisis.
Across the planet, the futures of young people hang in the balance as they face the harsh realities of the environmental crisis.
This urgent bookchronicles the lives of the diverse young people on the frontlines of the environmental crisis around the world, amplifying the stories of those living at the heart of the crisis.
Advocating for the protection of both people and the planet, Bella restores the beating heart to global environmental issues, from air pollution, to deforestation and overconsumption by telling the stories of those most directly affected. Transporting us from the humming bounty of Ecuador's Choco Rainforest and the graceful arcs of the Himalayan Mountains, to the windswept plains and vibrant vistas of life in Altiplano, Bella speaks to young activists from around the world including Dara McAnulty, Afroz Shah and ArtemisaXakriabá and vividly brings the crisis to life.
Bella's manifestos for change will inspire you to rediscover the wonders and wilds of nature, listen to different perspectives and, ultimately, change the way you think about our planet in crisis. This is your chance to hear the urgent stories of an endangered species too often overlooked: the children of the Anthropocene.
Published:

5 October 2022

ISBN:

9780241501085

Imprint:

Penguin Life

Format:

Paperback

Pages:

272

RRP:

$22.99
Praise for The Children of the Anthropocene
'Bella is one of the most inspiring people I've ever met. She has an eloquence and lucidity that is timeless, partnered with a powerful combination of positivity and belief. Bella and her fellow young voices are the best chance our planet has. I've seen Bella bring a theatre full of academics and conservationists to tears, and then to their feet. This young woman has an oratory gift that any storyteller would kill for, and a passion and energy that is infectious and dazzling. Bella believes she can change the world, and I believe her. The Children of the Anthropocene is a remarkable and important book'

Steve Backshall, naturalist, broadcaster, and author
'From the Amazon rainforests to the beaches of Mumbai, the city streets of the US and the farms of Europe, Bella Lack hears from young people at the sharp end of the environmental crisis who are challenging the economic and political system that has led us to where we are now, with a deeply damaged world and facing a climate and ecological catastrophe. This book is so much more than a record of what's gone wrong, it's an inspirational manifesto for change. As a passionate campaigner herself, Bella is the perfect guide'

Caroline Lucas, former leader of The Green Party
'A visionary statement for the future, from a brilliant young person who hopes the planet will be there to enjoy it. Pragmatic, positive & beautifully written'

Ben Macdonald, award-winning conservation writer, wildlife TV producer and naturalist
'An urgent, thought-provoking, and beautifully written book from a brilliant young conservationist. Bella vividly brings the wonders of nature to life on the page, showcasing the importance of diverse human stories in the collective fight to protect our planet in the face of the environmental crisis. We must stop and listen to these inspiring young people from around the globe. Extraordinarily moving, wild and engaging - the book of the moment'

Mary Robinson, former president of Ireland and author of Climate Justice
'A passionate call for change. Hope-filled and fascinating, this book has inspired me to do more'

Dave Goulson, author of the Sunday Times bestselling The Garden Jungle and A Sting in the Tale
'A remarkably lucid and insightful account of the problem with our relationship with the natural world, and how we can save it and ourselves'

Liz Bonnin, natural history and environmental broadcaster
'Profound wisdom from a brilliant young mind - Bella's view of our troubled planet is enthralling and shocking, inspiring, and enchanting. She articulates the exhilarating and fresh perspectives of a rising generation determined to turn things round. Clear-headed about the evidence and passionate about the answers, this book offers something remarkable: real hope'

David Shukman, environmental journalist and writer
'Bella Lack has woven a beautiful offering to the world in her book The Children of the Anthropocene. A tapestry of stories and facts, encouragement and holding to account; she brings to life both the possibility of change and the longing of the generation made to face the consequences of our diseased way of living'

Dr. Gail Bradbrook, Extinction Rebellion Co-Founder
'Thought-provoking without being preachy this is a really serious and helpful book cleverly using the personal stories of people directly affected by some part of climate change. All from a young person who is positive about finding a better way for us all to live in the future'

David Lindo, The Urban Birder
'Not only a book of pain and defiance, resilience and love as Bella Lack writes, it is by and for courageous, compassionate and dedicated young people on the frontlines of the climate emergency. Their too often ignored stories offer hope, power and inspiration that we will realise a fairer, greener and healthier world for all'

Jennifer Morgan, Executive Director, Greenpeace International
'Astute, erudite and crystalline, Bella writes with visionary clarity and passion. It was a pleasure to be interviewed by Bella for The Children of the Anthropocene, she questions everything with intelligence, grace and humour. It's a wonderful book'

Dara McAnulty, award-winning author of Diary of a Young Naturalist
'Vibrant with stories, leaping with intelligence, a vivid and beautifully crafted book'

Jay Griffiths, author of 'Why Rebel'