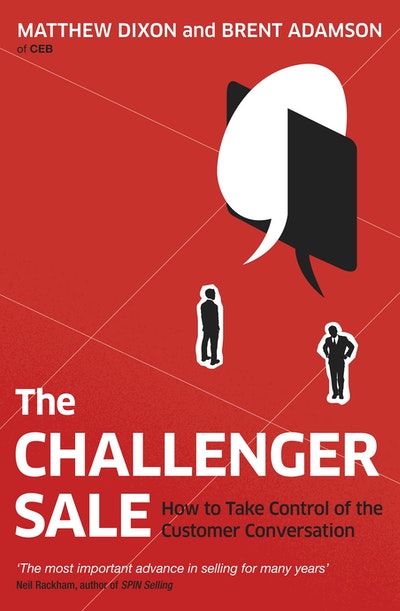 Published:

1 October 2012

ISBN:

9780670922864

Imprint:

Penguin eBooks

Format:

EBook

Pages:

240
The Challenger Sale
How To Take Control of the Customer Conversation
---
---
The secret to sales success: don't build relationships with customers. Challenge them.
What's the secret to sales success? If you're like most business leaders, you'd say it's fundamentally about relationships-and you'd be wrong. The best salespeople don't just build relationships with customers. They challenge them.
Matthew Dixon, Brent Adamson, and their colleagues at Corporate Executive Board have studied what determines the performance of thousands of sales reps worldwide. And what they discovered may be the biggest shock to conventional sales wisdom in decades.
The Challenger Sale argues that classic relationship building is a losing approach. Every sales rep in the world falls into one of five distinct profiles, and while all of these types of reps can deliver average sales performance, only one - the Challenger - delivers consistently high performance.
Instead of bludgeoning customers with facts and features, Challengers approach customers with insights about how they can save or make money. They tailor their message to the customer's specific needs . They are assertive, pushing back when necessary and taking control of the sale.
The things that make Challengers unique are teachable to the average sales rep. Once you understand how to identify Challengers, you can model their approach and embed it throughout your sales force. The authors explain how almost any average rep, equipped with the right tools, can drive higher levels of customer loyalty and, ultimately, greater growth.
Published:

1 October 2012

ISBN:

9780670922864

Imprint:

Penguin eBooks

Format:

EBook

Pages:

240
Praise for The Challenger Sale
Read it, think about it, implement it. You, and your organization, will be glad you did

Professor Neil Rackham, author of SPIN Selling
"The Challenger Sale breaks the winning elements of this powerful approach into a set of teachable skills that can take even a top sales team to a new level of results delivery

Dan James, former chief sales officer, DuPont
'This is a must-read book for every sales professional. The authors' groundbreak­ing research explains how the rules for selling have changed-and what to do about it. If you don't want to be left behind, don't miss this innovative book that provides the new formula for selling success

Ken Revenaugh, vice president, sales operations, Oakwood Temporary Housing
'Groundbreaking, timely, and disciplined research presented in a way that is both intuitive and completely actionable. It has already had an impact on our organization by creating a customer lens that enhanced our sales recruiting, hiring, training and deployment

Jeff Connor, senior vice president and chief growth officer, ARAMARK Global Food, Hospitality and Facility Services
'The Challenger Sale shows you how to maintain control of the complex sale. The output of this superbly researched body of work is that you will know how to better differentiate your organization, your offering and yourself in the mind of the customer'

Adrian Norton, vice president, sales, Reckitt Benckiser Pharmaceuticals
'There is a healthy dose of constructive tension throughout this brilliant book. Tension that will bring insight and clarity into how customers buy today and how your sales team must sell. If you are seeking to raise the bar in your sales orga­nization, The Challenger Sale is a must-read'

Tom Meek, vice president, sales, Henkel Adhesives Technologies
The most important advance in selling for many years.

Neil Rackham, author of SPIN Selling