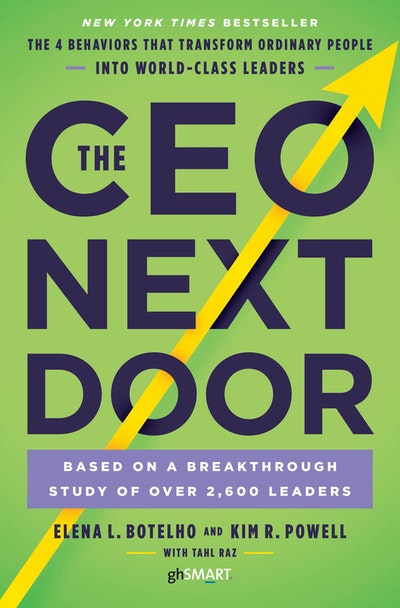 Published:

14 May 2018

ISBN:

9780753552193

Imprint:

Virgin Books

Format:

Trade Paperback

Pages:

288

RRP:

$35.00
The CEO Next Door
The 4 Behaviours that Transform Ordinary People into World Class Leaders
---
---
---
Drawing on the biggest dataset of CEOs in the world, full of myth-busting and counter-intuitive insight: unveils the top attributes of global leaders and how to apply them to your own career
Winner of CMI Management Book of the Year 2019New York Times BestsellerWall Street Journal Bestseller
Everything you thought you knew about becoming a CEO is wrong. You must graduate from an elite college or business school. In fact, only 7 percent of the CEOs of today's companies went to a top school--and 8 percent didn't graduate from college at all. Never put a foot wrong. In fact, people who have become CEOs have on average had five to seven career setbacks on their way to the top.
Drawing on the biggest dataset of CEOs in the world -- in-depth analysis of 2,600 leaders, drawn from a database of 17,000 CEOs, as well as 13,000 hours of interviews -- The CEO Next Door is crammed full of myth-busting and counter-intuitive insights in what it really takes to get ahead. Discover the way actual CEOs of top companies think and behave, and the kind of traits to develop if you want to make your ambitions a reality and take your career right to the top.
Published:

14 May 2018

ISBN:

9780753552193

Imprint:

Virgin Books

Format:

Trade Paperback

Pages:

288

RRP:

$35.00
Praise for The CEO Next Door
What does it take to succeed at the top? Botelho and Powell offer the answer — and it's not what you think. Whether you're running a large organization, or simply have your eye on the corner office, this book should be your guide

Daniel Pink, bestselling author of DRIVE
Well-researched, practical and eye-opening... The CEO Next Door is like having 2,600 mentors take you under their wing

Shawn Achor, New York Times bestselling author of THE HAPPINESS ADVANTAGE and BIG POTENTIAL
Debunks a host of myths about what it takes to become a CEO ... You won't ever look at the corner office in the same way again.

Adam Grant, New York Times bestselling author of GIVE AND TAKE, ORIGINALS, and OPTION B with Sheryl Sandberg
The CEO Next Door is the go-to guide for every aspiring professional ... it weaves together cutting edge leadership research with practical advice and inspiring stories to create a useful and credible roadmap

Marshall Goldsmith, #1 Leadership Thinker
The most useful and credible book on career success I've seen in years! ... a rare view behind the scenes on how leaders get picked for coveted roles and how they really succeed and fail. . . refreshingly candid and deeply researched

Jacqueline Reses, Capital Lead and People Lead, Square, Inc.
I enjoyed every page of this book. A must read for all those who care deeply about leading well.

Vicki Escarra, former CMO of Delta Air Lines and CEO of Feeding America and Opportunity International
What an invaluable book. With colorful stories and interviews, and solid, in-depth data to back up its points, The CEO Next Door is the next must-read for business leaders of all types!

Susan Packard, co-founder HGTV, author and media executive
Invaluable for anyone looking to raise their leadership to a higher level... their book isn't leaving my desk as I prepare to step into the CEO role

Tim Buckley, CEO of The Vanguard Group
The CEO Next Door contributes much needed research and data to a subject long dominated by anecdote and conjecture. Your probability of success will rise substantially when you put these insights into action

L. Kevin Cox, Chief Human Resources Officer, American Express Company
A compelling and concise roadmap to help you identify and develop your executive talent

Randall Stephenson, Chairman and CEO AT&T
A first-rate guide for aspiring CEOs as well as for those who have already moved into the top spot ... compelling research and real-life stories provide a practical roadmap to leadership and career success

Art Collins, Retired chairman & CEO, Medtronic, Inc.
This seminal work by Elena and Kim does an outstanding job of identifying habits and traits of superstars versus average performers... A must read for those who aspire to make a difference

Raj L Gupta, Chairman Delphi Automotive PLC, Chairman Avantor Inc., Board member Arconic Inc, The Vanguard Group and IRI
An indispensable guide for any aspiring professional

Laszlo Bock, bestselling author of WORK RULES!, and former SVP of People at Google
With a 'Moneyball' approach to leadership, The CEO Next Door is a must read for aspiring leaders, CEOs, board members, and anyone responsible for grooming future leaders

Jim Donald, former CEO Starbucks and Extended Stay Hotels
Clear, practical guide on how to run any company, large or small ... The CEO Next Door explodes the myths behind what it takes to get to the top and provides what works, regardless of gender or background. Eye-opening and operational

Stuart Diamond, serial entrepreneur, author of the New York Times bestseller Getting More: How To Be A More Persuasive Person in Work and Life, and Professor at Wharton Business School
Required reading for anyone who aspires to the C-suite and wants to thrive there

Jim Goodnight, CEO of SAS
Botelho and Powell have brought big data and analytics to one of the critical bastions of business: the individuals who make it to the corner office ... a game-changer for companies, leaders, and everyone who aspires to get ahead.

Thales Teixeira, Associate Professor, Harvard Business School