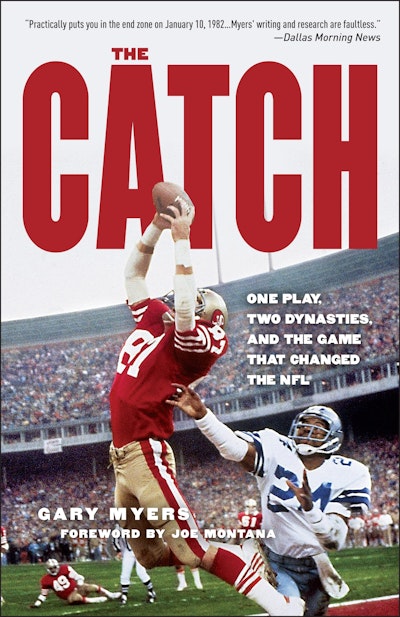 Published:

15 September 2010

ISBN:

9780307409096

Imprint:

Crown

Format:

Trade Paperback

Pages:

288

RRP:

$26.99
The Catch
One Play, Two Dynasties, and the Game That Changed the NFL
---
---
How many great catches have there been in the history of the NFL? Hundreds? Thousands? Mention "The Catch,"though, and fans will think of only one: Joe Montana to Dwight Clark, the NFC Championship game, the Dallas Cowboys vs. the San Francisco 49ers, January 10, 1982. It changed the game and The Game. This is the story of the pieces that fell into place to allow it to happen and what it meant to the players, to the fans, and to the future of professional football.
Drama like this couldn't be scripted any better. Dallas was still reigning as America's team. San Francisco was hungry for a ticket to its first Super Bowl. With less than a minute left, the 49ers were one touchdown and extra point away from pulling it off, six yards from the end zone. Too Tall Jones and the Cowboys' celebrated defense were primed to stop Montana and the 49ers. The play came in from head coach Bill Walsh: Sprint Right Option. It almost never worked in practice. But this was game on. It had to work. Montana took the snap and rolled right. With 700 pounds of prime defensive talent bearing down on him, leaning backward, in his last moment of upright balance, Montana sent the ball to the back of the end zone. The primary receiver had slipped and was not in place. But the secondary receiver, Dwight Clark, was streaking toward the corner, leaping higher than he ever had or ever would again. With his arms reaching for the sky, his fingers splayed, he snatched the impossibly high pass, briefly lost control, regained it . . . touchdown!
Franchises, careers, lives, and dynasties all changed in that moment.
Sports journalist Gary Myers was there, and now with fresh revelations from key players, including Montana, Clark, Ronnie Lott, Randy Cross, Tony Dorsett, Drew Pearson, Charlie Waters, and others, he takes fans back to an iconic game and one of the NFL's most breathtaking plays. Myers presents new details on the rise of Montana and the 49ers and the fall of the '80s Cowboys. He reveals what Bill Walsh saw in an overlooked third-round draft pick named Joe Montana and how Walsh accidentally discovered Dwight Clark. He shows how legendary Dallas head coach Tom Landry, who as reputed did put winning first, was not above crying over players whose personal careers had to come second. He celebrates forgotten heroes like journeyman running back Lenvil Elliott, who picked that particular game–and that final drive down the field–to shine. It's all here, from the death threat that spooked Montana during the game to 49ers owner Eddie DeBartolo's bad luck when his view of the historic play was literally blocked by a horse's ass.
The Catch is both the ultimate replay of a sports moment for the ages and a penetrating look into the inner dynamics of the NFL.
Published:

15 September 2010

ISBN:

9780307409096

Imprint:

Crown

Format:

Trade Paperback

Pages:

288

RRP:

$26.99