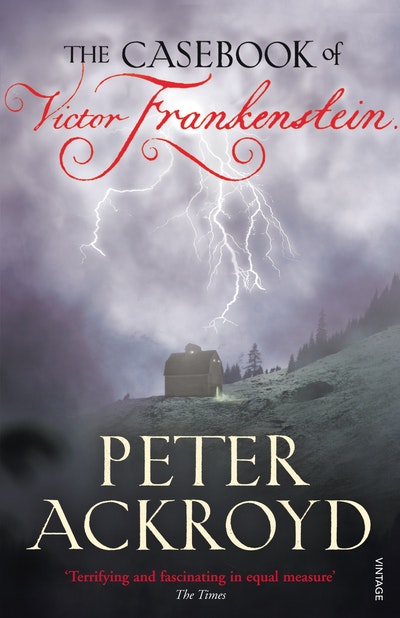 Published:

1 July 2009

ISBN:

9780099524137

Imprint:

Vintage

Format:

Paperback

Pages:

416

RRP:

$35.00
The Casebook of Victor Frankenstein
---
---
---
Another dazzling example of the power of Peter Ackroyd's imagination - a brilliant novel written in the voice of Victor Frankenstein himself featuring Shelley and Mary Shelley as characters in the story.
Victor Frankenstein begins his anatomy experiments in a barn in the secluded village of Headington, near Oxford. The coroner's office provides the corpses he needs - but they have often died by violent means and are damaged and putrifying. Victor moves his coils and jars and electrical fluids to a deserted pottery manufactury in Limehouse. And, from Limehouse, makes contact with the Doomesday Men - the resurrectionists.
Victor pays better than any hospital for the bodies of the very recently dead. Even so, perfect specimens are hard to come by... until that Thames-side dawn when Victor, waiting, wrapped in his greatcoat, on his wooden jetty, hears the splashing of oars and sees in the half-light that slung into the stern of the approaching boat is the corpse of a handsome young man, one hand trailing in the water....
Published:

1 July 2009

ISBN:

9780099524137

Imprint:

Vintage

Format:

Paperback

Pages:

416

RRP:

$35.00
Praise for The Casebook of Victor Frankenstein
Distinguished Frankensteinian fantasia...Ackroyd loves taking what we, the general reading public, think we know about great writers, only to twist that knowledge into new fictional shapes....Ackroyd is the great pretzel-baker of contemporary fiction. And this is one of his tastiest, and twistiest, products so far

Financial Times
An intelligent, creepily beautiful and haunted thing

The Times
A thrilling concoction ... Ackroyd's telling of the tale is a worthy revival - I found his book so creepy I kept the bedroom light on all night

Daily Express
A brilliant jeu d'esprit. Above all, it stands as a tribute to the power of the human imagination

Daily Telegraph
Tremendous fun: it glows with intellectual enthusiasm and love for London

Time Out
In a perfect world, every historian would be like Peter Ackroyd

The Word
Ackroyd deftly brings to life the atheist rebellion and Enlightenment values of the time while giving full vent to his imagination...What amazes is how effortless it feels...a consummate and blood-freezing piece of writing

Metro
Ackroyd once again proves himself to be a master literary vetriloquist ... eerily convincing and highly atmospheric

Tatler
One thing is for certain - Ackroyd has brought Frankenstein back to life ... Ackroyd's spin on this classic is entertaining to ignore

Sunday Herald
Ackroyd's new novel works on so many levels it's difficult to know where to begin. As a pacy thriller, it delivers assured edge of the seat action. As historical fiction, it abounds in authentic detail...as homage to Mary Shelley's Frankenstein it brings both invention and wit...a worthy shadow to Mary Shelley's creation, roaming with impish disruption between the pages of history, biography and literature

Evening Standard
Ackroyd is in his element as he depicts the activities of those involved in supplying anatomists, or researchers like Victor, with recent corpses, the fresher the better...Peter Ackroyd is a fine biographer as well as a successful novelist...He has written an instructive as well as entertaining work

Literary Review
wonderfully inventive...a remarkable oeuvre, hovering between history and imagination

Irish Times
Intelligent, beautiful and utterly chilling.

Chris Power, The Times