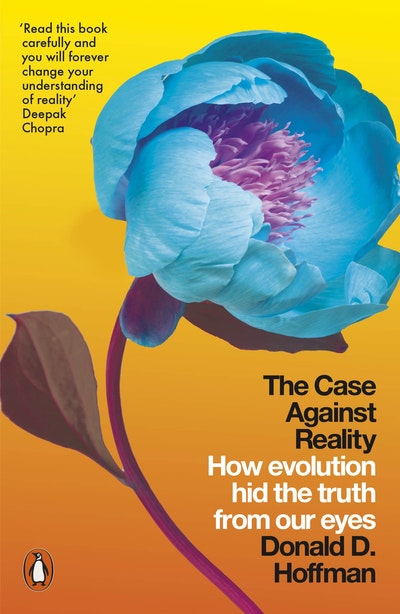 Published:

20 October 2020

ISBN:

9780141983417

Imprint:

Penguin Press

Format:

Paperback

Pages:

272

RRP:

$22.99
The Case Against Reality
How Evolution Hid the Truth from Our Eyes
---
---
---
A ground-breaking examination of human perception, reality and the evolutionary schism between the two

Do we see the world as it truly is? In The Case Against Reality, pioneering cognitive scientist Donald Hoffman says: No, we see what we need in order to survive. Our visual perceptions are not a window onto reality, Hoffman shows us, but instead are interfaces constructed by natural selection. The objects we see around us are not unlike the file icons on our computer desktops: while shaped like a small folder on our screens, the files themselves are made of a series of ones and zeros too complex for most of us to understand. In a similar way, Hoffman argues, evolution has shaped our perceptions into simplistic illusions to help us navigate the world around us. Yet now these illusions can be manipulated by advertising and design.
Drawing on thirty years of Hoffman's own influential research, as well as evolutionary biology, game theory, neuroscience, and philosophy, The Case Against Reality makes the mind-bending yet utterly convincing case that the world is nothing like what we see before our eyes.
Published:

20 October 2020

ISBN:

9780141983417

Imprint:

Penguin Press

Format:

Paperback

Pages:

272

RRP:

$22.99
Praise for The Case Against Reality
In this masterpiece of logic, rationality, science, and mathematics, Donald Hoffman dismantles the local realism of Albert Einstein and the "astonishing hypothesis" of Francis Crick, the scientific giants of the century. Read this book carefully and you will forever change your understanding of reality, both that of the universe and your own self.

Deepak Chopra
Don Hoffman is widely regarded as one of the deepest and most original thinkers of his generation of cognitive scientists. His startling argument has implications for philosophy, science, and how we understand the world around us. Yet despite his powerful intellect and strong opinions, Hoffman is a genial writer with an unfailingly pleasant voice."

Steven Pinker, Johnstone Family Professor, Department of Psychology; Harvard University; Author, 'The Sense of Style'; and 'The Better Angels of Our Nature'
Empirical research on the human brain has made breathtaking progress during the last three decades. What's missing, though, is an attempt to see the 'big picture' of the kind Don Hoffman has introduced in this book. And he does so with the wit, clarity and originality that characterizes all his work.

VS Ramachandran MBBS. PhD, FRCP, DSc, UCSD and Salk Institute.
Hoffman's truly radical theory will force us to ponder reality in a completely different light. Handle with care. Your perception of the world around you is about to be dismantled!

Chris Anderson, author of 'TED Talks'
Think you know what's really out there? Read this breathtaking, whistle-stop tour of a book that illuminates all the profound weirdness masked by our experience and assumptions.

David Eagleman, best-selling author of 'The Brain' and 'Incognito'
A fresh view into who we truly are?one that transcends the perceptions that we accept as reality. Hoffman unapologetically takes us down a rabbit hole where we learn that all reality is virtual and that truth lies solely in you, the creator.

Rudolph Tanzi, coauthor of 'Super Brain'
Captivating and courageous ... anyone who reads this book will likely never look at the world the same way again. Hoffman challenges us to rethink some of the most basic foundations of neuroscience and physics, which could prove to be exactly what we need to make progress on the most difficult questions we face about the nature of reality.

Annaka Harris, author of 'Conscious'
This book is pure, sunshine-yellow, stop-me-guys-if-I'm-being-crazy California deep-think ... thoughtful, stretching and occasionally brilliant.

The Sunday Times