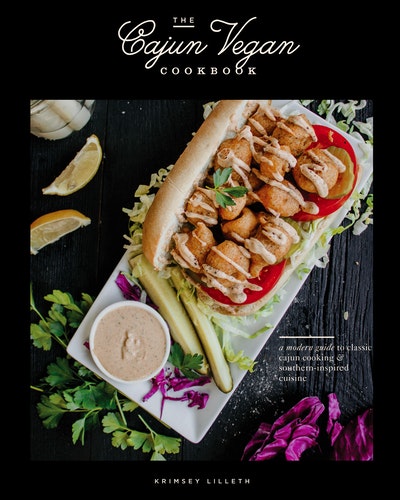 Published:

9 November 2021

ISBN:

9781950968473

Imprint:

Blue Star Press

Format:

Hardback

Pages:

250

RRP:

$48.99
The Cajun Vegan Cookbook
A Modern Guide to Classic Cajun Cooking and Southern-Inspired Cuisine
---
---
Plant-based foodies rejoice: you can finally indulge in New Orlean's iconic cuisine thanks to the 120+ recipes in this first-ever Cajun vegan cookbook.
Classic Cajun dishes like jambalaya, étouffée, gumbo, and hushpuppies have gone vegan in this delicious plant-based cookbook created by Krimsey Lilleth, founder of the late-and-great Los Angeles restaurant Krimsey's Cajun Kitchen. The Cajun Vegan Cookbook blends Lousiana's beloved flavor profiles with plant-forward ingredients that are fresh and sustainable, yet still authentic and delicious.
130+ recipes inspired by the Big Easy and the South, including 90+ gluten-free options:
• Breakfasts and Breads: Molasses & Roasted Pecan Pancakes, Backwoods Buttermilk Biscuits and Gray, and Strawberry Peach Heart Tarts
• Soups, Salads, and Poboys: Southern Belle Pepper Salad, Gulf Coast Oyster Mushroom Soup, and Swamp Queen Poboy
• Entrees: Heart of the Bayou Étouffée, Jambalaya Collard Wraps, and Chili-Rubbed Butternut Squash Steaks
• Sides: Fried Green Tomatoes, Kale & Tempeh'd Black-Eyed Peas, and Cajun Potato Wedges
• Dressings, Sauces, and Toppings: Tangy Tabasco Dressing, Cajun Nacho Sauce, and Smoky Maple "Bacon" Bits
• Desserts: French Quarter Beignets, Cinnamon King Cake, and Salted Pecan Pralines
• Drinks: Jalapeño Cauldron Lemonade, Café Au Lait, and Hurricane Party
Each of the recipes was created under the influence of powdered sugar, café au lait, Louisiana jazz, and a sprinkling of '90s jams. May this cookbook inspire you to try new things, have fun with your food, and be reminded that life is one big party. Enjoy!
Published:

9 November 2021

ISBN:

9781950968473

Imprint:

Blue Star Press

Format:

Hardback

Pages:

250

RRP:

$48.99