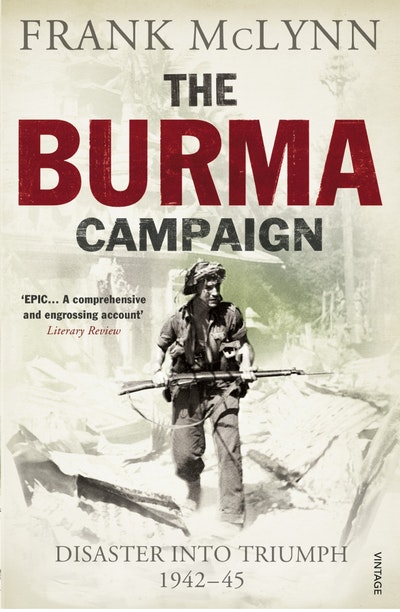 Published:

1 August 2011

ISBN:

9780099551782

Imprint:

Vintage

Format:

Paperback

Pages:

544

RRP:

$27.99
The Burma Campaign
Disaster into Triumph 1942-45
---
---
---
A vivid, brutal and enthralling account of the Burma Campaign - one of the most punishing and hard-fought military adventures of World War Two
Often described as 'the forgotten war', the Burma Campaign was one of the most punishing and protracted military adventures of World War Two. It has become notorious for the ingenious tactics used by Britain, America and their allies on the one hand and the Japanese and their allies on the other, as well as for the atrocious conditions that had to be endured by both sides.
Seasonal monsoon rains – which allowed effective campaigning for little more than half the year – as well as famine, disease, snakes and crocodiles all bore heavily on the troops. Impenetrable jungle, poor transport infrastructure and the Allied preoccupation with the war in Europe made this the longest single campaign fought by the British in the Second World War.
It is against this epic backdrop that Frank McLynn constructs the dramatic story of the four larger-than-life commanders directing the Allied effort: Louis Mountbatten, Orde Wingate, Joseph Stilwell and William Slim. Strikingly original in its approach, the book explores the Campaign through the prism of these four men and their often stormy relationship.
From 1942 and the greatest defeat for British arms in the history of the Empire, through the crucial simultaneous battles of Imphal and Kohima – 'the Stalingrad of the East' – and on to ultimate victory in 1945, this is a vivid, brutal and enthralling account. By telling it through the interactions and antagonisms of its principal players, we see how the plans, designs and strategies of generals and politicians were translated into a hideous reality for the men on the ground.
Published:

1 August 2011

ISBN:

9780099551782

Imprint:

Vintage

Format:

Paperback

Pages:

544

RRP:

$27.99
Praise for The Burma Campaign
The story that McLynn tells is indeed an epic ... McLynn's comprehensive and engrossing account

Brian MacArthur, Literary Review
McLynn gives an honest, gruelling account of the longest most punishing campaign fought by the British during the Second World War

Iain Finlayson, The Times
Easily one of the best books he has written in a long and distinguished career.' 'It's a marvellous subject, too.

Trevor Royle, Sunday Herald
This account of the longest British and Commonwealth campaign of the Second World War is fervently told

Charlotte Vowden, Daily Express
Comprehensive and engrossing

Brian MacArthur, Literary Review