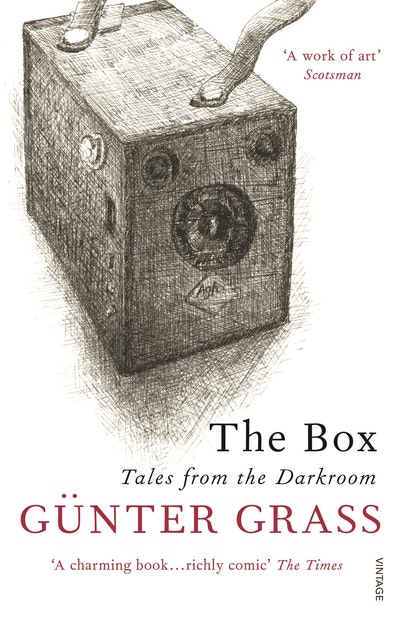 Published:

4 January 2011

ISBN:

9781407087245

Imprint:

Vintage Digital

Format:

EBook

Pages:

224
The Box
Tales from the Darkroom
---
---
---
The sequel to Grass's controversial and successful book Peeling the Onion.
In this delightful sequel to Peeling the Onion, Günter Grass writes in the voices of his eight children as they record memories of their childhoods, of growing up, of their father, who was always at work on a new book, always at the margins of their lives. Memories contradictory, critical, loving, accusatory - they piece together an intimate picture of this most public of men.
To say nothing of Marie, Grass's assistant, a family friend of many years, perhaps even a lover, whose snapshots taken with an old-fashioned Agfa box camera provide the author with ideas for his work. But her images offer much more. They reveal a truth beyond the ordinary detail of life, depict the future, tell what might have been, grant the wishes in visual form of those photographed. The children speculate on the nature of this magic: was the enchanted camera a source of inspiration for their father? Did it represent the power of art itself? Was it the eye of God?
Winner of the Nobel Prize for Literature.
Published:

4 January 2011

ISBN:

9781407087245

Imprint:

Vintage Digital

Format:

EBook

Pages:

224
Very clever, very Grass...It is touching and sad; the regret is obvious

Eileen Battersby, Irish Times
Terse, poignant and marvellously vivid

Miranda Seymour, The Telegraph
it hums with vivacity, boldness and unflagging curiosity

John Preston, Sunday Telegraph, Seven Magazine
It shows that Grass's time isn't over yet and that his narrative energy remains inventive and undiminished

Paul Bailey, The Spectator