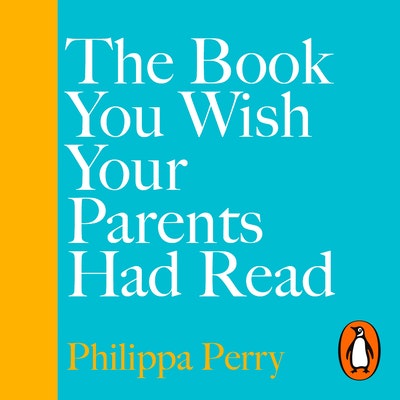 Published:

7 March 2019

ISBN:

9780241398302

Imprint:

Penguin Audio

Format:

Audio Download

RRP:

$27.99
The Book You Wish Your Parents Had Read (and Your Children Will Be Glad That You Did)
THE #1 SUNDAY TIMES BESTSELLER
---
---
---
A parenting book for people who don't buy parenting books
Brought to you by Penguin.
Every parent wants their child to be happy and every parent wants to avoid screwing them up. But how do you achieve that?
In this absorbing, clever and funny book, renowned psychotherapist Philippa Perry tells us what really matters and what behaviour it is important to avoid - the vital dos and don'ts of parenting.
Instead of mapping out the 'perfect' plan, Perry offers a big-picture look at the elements that lead to good parent-child relationships. This refreshing, judgement-free book will help you to:
· Understand how your own upbringing may affect your parenting
· Accept that you will make mistakes and learn what you can do about them
· Break negative cycles and patterns
· Handle your own and your child's feelings
· Understand what different behaviours communicate
Full of sage and sane advice, this is the book that every parent will want to read and every child will wish their parents had.
'Hugely warm, wise, hopeful and encouraging' Alain de Botton
'So clear and true ... Helpful for all relationships in life, not just parent-child' Nigella Lawson
© Philippa Perry 2019 (P) Penguin Audio 2019
Published:

7 March 2019

ISBN:

9780241398302

Imprint:

Penguin Audio

Format:

Audio Download

RRP:

$27.99
Praise for The Book You Wish Your Parents Had Read (and Your Children Will Be Glad That You Did)
A beautifully comprehensive look at what it might mean to be a sane and emotionally intelligent parent; hugely warm, wise, hopeful and encouraging that, with a little self-reflection and insight, we could all learn to spare the next generation a few of our own troubles

Alain de Botton
This is a kind and forgiving book that advocates kind and forgiving behaviour, to ourselves and our partners

Cathy Rentzenbrink, The Times
This book is guidance on how to bond with your children based on understanding how your own upbringing affects your parenting

Lorraine Candy, Sunday Times
Philippa Perry is the wisest coolest person

Emma Gannon
I'm not a parent. But I fucking LOVE Philippa Perry and think she's wise and brilliant so this will be amazing

Bella Mackie
Parenting from preconception to adulthood. Couldn't come at a better time as my older children and I navigate the road to their independent and unique lives

Fern Britton
Whenever I see Philippa Perry and ask her advice on parenting (which is basically every time I see her) she always says exactly what I wish I'd thought. She's one smart woman, and definitely knows her shit

Charlie Condou
Thank you for being a genius Philippa Perry!!!

Jessie Cave
Bloody insightful and useful

Mary Portas
A wonderful book from Philippa Perry, so wise and full of humanity. Communication, love, well-being

Richard Osman
Not got kids? It doesn't matter, as the wonderful psychotherapist Philippa Perry's latest book is actually about using our pasts to understand ourselves and how we react to situations that test our patience and emotions. She explains that these sharp reactions might well be down to what happened in our childhoods - and the flashpoints that these emotions can stir up makes for fascinating reading whether you're actively parenting or not. It's also an excellent book for reminding yourself: life is hard and you're doing your best - so try not to beat yourself up for everyday mistakes

Stylist
Not got kids? It doesn't matter, as the wonderful psychotherapist Philippa Perry's latest book is actually about using our pasts to understand ourselves (...) it's also an excellent book for reminding yourself: life is hard and you're doing your best - so try not to beat yourself up for everyday mistakes

Stylist
EVERY parent should read this book, however old their child. In fact, any adult in a relationship should read it too. Distilled in less than 250 pages is a road map to healthy relationships. Required reading

Express
If you're determinedly not a self-help kind of reader (like me), make an exception for [this book]. And if you're not a parent, don't dismiss it. The message is one of non-judgemental kindness. The sophisticated psychoanalytical version of my "count to ten and then say something kind" advice to my kids (and myself) when things start to fall apart

Vogue
The Easter holidays were a complete joy because of your book - I feel about a trillion times more relaxed and connected as a parent and I have also found it very helpful for my sobriety and recovery

Bryony Gordon
So clear and true ... can't stop recommending it to people ... helpful for all relationships in life, not just parent-child

Nigella Lawson
Made me think about me and who I am and my parents and who they are and maybe, hopefully, one day what sort of parent I might strive to be

Dolly Alderton
It is like a letter from a wise friend who happens to have done years of research (...) I am grateful for it

Aida Edemariam, The Guardian
I've had the most wonderful feedback from this episode. People stopping me on the street to say how much they've love the book's advice. Philippa's wisdom and delivery has resonated with many parents out there. I can't thank her enough for her time and energy

Fearne Cotton, Happy Place podcast
I don't have kids but [this book] is a fascinating read on the emotional baggage we all carry

Elizabeth Day, How to Fail podcast
As a mother of a three year old, I have an aversion to the endless saccharine social-media posts about parenting. Perry's book is the antithesis of all that - practical and logical

Elle
Philippa Perry goes through each stage of parenthood, from pregnancy to the teen years, suggesting emotional techniques that will help you to have a strong and healthy relationship with your babies and yourself

Mother & Baby
It gave me hope as a new parent that whatever learnt behaviour you've got from your mum and dad (...) you can learn from that but it doesn't have to stay with you

Babita Sharma, BBC News
In fact, I'd say Philippa Perry is one of the wisest, most sane and secure people I've ever met

Decca Aitkenhead, Sunday Time Magazine
she writes with an inquisitive elegance rarely found in parenting guides (...) the book is still firm with parents but also forgiving (...) it is forgiving and persuasive - God, it's persuasive. I've yet to meet a parent who hasn't altered their parenting to some degree after reading it, myself included

Hadley Freeman, the Guardian
I'm going to be honest Philippa, this has genuinely had such a positive impact on my life and my relationship with my daughter - so thank you very much for that

Josh Widdicombe
A wise book on parents and children

The Times
The main message is that is that it's best to acknowledge, rather than dismiss, children's feelings (...) and that parenting is not about perfection

i Newspaper