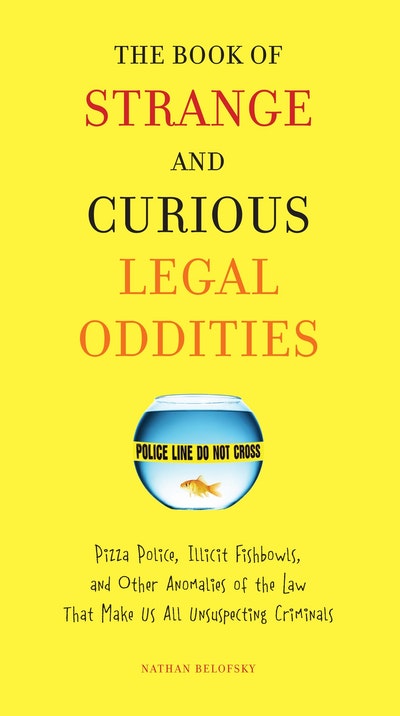 Published:

3 August 2010

ISBN:

9780399535956

Imprint:

Tarcher

Format:

Paperback

Pages:

256

RRP:

$23.99
The Book of Strange and Curious Legal Oddities
Pizza Police, Illicit Fishbowls, and Other Anomalies of theLaw That Make Us AllU nsuspecting Criminals
---
---
You're probably breaking the law right now-and don't even know it.
Did you know...
? Naples, Italy, enforces laws for what constitutes real pizza, and "pizza police" visit restaurants to crack down on unlawful pies?
? In West Virginia it is a crime to display or possess a red or black flag?
? It is illegal to sell stuffed articles depicting female breasts within a thousand feet of any county highway in California?
? Spherical fishbowls have been banned in Rome since 2004?
There are hundreds of bizarre laws that we could be breaking at any moment. What exactly are we doing that we shouldn't be doing, and what happens if we get caught? In this engaging and insightful collection, Nathan Belofsky takes us on a journey of eclectic, unexpected, and bizarre laws from around the world.
Written by a practicing lawyer with an eye for his profession's most unusual quirks, The Book of Strange and Curious Legal Oddities offers a delightful look at the legal system's peculiarities through the ages. From laws that crack down on how we eat, look, and have sex, to real legal battles involving litigious chimpanzees, you'll start wondering whether you're really the law-abiding citizen you claim to be.
Published:

3 August 2010

ISBN:

9780399535956

Imprint:

Tarcher

Format:

Paperback

Pages:

256

RRP:

$23.99