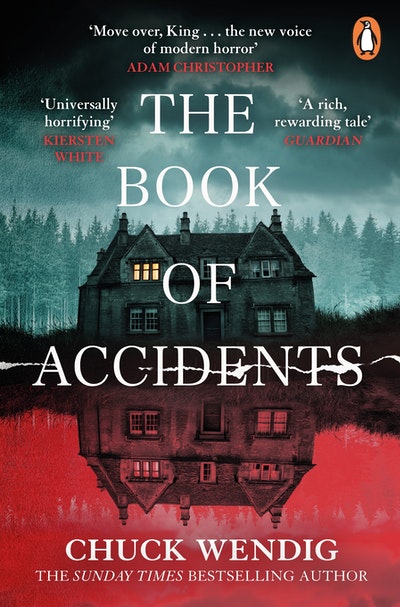 Published:

5 July 2022

ISBN:

9781529101096

Imprint:

Del Rey

Format:

Paperback

Pages:

544

RRP:

$22.99
The Book of Accidents
---
---
---
An old country house haunted by a dark, mysterious presence forces one family to confront their own secrets in this masterpiece of literary horror by the New York Times bestselling author of Wanderers
________________________________________
An old country house haunted by a dark, mysterious presence forces one family to confront their own secrets in this masterpiece of literary horror by the New York Times bestselling author of Wanderers
Nate left his hometown in rural Pennsylvania behind years ago to escape his abusive father and make a new life for himself and his family in Philadelphia. So when his father dies and leaves him their family home, an old stone Colonial in the country, the last thing Nate wants is to return to the place where his only
memories are of pain and loss.
But he can also see that the beautiful old house will give his family a chance to begin again: for Nate to leave the police force behind; for his wife, Maddie, to focus on her art as a sculptor; and for their son, Oliver, to go to a small,
excellent school in the country. But when they return to the house, they find it haunted by more than Nate's
memories. Nate keeps seeing a presence that looks uncannily like his father.
Maddie hears something speaking to her through her sculptures. And Oliver befriends a strange boy with a scarred face and a troubled past who seems to know something about the house's secrets. Because there is something there--something from deep in Nate's past--that threatens to tear this family apart . . . and they will have to come together to survive it.
Published:

5 July 2022

ISBN:

9781529101096

Imprint:

Del Rey

Format:

Paperback

Pages:

544

RRP:

$22.99
Praise for The Book of Accidents
The dread, the scope, the pacing, the turns-I haven't felt all this so intensely since The Shining.

Stephen Graham Jones, New York Times bestselling author of The Only Good Indians
A propulsive thriller that is as funny as it is frightening, clever as it is uncanny, tender as it is terrifying.

Alma Katsu, author of Red Widow and The Deep
Sweeping yet intimate, multi-layered and big-hearted, this is a novel to sink deeply into

Dan Chaon, author of Ill Will
Universally horrifying and viscerally intimate, Wendig brilliantly uses The Book of Accidents to explore a painful truth: in the end, we all haunt ourselves.

Kiersten White, New York Times bestselling author of And I Darken
Move over King, Chuck Wendig is the new voice of modern American horror . . . a masterwork

Adam Christopher, author of Stranger Things: Darkness on the Edge of Town
Unforgettable, terrifying dose of top-flight horror that hits on our most basic, core fears. The Book of Accidents chills you to the bone while still warming your heart.

Alex Segura, author of Star Wars Poe Dameron: Free Fall and Miami Midnight
In the tradition of Stephen King's Dark Tower books, Wendig views the cosmic and terrifying through the lens of the domestic, anchoring his visions of the sublime in the grit of the familiar

John Langan, author of Children of the Fang and Other Genealogies
Wendig combines cosmic horror and human heroism with his continuing theme of the traumatic effect of abusive relationships handed down from father to son; this is a rich, rewarding tale.

Lisa Tuttle, The Guardian
What follows is a gruesome, compelling, bloody yarn complete with serial killer, mysterious landscape of shifting stones, abandoned mines and an interdimensional twist that turns the suspense up to 11 and beyond. Goodness prevails, but what a ride.

The Daily Mail
An excellent gripping tale that crosses the genres with aplomb.

SciFi Bulletin
This is a full-blooded rural haunted house chiller with something for everyone: ghosts, doppelgängers, numerology, parallel worlds, demons and more.

Financial Times