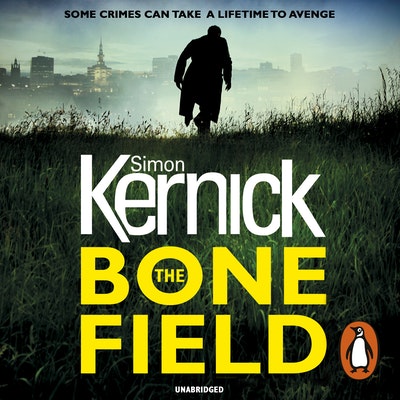 Published:

12 January 2017

ISBN:

9781473538504

Imprint:

Cornerstone Digital

Format:

Audio Download

Length:

10 hr 19 min

Narrator:

Paul Thornley

RRP:

$22.99
The Bone Field
---
---
---
From the Sunday Times bestselling author of Stay Alive, The Final Minute and The Witness, comes the first book in his brand new series. Featuring DI Ray Mason and PI Tina Boyd.
'Hang on tight!' - Harlan CobenA NEW TWIST TO A DECADES OLD MYSTERY
1990A young woman goes missing while backpacking in Thailand.
She is never seen again.
2016Her bones are discovered 6000 miles away in an English field and, within hours, the boyfriend who reported her disappearance all those years ago is dead.
So begins a hunt to solve her murder that will take DI Ray Mason and PI Tina Boyd into a dark and terrifying world of corruption and deadly secrets, where murder is commonplace, and nothing and nobody is safe…
Praise for The Bone Field
'Hang on tight!' Harlan Coben'breathless' - Sunday Times'An addictive thriller full of gritty details and fast frenetic action.' - Sunday Mirror'High Energy, action packed reading that'll keep your heart rate high and your attention glued to the pages … To be able to maintain such a high level of action and suspense is a real skill and Simon Kernick is a master of the thriller.' - Damp Pebbles'A series? By Simon Kernick? Yes please! [A] powerful, fast moving and intoxicating tale. - Love Reading'The Bone Field is one of those intriguing novels that surreptitiously gets under your skin.' - Jaffa Reads Too'An adrenaline rush of a read' - My Chestnut Reading Tree[A] heart pounding, blood pressure raising thriller … Gird your loins for a fast paced read, full of thrills, spills and unrelenting action - Raven Crime Reads9/10. When it comes to a white knuckle action ride nobody does it better - Peterborough TelegraphJudging by the pace, the twists and the turns that energise The Bone Field, it could be a series well worth following - Shots eZineThe only thing that bothers me about that is the long wait until the next book in The Bone Field - Off-The-Shelf Books
Published:

12 January 2017

ISBN:

9781473538504

Imprint:

Cornerstone Digital

Format:

Audio Download

Length:

10 hr 19 min

Narrator:

Paul Thornley

RRP:

$22.99
Praise for The Bone Field
A NEW TWIST TO A DECADES OLD MYSTERY 1990 A young woman goes missing while backpacking in Thailand. She is never seen again. 2016 Her bones are discovered 6000 miles away in an English field and, within hours, the boyfriend who reported her disappearance all those years ago is dead. So begins a hunt to solve her murder that will take DI Ray Mason and PI Tina Boyd into a dark and terrifying world of corruption and deadly secrets, where murder is commonplace, and nothing and nobody is safe…

from the publisher's description
Hang on tight!

Harlan Coben
A potent cocktail of thrills

Guardian
Keeps the action breakneck

Time Out
Doesn't let up till the very last

Daily Mirror
This latest thriller demonstrates just how good he has become … Thrilling and twisty, it never lets up

Daily Mail
breathless

Sunday Times
An addictive thriller full of gritty details and fast frenetic action.

Sunday Mirror
An adrenaline rush of a read.

My Chestnut Reading Tree
'The Bone Field is one of those intriguing novels that surreptitiously gets under your skin.'

Jaffa Reads Too
A series? By Simon Kernick? Yes please! [A] powerful, fast moving and intoxicating tale.

Love Reading
I want to see where the twist at the end leads to!

The Booktrail
High Energy, action packed reading that'll keep your heart rate high and your attention glued to the pages … To be able to maintain such a high level of action and suspense is a real skill and Simon Kernick is a master of the thriller.

Damp Pebbles
[A] heart pounding, blood pressure raising thriller … Gird your loins for a fast paced read, full of thrills, spills and unrelenting action

Raven Crime Reads
9/10. When it comes to a white knuckle action ride nobody does it better

Peterborough Telegraph
Judging by the pace, the twists and the turns that energise The Bone Field, it could be a series well worth following

Shots eZine
The only thing that bothers me about that is the long wait until the next book in The Bone Field

Off-The-Shelf Books
Bring on the next chapter

Sun
Truly unputdownable. The Bone Field is an intriguing novel that really gets under your skin … This fast-paced book is certain to keep you gripped to the very end

Dorset Echo
The Bone Field by Simon Kernick is dark, thrilling and totally addictive, do not miss it

Dot Scribbles
Truly unputdownable

The Press Association
What a great read, it had me gripped from beginning to end

Mystery People
Fast-paced with a gripping plot, nasty villains and heroes who aren't afraid to get their hands dirty, The Bone Field is an action-packed thriller that'll keep you firmly on the edge of your seat

Culture Fly