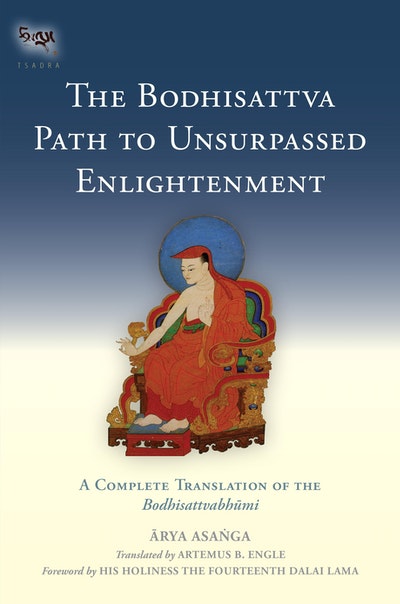 Published:

15 March 2016

ISBN:

9781559394291

Imprint:

Snow Lion

Format:

Hardback

Pages:

832

RRP:

$95.00
The Bodhisattva Path To Unsurpassed Enlightenment
A Complete Translation of the Bodhisattvabhumi
---
---
A complete translation of Asanga's classic work on the distinguishing qualities of bodhisattvas that describes how to awaken, develop, and perfect the mind of enlightenment in the Great Vehicle, or Mahayana, Buddhist tradition.
Arya Asanga, famous for having been the conduit through which the teachings contained in the Five Texts of Maitreya were received and recorded, is also considered to be the author in his own right of several other foundational works of Yogacara philosophy. One of these, considered the definitive text of the Yogacara school of Buddhism, is the encyclopedic synthesis of Mahayana Buddhist doctrines and practices known as the Yogacarabhumi, or "Stages of Spiritual Practice." The Bodhisattvabhumi, or "Stages of the Bodhisattva Path," is one portion of that massive work, though it is considered a stand-alone text in the Tibetan traditions—for example, it is counted among the six core texts of the Kadampas. However, despite the text's centrality to the Yogacara school and its seminal importance in the Tibetan traditions, it has remained unavailable in English except in piecemeal translations; Engle's translation will therefore be especially welcomed by scholars and students alike.
Series Overview: This book is part of the Tsadra Foundation's Translation Program, which aims to make authentic and authoritative texts from the Tibetan tradition available in English.
Published:

15 March 2016

ISBN:

9781559394291

Imprint:

Snow Lion

Format:

Hardback

Pages:

832

RRP:

$95.00