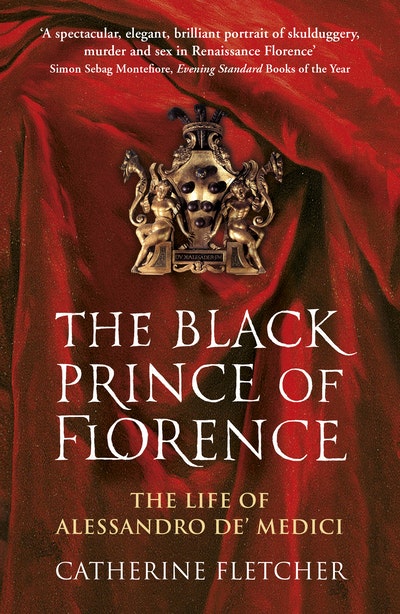 Published:

21 April 2016

ISBN:

9781448182084

Imprint:

Vintage Digital

Format:

EBook

Pages:

368
The Black Prince of Florence
The Spectacular Life and Treacherous World of Alessandro de' Medici
---
---
---
A dramatic tale of assassination, spying and betrayal in the opulent, cut-throat world of Renaissance Italy.
'A spectacular, elegant, brilliant portrait of skulduggery, murder and sex in Renaissance Florence' Simon Sebag Montefiore, Evening Standard, Books of the Year
1531 - after years of brutal war and political intrigue, the bastard son of a Medici Duke and a 'half-negro' maidservant rides into Florence. Within a year, he rules the city as its Prince. Backed by the Pope and his future father-in-law the Holy Roman Emperor, the nineteen-year-old Alessandro faces down bloody family rivalry and the scheming hostility of Italy's oligarchs to reassert the Medicis' faltering grip on the turbulent city-state. Six years later, as he awaits an adulterous liaison, he will be murdered by his cousin in another man's bed.
'Nothing in sixteenth-century history is more astonishing' Hilary Mantel
Published:

21 April 2016

ISBN:

9781448182084

Imprint:

Vintage Digital

Format:

EBook

Pages:

368
Praise for The Black Prince of Florence
A scintillating book that glisters and gleams with stabbings, poisonings, adultery and intrigue - and a startling reminder of how visceral and dangerous Renaissance Florence was. The drama of events is perfectly complemented by careful scholarship and lucid writing. This is everything a historical biography should be

Ian Mortimer, author of The Time Traveller's Guide to Medieval England
An original, revelatory and gripping biography. Not only a vivid evocation of the violence and glamour of sixteenth-century Florence, but also a fresh perspective on the history of race and the concept of the Renaissance man

Jessie Childs, author of God's Traitors
A fascinating and profound examination of one of the darkest periods of Medici family history, filled with a wealth of period detail

Paul Strathern, author of The Medici
An accomplished and original account of an extraordinary and much misrepresented episode in Italian history. Catherine Fletcher provides a newly sympathetic portrait of a monarch whose rule in Florence was even more unlikely than Henry VII's presence on the English throne

Professor Diarmaid MacCulloch, author of A History of Christianity
Nothing in sixteenth century history is more astonishing to our era than the career of Alessandro de' Medici. His story, told by an exact and fluent historian, challenges our preconceptions. Catherine Fletcher's eye for the skewering detail makes the citizens of renaissance Florence live again: courtesans and cardinals, artists and assassins

Hilary Mantel, author of Wolf Hall
In this brilliantly written and impeccably researched biography, Catherine Fletcher brings Renaissance Florence vividly to life. The story of Alessandro de' Medici's brief and bloody ascendancy reveals the darker side of this most dazzling and cultured of cities, beset by intrigue, violence and betrayal. A stunning book.

Tracy Borman, author of Thomas Cromwell: The untold story of Henry VIII's most faithful servant
An unexpected box of delights

Caroline Murphy, author of Murder of a Medici Princess
Packed with intrigue . Fletcher describes with cool menace the plotting and politicking that dominated Alessandro's rule . brought splendidly to life in this excellent book

Dan Jones, Sunday Times
More than just a forensic reconstruction of the period . Like a detective, Fletcher interrogates her witnesses . But it is among the detailed records of Alessandro's wardrobe-keepers that she finds her treasure . These lend her narrative a sensuous vividity

Frances Wilson, Sunday Telegraph
Fletcher is entirely at ease amid the Renaissance world and its archival resources, and her details, particularly those involving dress, feasting and ceremonial, are generously deployed in the work of recovering a neglected episode of Florentine history

Jonathan Keates, Literary Review
Bold, breathless and full of suspense

Daisy Dunn, The Times
Fletcher charts Alessandro's meteoric rise and bloody fall while bringing Renaissance Italy into sharp focus by deftly contrasting its simultaneously sublime and visceral natures, drawing us into an intriguing, believable Florence along the way

Catholic Herald
Astonishing . gripping and original . a compelling portrait

Matthew Lyons, Financial Times
Gripping . Fletcher describes in detail without losing momentum

Economist
Engrossing . bursts with stabbings, poisonings, duels, eye-gougings, arquebus shootouts and people being run through with swords. Fletcher's approach is scholarly yet dramatic, immersed in Renaissance glamour . a tremendous step forward in our knowledge of this intriguing man

Alex von Tunzelmann, Spectator
Terrific . maintains a standard that all history books should aim for

BBC History Magazine
A spectacular, elegant, brilliant portrait of skulduggery, murder and sex in Renaissance Florence

Simon Sebag Montefiore, Evening Standard, Books of the Year
A seductive, shimmering and significant retelling of a man whose rise to power was ... as unlikely as it was extraordinary

Thomas Penn, Guardian
There are few periods in history as spectacular as the Italian Renaissance, and this fascinating biography of the comparatively obscure Florentine Duke Alessandro de' Medici is a positive riot of vivid incident and intrigue.'

Simon Shaw, Mail on Sunday
A creditable and enjoyable history of one of the lesser known Medici. It is a story of nepotism, intrigue, murder, lust, spying, double crossing and political and religious power grabbing. Well researched; Fletcher has a good eye for detail and discerning credible witness testimony from contemporary accounts.. lively and entertaining and accessible to the casual reader, as much as the student of the period.

Paul Burke, Nudge