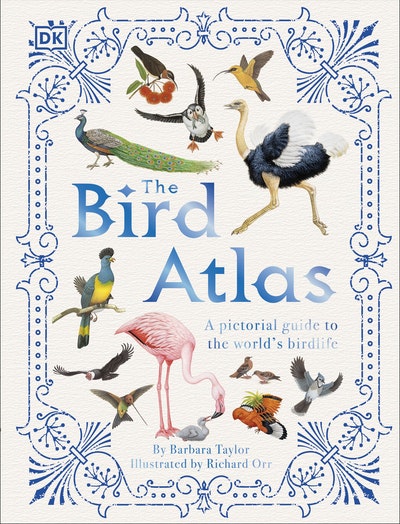 Published:

5 January 2021

ISBN:

9780241412794

Imprint:

Dorling Kindersley

Format:

Hardback

Pages:

64

RRP:

$32.99
The Bird Atlas
A Pictorial Guide to the World's Birdlife
---
---
---
An illustrated atlas to the birds of the world - whether they swim, run, or fly!

Explore the world of birds with this magnificently illustrated atlas.
Which bird migrates the furthest? How do birds find a mate? What can we do to help endangered birds? The Bird Atlas answers all these questions and more.
This lavishly illustrated atlas for children is not your average guide to birds. It takes readers on a tour, continent by continent, to meet the birds of the world. The book travels through different biomes, such as mountains, deserts, and rivers, and visits a range of regions, from the Galapagos to the Himalayas.
The Bird Atlas is packed with beautiful, life-like illustrations of birds from all over the world, with maps pinpointing where they are found. There are many books that can tell you toucans live in the Amazon rainforest, but this book shows you exactly where in that vast habitat you could spot the species.
Every continent is introduced with an overview of the ecology, climate, and landscape, and the typical and record-breaking birds that live there. The book also explains the anatomy of a bird, traces migration routes, and highlights endangered species, providing a complete introduction to our feathered friends that will fascinate every budding ornithologist.
Published:

5 January 2021

ISBN:

9780241412794

Imprint:

Dorling Kindersley

Format:

Hardback

Pages:

64

RRP:

$32.99