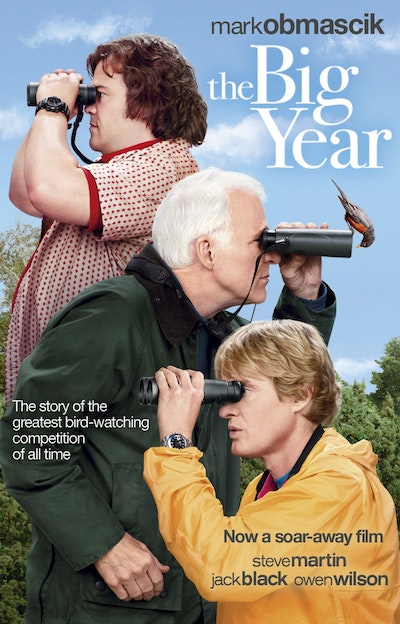 Published:

1 December 2011

ISBN:

9781446486993

Imprint:

Transworld Digital

Format:

EBook

Pages:

320
The Big Year
---
---
---
Wacky, wonderfully funny (and occasionally alarming) story of extreme bird-watching in North America as three obsessives race to win the greatest bird-watching competition of all time...
In the USA some 50 million people lay claim to being bird-watchers or 'birders', spending over $60 billion on birding-related travel each year and over $560 million on birding-related membership fees! And there are a select (and utterly obsessed) few who take it one step further, taking part in one of the world's quirkiest and spectacularly competitive events.
It's known as 'the Big Year' and it's the gruelling, expensive, no-holds-barred race to identify the most species in North America in a single year. THE BIG YEAR is Pulitzer Prize-winner Mark Obmascik's rollicking account of what was - thanks to freak weather conditions - to become the greatest 'birding' year of all time as experienced by three of the biggest and most determined hitters in the birding world. Indeed, for a recently divorced software engineer for a nuclear power station, a retired vice President of a billion-dollar chemical conglomerate, and a New Jersey roofing contractor, 1998 wasn't just any old big year, it was the BIGGEST...
What becomes very clear through the pages of this classic portrait of obsession is that while our feathered friends may be the objective of the Big Year competition, it's the curious activities and behavioural patterns of the pursuing 'homo sapiens' that are the real cause for concern (take, for example, the house-bound birder from California who participates in 'Big Sits' - bird-watching on TV - whose greatest fear is competitors with satellite and cable. Or Debi Millichap who changed her name to Debi Shearwater in honour of her second favourite bird. Her favourite was a land-based raptor but she sensibly surmised Debi Golden Eagle was perhaps a bird-too-far!). Full of courage and deceit, passion and paranoia, fear and loathing, THE BIG YEAR reveals the extremes to which Man will go to pursue his dreams, to conquer and to categorize, no matter how low the stakes. And as the author brilliantly brings to life this extraordinary, eccentric triumvirate of enthusiasts on their epic 270,000 mile marathon across North America, he finds, in spite of himself, he too succumbs to the all-consuming nature of their obsession. The result is a wonderfully entertaining, acutely observed lark of a read that is destined to rank alongside the best of Bill Bryson.
Published:

1 December 2011

ISBN:

9781446486993

Imprint:

Transworld Digital

Format:

EBook

Pages:

320
A true and unexpectedly exhilarating tale of guile, obsession and competitiveness as rich and involving as any novel...You will care

JIM CRACE, The Week
'An adrenaline rush of a book...about an obsession almost as mad as it is magnificent'

YORKSHIRE POST
'An exciting road trip of a story...This sense of thrilling liberation, forays into uncharted territories and an understanding of what drives these men is as much part of the story as the quest itself'

THE LIST