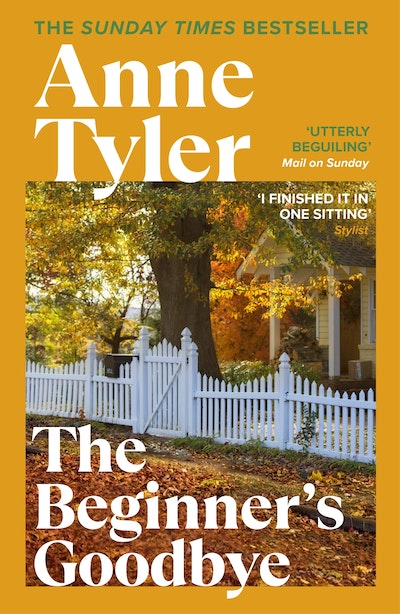 Published:

1 February 2013

ISBN:

9780099572237

Imprint:

Vintage

Format:

Paperback

Pages:

272

RRP:

$19.99
The Beginner's Goodbye
---
---
---
An Anne Tyler gem: a story about love, about marriage, about two ordinary people so intertwined they cannot be separated – even by death ...
When Dorothy came back from the dead, it seemed to Aaron that some people simply didn't notice.
The accident that killed Dorothy - involving an oak tree, a sun porch and some elusive biscuits - leaves Aaron bereft and the house a wreck. As those around him fuss and flap and bring him casserole after casserole, Aaron ploughs on. But then Dorothy starts to materialize in the oddest places. At first, she only comes for a short while, leaving Aaron longing for more. Gradually she stays for longer, and as they talk, they also bicker and the cracks that were present in their perfectly ordinary marriage start to reappear...
OVER A MILLION ANNE TYLER BOOKS SOLD
'She's changed my perception on life' Anna Chancellor
'One of my favourite authors ' Liane Moriarty
'She spins gold' Elizabeth Buchan
'Anne Tyler has no peer' Anita Shreve
'My favourite writer, and the best line-and-length novelist in the world' Nick Hornby
'A masterly author' Sebastian Faulks
'Tyler is not merely good, she is wickedly good' John Updike
'I love Anne Tyler' Anita Brookner
'Her fiction has strength of vision, originality, freshness, unconquerable humour' Eudora Welty
Published:

1 February 2013

ISBN:

9780099572237

Imprint:

Vintage

Format:

Paperback

Pages:

272

RRP:

$19.99
Praise for The Beginner's Goodbye
A terrific writer... She's changed my perception on life'

Anna Chancellor
Deeply rewarding novel about grief and hope, infused with gentle humour

Sunday Times
A near flawless novel of love and loss ... exquisitely poignant but unsentimental

Rosemary Goring, Sunday Herald
She's a master storyteller and inventor of character

Vanessa Berridge, Daily Express
This novel's great achievement is to capture the tensions and subtleties of a married life cut short… I read it virtually in one sitting, but that's a fairly common experience with Anne Tyler books… I didn't want it to end. Which is also a fairly common Tyler thing

Viv Groskop, Independent on Sunday
Richer and more alive than the best work almost any other writer is producing

Cressida Connolly, Daily Telegraph
This is what Tyler does better than almost any contemporary writer. She peers at the forgotten areas of the everyday, the bits that are hard to pinpoint... She looks at people -- at life -- from the inside out.

Lucy Atkins, Sunday Times
Brilliantly observed and mercifully unsentimental

The Times
Yet again she has articulated the supreme difficulties of human communication in a calmly insightful exploration of love and truth, grief and reality.

Eileen Battersby, Irish Times
Her stories are quite unlike anyone else's

Cressida Connolly, Daily Telegraph
Tyler writes with a generosity of spirit and an emotional truthfulness that makes you forget the bare mechanics of plot

David Robinson, Week
A brilliantly observed and mercifully unsentimental examination of the emotional arc of grief

The Times, Sarah Vine
A perfectly judged and brilliantly executed novel of loss and recovery

Fanny Blake, Woman & Home
All Hail Anne Tyler

Sunday Times
A carefully observed study of grief and its trajectory

Pamela Norris, Literary Review
Tyler uses simple, elegant prose to manifest her particular brands of realism and humour

Freya McClelland, Independent
Such clear-eyed acceptance of life's fragility, and such a delicate way with it: this attitude lies behind all of Tyler's work

Edmund Gordon, TLS
Tyler strips away layers of everyday life to reveal the abyss of pain underneath but does so with such skill and sparkling wit it makes this a real celebration of life.

Vanessa Berridge, Daily Express
A simple, subtle and really honest account of how one man, Aaron, deals with the darkly comic death of his dumpy, clever and brilliant wife Dorothy... I finished it in one sitting.

Alix Walker, Stylist
A perfectly judged and brilliantly executed novel of loss and recovery.

Woman & Home
Tyler distilled.

Lady
A funny, gently moving and insightful book.

Liam Heylin, Irish Examiner
What could be mawkish and cloying is gentle and touching, not least because she is a very funny writer.

Michael Prodger, Financial Times
In Tyler's small slices of life there is poetry and wisdom...artistically subtle and emotionally satisfying

Elaine Showalter, Guardian
The ending teeters on the brink of sentimentality but such is her psychological insight, the truth of her writing, that if she says unlikely happy endings are possible, I believe her.

Jake Kerridge, Sunday Express
This meticulous, gently humorous novel is concerned with the effects of grief, the stop-start nature of moving on and the role of friendships, however imperfect, in facing catastrophe. [Tyler] remains as gimlet-eyed as ever in portraying ordinary lives that have become unmoored.

Metro
This novel's great achievement is to capture the tensions and subtleties of a married life cut short… I read [it] virtually in one sitting, but that's a fairly common experience with Anne Tyler books… I didn't want it to end. Which is also a fairly common Tyler thing.

Viv Groskop, Independent on Sunday
The Beginner's Goodbye is a very funny book … every incident is at once recognizably true to life and yet somehow utterly off-kilter.

Edmund Gordon, Times Literary Supplement
Brims with wry perceptiveness and rueful humour

Peter Kemp, Sunday Times (Books of the Year)
Tyler's playful humour imbues this unsentimental portrait of a mismatched marriage

Emma Hagestadt, Independent
A cleverly observed tale of an imperfect relationship and grief

Big Issue in the North
A bittersweet, utterly beguiling story of love and loss from a brilliant writer

John Koski, Mail on Sunday
Both compelling and deeply touching, once you start reading you won't want The Beginner's Goodbye to end

Hannah Britt, Daily Express
It begins with one of those sentences that impels you to read on…Tyler's haunting tale of love and loss is intelligent, unsentimental and often wryly funny

The Lady
Deceptively easy prose

Glasgow Sunday Herald
A lovely, stylish way to write a novel about marriage

William Leith, Evening Standard
A beautifully poignant portrait of marriage, loss and grief

Good Housekeeping
Exhibit[s] all the delicious readability that admirers of Tyler expect

Brandon Robshaw, Independent on Sunday
Both compelling and deeply touching, once you start reading you won't want The Beginner's Goodbye to end

Hannah Britt, Scottish Daily Express
An emotionally satisfying book with wise and moving moments

Good Housekeeping