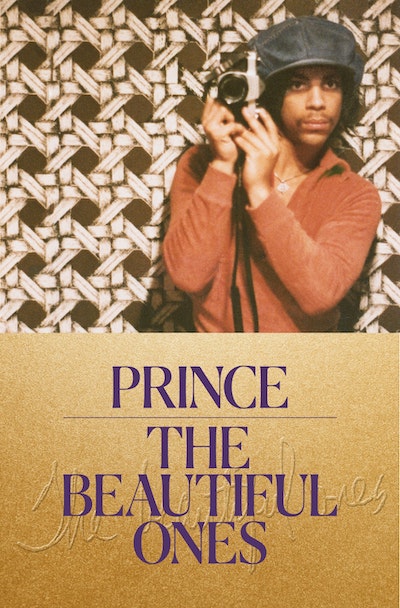 Published:

29 October 2019

ISBN:

9781780899176

Imprint:

Century

Format:

Hardback

Pages:

288

RRP:

$49.99
The Beautiful Ones
---
---
---
THE BEAUTIFUL ONES is the official story of Prince's life, told through his own words, work, and personal effects, illustrated in beautiful colour full-colour . It will be an intimate, unconventional narrative, echoing his mantra of creativity, community and identity, giving an unprecedented and inspiring insight into the life of the global superstar.
THE #1 NEW YORK TIMES BESTSELLER
A Times, Sunday Times and Telegraph Book of the Year
______________________________________________
'A triumph ... a masterclass in the bottling of its subject's seductive essence. His presence in this book is so strong that it's hard to believe he has really left the building'
MOJO
'Handsomely presented, visually sumptuous'
THE TIMES______________________________________________

From Prince himself comes the brilliant coming-of-age-and-into-superstardom story of one of the greatest artists of all time-featuring never-before-seen photos, original scrapbooks and lyric sheets, and the exquisite memoir he began writing before his tragic death.
Prince was a musical genius, one of the most talented, beloved, accomplished, popular, and acclaimed musicians in pop history. But he wasn't only a musician-he was also a startlingly original visionary with an imagination deep enough to whip up whole worlds, from the sexy, gritty funk paradise of his early records to the mythical landscape of Purple Rain to the psychedelia of Paisley Park. But his greatest creative act was turning Prince Rogers Nelson, born in Minnesota, into Prince, the greatest pop star of his era.
The BeautifulOnes is the story of how Prince became Prince-a first-person account of a kid absorbing the world around him and then creating a persona, an artistic vision, and a life, before the hits and fame that would come to define him. The book is told in four parts. The first is composed of the memoir he was writing before his tragic death, pages that brings us into Prince's childhood world through his own lyrical prose. The second part takes us into Prince's early years as a musician, before his first album released, through a scrapbook of Prince's writing and photos. The third section shows us Prince's evolution through candid images that take us up to the cusp of his greatest achievement, which we see in the book's fourth section: his original handwritten treatment for Purple Rain-the final stage in Prince's self-creation, as he retells the autobiography we've seen in the first three parts as a heroic journey.
The book is framed by editor Dan Piepenbring's riveting and moving introduction about his short but profound collaboration with Prince in his final days-a time when Prince was thinking deeply about how to reveal more of himself and his ideas to the world, while retaining the mystery and mystique he'd so carefully cultivated-and annotations that provide context to each of the book's images.
This work is not just a tribute to Prince, but an original and energizing literary work, full of Prince's ideas and vision, his voice and image, his undying gift to the world.
______________________________________________
'Prince's voice comes through loud and clear; his personality, joie de vivre and single-mindedness jumping off the page throughout.'
CLASSIC POP MAGAZINE
'The Beautiful Ones is for everyone. It's not a read, but an experience, an immersion inside the mind of a musical genius. You are steeped in Prince's images, his words, his essence. The book can be a starting point for a Prince fascination, or a continuation of long-standing admiration. Either way, it will deepen the connection of any reader with the musical icon."
USA TODAY
'The Beautiful Ones remains a jewel-like fragment, Piepenbring's sensitive introduction providing a snapshot of the Purple One's last months at Paisley Park and during the Piano and Microphone tour' Q MAGAZINE
'An affirmation of Prince's Blackness and humanity. Prince writes about his childhood with clarity and poetic flair, effortlessly combining humorous anecdotes with deep self-reflection and musical analysis. Prince is one of us - he just worked to manifest dreams that took him from the North Side of Minneapolis to the Super Bowl.'
HUFFPOST
'A compelling curiosity that finds its author orbiting around a few touchingly intimate encounters with his sphinx-like subject . with passages, lyric sheets and photographs from the Purple One himself'
TELEGRAPH, Books of the Year
'A memoir that is written by Prince, literally. Handwritten pages he had shared with Piepenbring make up Part 1, taking us from his first memory - his mother's eyes - through the early days of his career... The Beautiful Ones doesn't paint a perfect picture. It's not definitive. It can't be, it shouldn't be and, thankfully, it doesn't try to be. We'll never know what it might have been if Prince had lived. But it's a good start. Now, it's up to us to take what's there and make something out of it for ourselves, creating, just as Prince wanted.'
NPR
'Both a pleasure and a surprise ... Prince took the project very seriously, and it shows in the work he delivered. ... It shines an intimate and revealing light on the least-known period of his life'
VARIETY
'The Beautiful Ones is a book in pieces, fragments of the ground-breaking autobiography Prince had planned. Pieced together after his death in 2016, it collects his handwritten childhood memoires, superb personal photographs and his chosen co-writer Dan Piepenbring's vivid account of their brief collaboration. Yet remarkably despite the central absence, it still catches something of Prince between the gaps - a trace of perfume, a glance to camera, a first kiss' SUNDAY TIMES, Book of the Year
'This is a beautiful book and a must-have for Prince completists'
DAILY EXPRESS
'A ghostly memoir of a pop legend'
THE i
Published:

29 October 2019

ISBN:

9781780899176

Imprint:

Century

Format:

Hardback

Pages:

288

RRP:

$49.99
Praise for The Beautiful Ones
This sumptuous-looking illustrated tribute to the late, great musician and singer tells the official story of Prince's life, through his own words and personal effects.

The Bookseller
A triumph.The Beautiful Ones rivals the Beastie Boys Book - or even your favourite Prince song - as a masterclass in the bottling of its subject's seductive essence. his presence in this book is so strong that it's hard to believe he has really left the building. *****

Mojo
Handsomely presented, visually sumptuous... These tantalising pages will only enhance the enigmatic pop star's mystique. Fluidly written, intimate and warm. it offers glimpses, partial and alluring.

The Times
Prince's voice comes through loud and clear; his personality, joie de vivre and single-mindedness jumping off the page throughout.'

Classic Pop Magazine
Prince remains as enigmatic as ever. And yet, it is in the very fragmentary structure of the book that the essence of the man comes alive.In a world of identikit pop stars terrified of upsetting the apple cart, this is a book that reminds us that Prince truly was one of a kind.

Irish Independent
Worth every penny.

Daily Mirror
Prince's posthumous memoir conceals as much as it reveals, but remains a beautiful and strange book.

The Quietus
The Beautiful Ones is for everyone. It doesn't matter whether you're a Prince fanatic or if your interest is simply piqued by all things music or pop culture: The book is worth picking up.The Beautiful Ones is not a read, but an experience, an immersion inside the mind of a musical genius. You are steeped in Prince's images, his words, his essence. The book can be a starting point for a Prince fascination, or a continuation of long-standing admiration. Either way, it will deepen the connection of any reader with the musical icon.

USA Today
The Beautiful Ones is an affirmation of Prince's Blackness and humanity.. Prince writes about his childhood with clarity and poetic flair, effortlessly combining humorous anecdotes with deep self-reflection and musical analysis..It's another truth about him that is rarely explored in the media.. The Beautiful Ones shows that Prince is one of us - he just worked to manifest dreams that took him from the North Side of Minneapolis to the Super Bowl. It encourages us to tap into our power to design the lives we envision for ourselves and set a precedent for future generations to do the same.

Huffpost
Piepenbring doesn't just want to write this memoir with Prince, he wants to do it right (whatever "right" is, Prince always colored way outside of the purple lines). Once Prince dies and the book project lives on, Piepenbring also wants to do right by his idol.. This means we get a memoir that is written by Prince, literally. Handwritten pages he had shared with Piepenbring make up Part 1, taking us from his first memory - his mother's eyes - through the early days of his career.. We also get a memoir that is carefully curated by Piepenbring, who writes that he was able to go through Paisley Park, room-by-room, sorting through Prince's life. The Beautiful Ones doesn't paint a perfect picture. It's not definitive. It can't be, it shouldn't be and, thankfully, it doesn't try to be. We'll never know what it might have been if Prince had lived. But it's a good start. Now, it's up to us to take what's there and make something out of it for ourselves, creating, just as Prince wanted.

NPR
It's both a pleasure and a surprise to say that although The Beautiful Ones may not satisfy fans' wildest dreams, it delivers much, much more than we had any reason to expect. As is clear from editor Dan Piepenbring's very long intro, Prince took the project very seriously, and it shows in the work he delivered. Although the actual autobiography segment of this book ends at the end of Prince's teens, it shines an intimate and revealing light on the least-known period of his life - his childhood - which is embellished with family photos, notes and other ephemera.

Variety
A beautifully crafted objet d'art

Hot Press
This is a beautiful book and a must-have for Prince completists

Daily Express
A ghostly memoir of a pop legend

i
The book kicks off with Piepenbring's engrossing tale behind the memoir.That soon gives way to the pages the artist wrote before his passing...These recollections are tender and heartfelt.a rare treasure trove for Prince fanatics

Yahoo! Entertainment
The Beautiful Ones is a splendidly produced book. and if we are only to have fragments, then these are the very best ones to have: childhood, his complex relationship with his handsome father. and his beautiful complicated mother Mattie. this book is a fun glance, a tiny bolt from what now feels like a very distant past, and will leave you feeling nothing but huge affection for little, brilliant Skipper.

The Spectator
The Beautiful Ones remains a jewel like fragment, Piepenbring's sensitive introduction providing a snapshot of the Purple One's last months at Paisley Park and during the Piano and Microphone tour.

Q Magazine
A compelling curiosity that finds its author orbiting around a few touchingly intimate encounters with his sphinx-like subject. with passages, lyric sheets and photographs from the Purple One himself.

Daily Telegraph
Admittedly, The Beautiful Ones is a book in pieces, fragments of the ground-braking autobiography Prince had planned. Pieced together after his death in 2016, it collects his handwritten childhood memoirs, superb personal photographs and his chosen co-writer Dan Piepenbring's vivid account of their brief collaboration. Yet remarkably despite the central absence, it still catches something of Prince between the gaps- a trace of perfume, a glance to camera, a first kiss.

The Sunday Times
The stories told in The Beautiful Ones are filmic dreams of a life.

New Statesman
Piepenbring's introduction certainly gives a sense of the singer, someone who was both otherworldly and prosaic.

Guardian
The Beautiful Ones is not a traditional memoir of the trailblazer, more a collage of stories, notes, and pictures, [.] a fascinating document.

Irish Examiner
Prince's deeply personal memoir, that includes never-seen photos, scrapbooks and lyric sheets. It's a must for all fans.

Choice Magazine
Other books will surely dig deeper into the life and the music, but his glows with a special allure, gilded as it is by the touch of the creator himself.

Q Magazine
If you adored the amazing performer [.] then you should get your hands on this amazing memoir, written by the artist himself in The Beautiful Ones. Prince provides incredible anecdotes about his meteoric rise to stardom, sharing photos and memorabilia that have never been seen before.

Essential Marbella Magazine