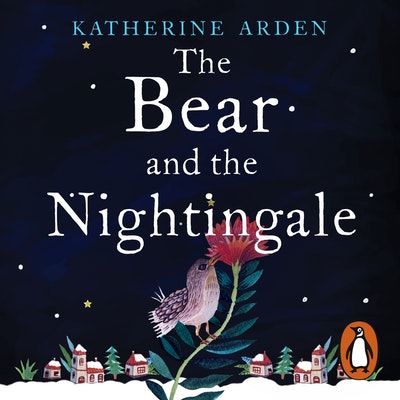 Published:

12 January 2017

ISBN:

9781473529540

Imprint:

Ebury Digital

Format:

Audio Download

Length:

11 hr 48 min

Narrator:

Kathleen Gati

RRP:

$24.99
The Bear and The Nightingale
(Winternight Trilogy)
---
---
---
A stunning, magical fairy tale for adults.
Random House presents the unabridged, downloadable audiobook edition of The Bear and the Nightingale by Katherine Arden, read by Kathleen Gati.
_____________________________
Beware the evil in the woods...
In a village at the edge of the wilderness of northern Russia, where the winds blow cold and the snow falls many months of the year, an elderly servant tells stories of sorcery, folklore and the Winter King to the children of the family, tales of old magic frowned upon by the church.
But for the young, wild Vasya these are far more than just stories. She alone can see the house spirits that guard her home, and sense the growing forces of dark magic in the woods. . .
Atmospheric and enchanting, with an engrossing adventure at its core, The Bear and the Nightingale is perfect for readers of Naomi Novik's Uprooted, Erin Morgenstern's The Night Circus, and Philip Pullman's His Dark Materials.
_____________________________
Now with over 100 5* reviews, readers are spellbound by this magical story:
'This book stayed with me, I didn't want it to end'
'A beautifully written story'
'An entrancing story, which swept me up from the very first chapter'
'Full of magic'
_____________________________
Make sure you've read all the books in the acclaimed Winternight Trilogy
1. The Bear and the Nightingale
2. The Girl in the Tower
3. The Winter of the Witch
Published:

12 January 2017

ISBN:

9781473529540

Imprint:

Ebury Digital

Format:

Audio Download

Length:

11 hr 48 min

Narrator:

Kathleen Gati

RRP:

$24.99
Praise for The Bear and The Nightingale
An extraordinary retelling of a very old tale. A Russian setting adds a unfamiliar spice to the story of a young woman who does not rebel against the limits of her role in her culture so much as transcend them. A wonderfully layered novel of family roles and the harsh wonders of deep winter magic.

Robin Hobb
A beautiful deep-winter story, full of magic and monsters and the sharp edges of growing up.

Naomi Novik
Haunting and lyrical, The Bear and the Nightingale tugs at the heart and quickens the pulse. I can't wait for her next book.

Terry Brooks
Arden's debut is an earthy, beautifully written love letter to Russian folklore, with an irresistible heroine ... [an] exciting fairy tale that will enchant readers from the first page

Publisher's Weekly
Enthralling and enchanting - I literally couldn't put it down. A wondrous book!

Tamora Pierce, bestselling author of the Song of the Lionness Quartet
The Bear and the Nightingale is a marvelous trip into an ancient Russia where magic is a part of everyday life

Todd McCaffrey, author of The Dragon Books
Fairy tale lovers, if you're going to read one fantasy book this winter, let this be it.... beautiful debut

www.bookish.com
[A]n enchanting wintertime read... fierce and otherworldly[.]

Psychologies Magazine
beautiful literary fairytale...incredibly lyrical prose...a joy to read. Arden opens her imagination wide and succeeds in transporting the reader to an evocative world...with a heroine it's impossible not to love...

Stylist
...so detailed and vivid you can practically feel the chill numbing your fingers. Beautifully written and richly textured, it's a beguiling read.

SFX Magazine
beautifully wrought fairytale for adults...

Writing Magazine
Wonderfully inventive

Heat Magazine
A thrilling tale...perfect...

Emerald Street
Arden's debut novel has the cadence of a beautiful fairy tale but is darker and more lyrical. The novel is deceptively simple, but its characters and plot are sophisticated and complex. Arden explores what happens when fear and ignorance whip people into a furore, and how society can be persuaded to act against its own interests so easily. It's a rather apt tale for our times.

Washington Post
A beautiful snowy Russian fable set at the border between myth and reality; a cast of demons, priests and royalty centre around a girl fighting to find her own path. Magical, thrilling and entrancing.

Anna James
An enchanting yet haunting Russian fairytale which inspires courage in a time of darkness

The Observer
Katherine Arden's Winternight Trilogy isn't just good - it's hug-to-your-chest, straight-to-the-favourites-shelf, reread-immediately good, and each book just gets better

Laini Taylor
A historical fantasy perfect for those who love ancient stories and tradition

Good Housekeeping