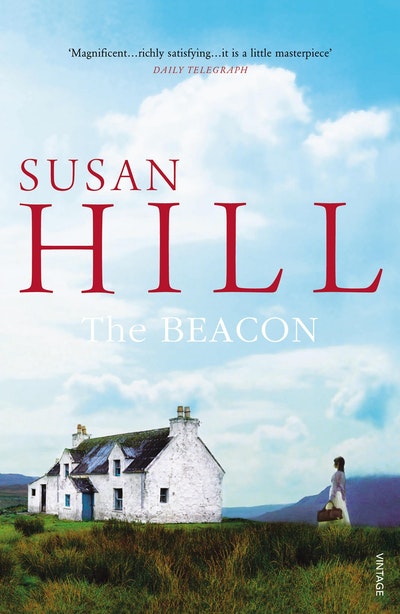 Published:

1 December 2010

ISBN:

9781409016724

Imprint:

Vintage Digital

Format:

EBook

Pages:

160
The Beacon
---
---
---
Marvellously written short novella from Susan Hill - a family story as evocative, gripping and Gothic as her best-selling ghost story, The Woman in Black.
The farmhouse was called The Beacon and they had been born and reared there, May, Colin, Frank and Berenice, but only May had been left for the last twenty-seven years ... May had been the clever daughter and she had escaped the shelter of The Beacon, just once, to go to university. But in London she had been pursued by nameless terrors, the victim of fears and anxieties. Now she was the spinster daughter, the one who stayed, who nursed her father after his accident and looked after her mother in her old age. Frank was the one who got away. He married and moved on. But why does no one dare even to mention Frank's name?
Few novelists are as clever at creating atmosphere as Susan Hill, and in The Beacon she evokes mystery, ambiguity and suspense in a story so brilliantly told, so deftly characterised and so economical with words that it continues to resonate long after the reader has closed the final pages.
Published:

1 December 2010

ISBN:

9781409016724

Imprint:

Vintage Digital

Format:

EBook

Pages:

160
Controlled, sparse and powerful writing

Woman and Home
Beautiful, clean prose...[an] absorbing story

Literary Review
An almost perfect little literary novel outside any genre...it possesses the light tug of menace and almost invisible haze of tension that characterise Hill's ghost stories...a novel of great structural and stylistic control

Guardian
Magnificent...It is all done so well, so wisely, that this short book is richly satisfying...it is a little masterpiece

Daily Telegraph
This enigmatic novella tracks the full impact of Frank's book, probing notions of guilt and truth, and deftly capturing those family bonds that warp even as they appear to nurture

Hephzibah Anderson, Daily Mail
Captivating... There is, from the start, a highly charged atmosphere of anxiety and ambiguity...the suspense and mystery work perfectly, and for this Hill's economy is exactly what is needed

Financial Times
Compelling, cut through with sloe-sharp details as Hill exhibits complete mastery of the tools at her disposal... Like a ringmaster flicking her whip, Hill manipulates an awful, pathetic irony uncoloured by melodrama... Reader's familiar with Hill's novels will not be surprised by the long spell cast by this one. Nor will they be disappointed in this spare and understated book, whose richness and intensity belie its elegant economy of effect. It is a moving, evocative and rewarding novel

The Times
Short, beautifully crafted and gripping... Hill's astute and skilful probing of motives and the ambiguities of appearances extends the reach of the novel much wider

Sunday Times
A clever novel that's timeless in its tension-building storytelling

Good Housekeeping
A brilliantly eerie little tale...with a very adroitly handled contemporary theme: the misery memoir

Scotland on Sunday
A chilling tale of a farming family

Fanny Blake, Woman and Home
Taut novella

James Urquhart, Financial Times
Misery memoirs may no longer be the flavour of the month, but according to Susan Hill's new novel, their consequences can be far reaching. In search of a quick buck, middle-aged journalist Frank Prime pens a bestseller detailing his childhood on a remote North Country farm.

Emma Hagestadt, The Independent
Not a word is wasted in this chilling novella

Natalie Sanderson, The Times
A thought-provoking story

Katie Owen, Sunday Telegraph
This novel is short, beautifully crafted and gripping

The Sunday Times Magazine
A work of great creepiness and subtle power. It will linger 'orribly in the mind.

Nicholas Lezard, The Guardian
Expertly structured, her beautifully written prose as haunting as the best ghost story

Sophie Missing, Observer
From ghost stories to crime thrillers to children's novels, Susan Hill is a writer of striking versatility. 'The Beacon' is a literary novel - done to spectacular effect

Catherine Humble, The Telegraph Review