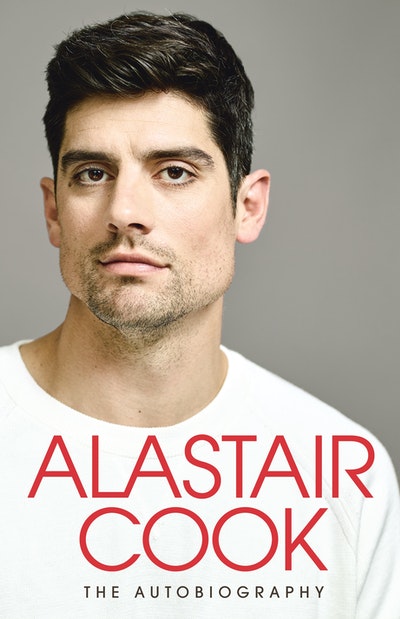 Published:

14 May 2020

ISBN:

9780241401446

Imprint:

Michael Joseph

Format:

Paperback

Pages:

384

RRP:

$22.99
The Autobiography
The Sunday Times Bestseller
---
---
---
The no-holds barred life story of Britain's greatest cricketer
Sir Alastair Cook is England's greatest batsman. In 12 years he achieved 12,472 runs, 161 Test matches, 33 hundreds, and 4 Ashes series wins.
But such records only tell half the story. Why, at the relatively early age of 33, did he suddenly quit?
Cricket, the sport of gleaming whites and gentility, is polite, friendly, and reserved. But beneath the surface anxiety looms, tensions run high and emotions can be explosive.
Alastair began and ended his England cricketing career on soaring highs, yet at times he feared for his career. He embodies the resilience, endurance and mental determination required at the highest level of international sport, fighting against the constant pressure and the ever-present fear of failure.
He recounts the fiery fall-out with Kevin Pietersen and the ruthless decisions a captain must make. He expands on the highs of leading England to their first series win in India in 28 years, the glory of four Ashes wins and what, finally, convinced him to leave international cricket.
To know Alastair Cook is to know what it takes to be successful, in any field. In this candid autobiography he captures not only what it takes to be one of England's greatest sportsmen but also the price paid by a professional athlete at the top of his game.
Published:

14 May 2020

ISBN:

9780241401446

Imprint:

Michael Joseph

Format:

Paperback

Pages:

384

RRP:

$22.99
Praise for The Autobiography
It makes for fascinating reading, as the former England captain recounts what it took to succeed at the top of his game - and reveals what made him decide to hang up his whites at the relatively early age of 33

Radio Times
A fascinating and layered book which delves into the psychological challenges of the game . . . a timely read at the end of an exhilarating yet flawed summer for English cricket

Guardian
Bracingly honest about the brutal nature of professional cricket

The Times
Reveals Cook as a teak-tough, mentally powerful competitor . . . Brutally honest insight into professional sport at the highest level

Press Association
Cricket legend Alastair Cook's remarkably candid autobiography reveals the pressures of playing the sport at the highest level for more than a decade

Choice
He details the complexity of the process, from technique to mental agonies, to draining team politics . . . there are also lots of endearing behind-the-scenes details

Strong Words
The best books to buy sports fans this Christmas

Daily Telegraph
He is England's greatest ever batsman...but behind that choirboy exterior, Cook is as tough as tugboats, a man who has spent his life doing one of the hardest, scariest jobs in sports - opening the batting in Test cricket. This hugely enjoyable book gives you an idea of quite how challenging it is, and makes you see that finding a replacement for "The Chef" at the top of England's batting order won't be any picnic

Sports Books of the Year Daily Mail
Hugely enjoyable

Sport Books of the Year, Daily Mail
Sir Alastair reveals his more ruthless and passionate sides in a book more probing than most sport biogs

Daily Mirror