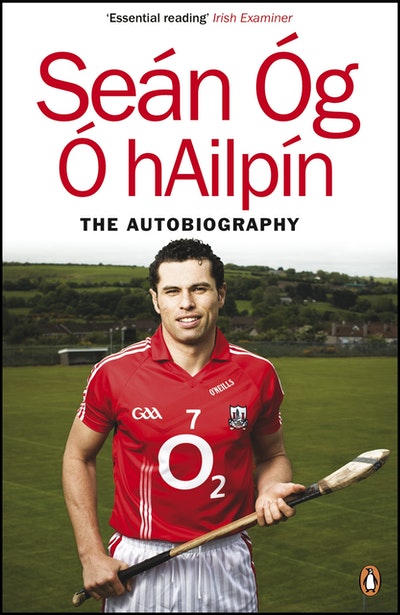 Published:

23 October 2013

ISBN:

9780141972886

Imprint:

Penguin eBooks

Format:

EBook

Pages:

320
The Autobiography
---
---
---
Sean Og O hAilpin, the iconic hurler of his generation, tells his own story.
Sean Og O hAilpin became synonymous with Cork hurling during a period when the Rebel County reached the highest of highs and was regularly gripped by controversy. Making his trademark barnstorming solo runs from left wing-back, Sean Og emerged as the lynchpin of the great group of Cork hurlers that won five Munster titles and three All-Irelands; in 1999 he contested All-Ireland finals in both codes. He was also central in standing up for players' rights against the Cork county board - a source of great controversy and two painful strikes.
Now, Sean Og tells his own story in his own words - a story every GAA fan has been waiting to read. Full of frank insights, Sean Og's autobiography is not just an essential sporting story; it is an essential Irish story.
'A captivating tale of family, identity and belonging' Sunday Business Post
'Hugely enjoyable' Evening Echo
'A compelling, honest read that draws blood along the way ... a tale so rich that the wonder never leaves' Irish Daily Mail
'Riveting' Irish Daily Star
'Excellent ... a really enjoyable read' Christy O'Connor, Evening Echo

'This is Sean Og as he really is. Essential reading' Irish Examiner
'Sean Og's autobiography is a fine read. What an extraordinary figure he is' Sonia O'Sullivan

%%%Sean Og O hAilpin, the iconic hurler of his generation, tells his own story.
Sean Og O hAilpin became synonymous with Cork hurling during a period when the Rebel County reached the highest of highs and was regularly gripped by controversy. Making his trademark barnstorming solo runs from left wing-back, Sean Og emerged as the lynchpin of the great group of Cork hurlers that won five Munster titles and three All-Irelands; in 1999 he contested All-Ireland finals in both codes. He was also central in standing up for players' rights against the Cork county board - a source of great controversy and two painful strikes.
Now, Sean Og tells his own story in his own words - a story every GAA fan has been waiting to read. Full of frank insights, Sean Og's autobiography is not just an essential sporting story; it is an essential Irish story.
'A captivating tale of family, identity and belonging' Sunday Business Post
'Hugely enjoyable' Evening Echo
'A compelling, honest read that draws blood along the way ... a tale so rich that the wonder never leaves' Irish Daily Mail
'Riveting' Irish Daily Star
'Excellent ... a really enjoyable read' Christy O'Connor, Evening Echo
'This is Sean Og as he really is. Essential reading' Irish Examiner
'Sean Og's autobiography is a fine read. What an extraordinary figure he is' Sonia O'Sullivan

Published:

23 October 2013

ISBN:

9780141972886

Imprint:

Penguin eBooks

Format:

EBook

Pages:

320