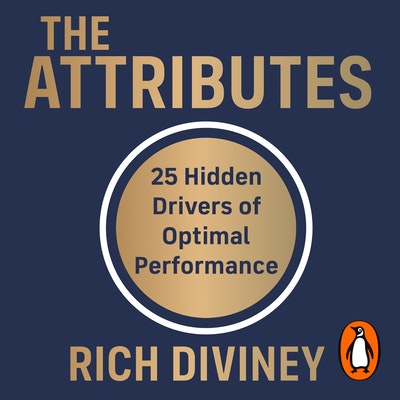 Published:

28 January 2021

ISBN:

9780753558850

Imprint:

Virgin Digital

Format:

Audio Download

RRP:

$26.99
The Attributes
25 Hidden Drivers of Optimal Performance
---
---
---
Navy SEAL officer and founder of the SEAL 'MindGym', Rich Diviney reveals the ATTRIBUTES that determine success in any area, and how they can be developed and built.
Learn the secret to being the best
During his twenty years as a Navy SEAL, Commander Rich Diviney was intimately involved in the world-renowned SEAL selection process, which whittles exceptional candidates down to a small cadre of the most elite optimal performers. But Diviney was often surprised by which recruits washed out and which succeeded. Someone could have all the right skills and still fail, while recruits he might have initially dismissed would prove to be top performers. The seemingly objective criteria weren't telling him what he most needed to know: Who could be part of the world's most elite military unit?
Eventually, he cracked the code. Through years of observation, Diviney learned to identify a successful recruit's core ATTRIBUTES, the innate traits for how a person performs as an individual and as part of a team. That same methodology can be used by anyone in their personal or professional lives.
In this book the key ATTRIBUTES for success-- including cunning, adaptability, even narcissism--are defined in fresh and surprising ways, and Diviney shows how they can be applied to a team as readily as a person. Understanding your own attributes and those of the people around you can fast-track optimal performance in all areas of your life.

Published:

28 January 2021

ISBN:

9780753558850

Imprint:

Virgin Digital

Format:

Audio Download

RRP:

$26.99