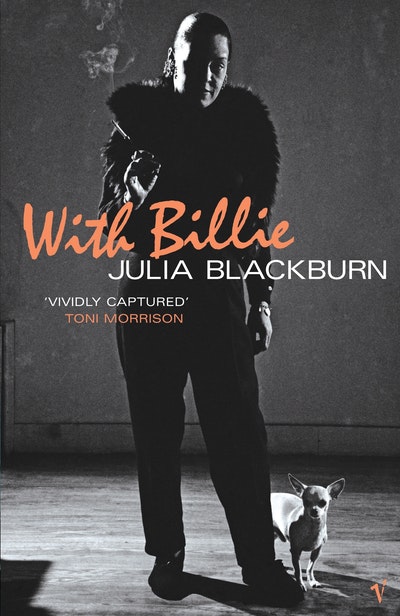 Published:

1 February 2011

ISBN:

9781407073873

Imprint:

Vintage Digital

Format:

EBook

Pages:

368
The Accidental Tourist
---
---
---
'Julia Blackburn has an extraordinary talent for thinking herself into other worlds...So vivid are her conjurings of lives lived elsewhere or long ago, you begin to suspect she sees ghosts' - Evening Standard
'This is a raw, true book that evokes not just the life of the great singer Billie Holiday but an entire jazz era....' Mail on Sunday
Julia Blackburn's brilliant and haunting book is a life of Billie Holiday told in the voices of those who knew her.
During the 1970s a young woman called Linda Kuehl, planning to write a biography of Billie, recorded interviews with more than 150 people. Kuehl died in 1978 and her book never came out, but her recordings survived to provide the raw material for this extraordinary account of the life of America's First Lady of Jazz.
These same recordings have been used as the basis for the 2020 film, Billie.
Billie Holiday is usually portrayed as a tragic victim of her own vices. These intimate stories give us a much deeper picture of her personality - we witness scenes from her chaotic childhood; we see her when she first arrives in Harlem at the age of fourteen; and we follow her through her rise to fame and into the notoriety that came so close on its heels.
Billie's friends and lovers and fellow musicians talk about her troubles and her addictions, but they also have a lot to say about her warmth and her courage, and the ones who were really close to her understood that although she had a lot of men and drugs and booze in her life, all that really mattered was the singing.
______________
PRAISE FOR WITH BILLIE:
'Gives a far more complete idea of Holiday as an artist than anything else I have read, GuardianJulia Blackburn's book gives a far more complete idea of Holiday as an artist than anything else I have read' Guardian
'This addition to the tide of Billie Holiday books is extremely welcome. Nowhere else is the context of her life and work so vividly captured' Toni Morrison
'Full of vigour and colour...Ms Blackburn's portrait of a unique artist is moving, revealing and quite unforgettable' Economist

Published:

1 February 2011

ISBN:

9781407073873

Imprint:

Vintage Digital

Format:

EBook

Pages:

368
Praise for The Accidental Tourist
Her masterpiece

Daily Mail
Brilliant, funny, sad and sensitive

Independent on Sunday
Everything this author writes is shot through with intelligent insight, humour and humanity

Daily Mail
Anne Tyler gets better with every book, and this one is a triumph - funny, profound, sad and ultimately reassuring

Sunday Telegraph
Warmly entertaining and sharply organised against cuteness or mush

Guardian
The Accidental Tourist is one of Anne Tyler's best books

New York Times
A beautiful, incandescent, heartbreaking, exhilarating book. The Accidental Tourist cuts so close to the bone that it leaves one aching with pleasure and pain. Words fail me: one cannot reasonably expect fiction to be much better than this

Washington Post
I'm inspired by every word that she writes

Woman & Home
'Often books about jazz musicians make the mistake of over-focusing on the music. Blackburn is more interested in Billie as a person' Mike Figgis, Guardian
'This is a raw, true book that evokes not just the life of the great singer Billie Holiday but an entire jazz era.... Blackburn's compelling tale is of whores, drug-pushers, bent policemen and crooked lawyers as well as brilliant musicians, and she brings alive everything she touches.' George Walden, Mail on Sunday
'This is a really marvellous book, the most uninhibitedly intimate portrayal ever of the short, hard life and overall musical triumph of Lady Day...With Billie vividly reflects the chaos that Billie Holiday was born into and only rarely escaped from' Patrick Skene Catling, Spectator
'Julia Blackburn...has contributed much to the legacy of a remarkable human being.' Stuart Nicholson, New Statesman
'With her assured touch, she has transcribed and framed the verbatim accounts into a resonant piece of social history, never losing sight of the woman who enthralled everyone with whom she came into contact' Lilian Pizzichini, Financial Times
'Full of vigour and colour...Ms Blackburn's portrait of a unique artist is moving, revealing and quite unforgettable' The Economist