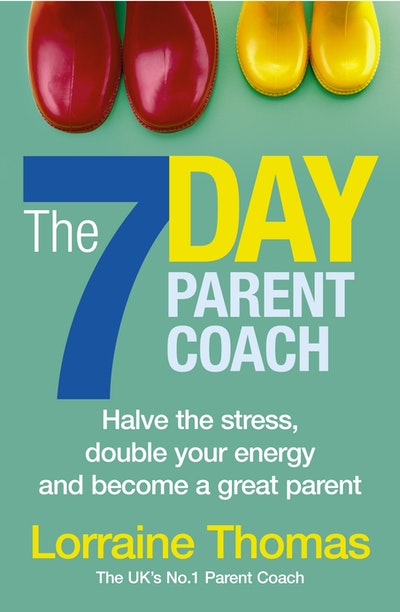 Published:

30 September 2012

ISBN:

9781448147045

Imprint:

Ebury Digital

Format:

EBook

Pages:

304
The 7 Day Parent Coach
Halve the stress, double your energy and become a great parent
---
---
---
A ground-breaking and innovative approach to solving problems that affect all parents
Being a parent is one of the most rewarding, most important jobs you'll ever do in your life - and it's also the most challenging. A growing number of parents are seeking professional help from parent coaches to help them cope with the struggles of family life.
Lorraine Thomas, the UK's leading parent coach has written this book based on her extensive experience and expertise. Her approach is unique. She doesn't offer general advice, counselling or therapy, but instead provides a practical framework for parents to focus on solutions to common family problems and develop tailor-made strategies to help achieve them within a manageable timeframe - just 7 days.
With accessible advice on the top problems that all parents are faced with, The 7-Day Parent Coach also offers information on: - how to communicate with your children- how to deal with the guilt of being a working parent- how to survive the family evening 'arsenic hours'And much more!
This is the essential guide for all twenty-first century parents.
Published:

30 September 2012

ISBN:

9781448147045

Imprint:

Ebury Digital

Format:

EBook

Pages:

304
Praise for The 7 Day Parent Coach
'packed full of practical tips and real solutions to everyday dilemmas'

Image
'packed with solutions to the everyday challenges of family life... will help you tackle parenthood with renewed confidence'

Practical Parenting
Being a good parent is probably the most responsible and rewarding role you could ever have. It is also unquestionably the hardest. Unfortunately good parenting skills are not instinctive, and all of us need practical tips and guidance for success, satisfaction and survival. The 7-Day Parent Coach supplies all these needs and more in a comprehensive and reassuring way...a star is born.

Dr Hilary Jones
Lorraine Thomas is not only inspirational, even more importantly she is extremely practical. She will open your eyes and help you take control in your parenting role. The 7 Day Parent Coach is a real investment.

Steve Chalke MBE, Broadcaster, Writer and Founder of Parentalk
Hugely relieved that I would not be required to do any man-hugging or shout, 'I'm a wonderful father' to myself in a mirror, I was then amazed at how quickly Lorraine helped me find clear solutions to my niggle. Though cringingly obvious now, the answers were not quite so clear when I was up to my eyeballs in toys, work, questions about kittens, sleepovers, friends, cooking, more questions about kittens, maintaining a meaningful and fulfilling relationship with my partner, whilst at the same time trying to be a fun, positive, kitty-loving role model at all times. Implement the changes and watch things improve - it's as simple as that.

Dave Smith, Parenting Writer