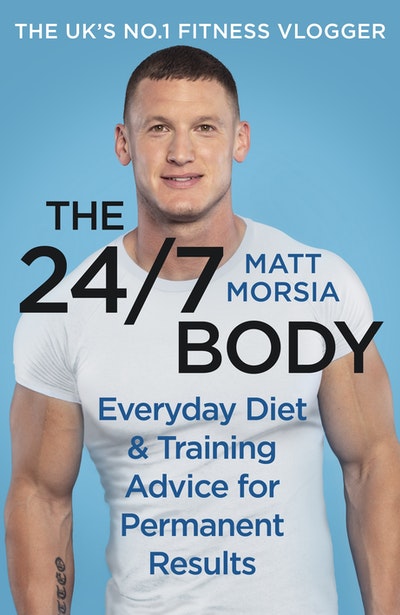 Published:

5 January 2021

ISBN:

9781529135244

Imprint:

Century

Format:

Trade Paperback

Pages:

272

RRP:

$35.00
The 24/7 Body
The Sunday Times bestselling guide to diet and training
---
---
---
What can you achieve in one hour? Demystifying diet and workout advice from one of the UK's Top Fitness YouTubers
***OUT NOW - the first book by Matt Morsia, the UK's #1 Fitness Vlogger***
THE SUNDAY TIMES TOP TEN BESTSELLER
'Powerfully dispels myths with science and humour - every gym bag deserves a copy' ROSS EDGELY, #1 bestselling author of The Art of Resilience and The World's Fittest Book
'More fitness viewers than Joe Wicks . . . Matt Morsia trained for the Olympics, beat an eating disorder and overcame depression. Now he has published The 24/7 Body, a book based on cutting-edge science which dispels the myths about fad diets and workouts' THE SUN
'Shattering diet myths and clearing up a wealth of misinformation' SUNDAY TIMES
______________________________________
Whatever your goals or your level of fitness, this book offers you a plan to make you look and feel great 24/7.
I've tried every workout and fad diet so you don't have to.
As a former PE teacher, athlete, personal trainer and now one of the biggest fitness YouTubers in the World (a.k.a an absolute weirdo who films themselves doing stuff), the most common question I get from followers and even people in the street is, 'How do I get a body like yours?'
People will almost whisper it, as if I'm going to usher them into a dark alleyway and reply with some kind of mystical secret. Like they're expecting to be told that they need to drink 263ml of maple syrup three times a day whilst reading the complete works of Shakespeare to their dog. Other times they seem to want me to reveal a protocol of supplements, with an inference that I must be taking steroids or other drugs, because having a good body without chemicals is now seen by some as almost impossible. It's not.
This book is my attempt to shatter all of those myths and give it to you entirely straight. It is about understanding how to live your life in a more healthy, sustainable and happy way-and how to maintain that forever. And I'm not talking about becoming a monk and only eating lettuce. If you want to eat McDonald's, go for it. Eating crappy food doesn't make you fat and by the time you're done with the book you'll understand why. I want to arm you with your own set of tools so that you can tailor my methods and experiences to you and your own unique situation.
Published:

5 January 2021

ISBN:

9781529135244

Imprint:

Century

Format:

Trade Paperback

Pages:

272

RRP:

$35.00