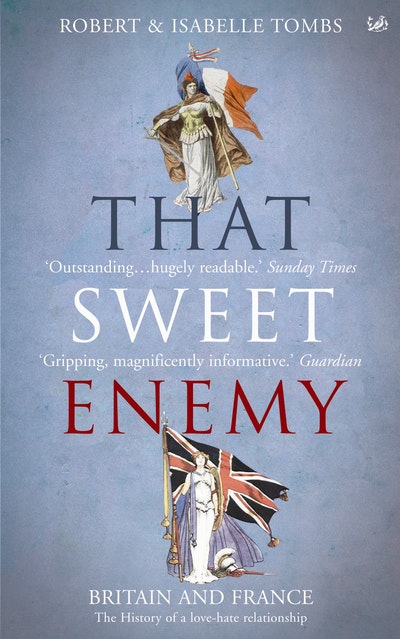 Published:

1 August 2011

ISBN:

9781446426234

Imprint:

Vintage Digital

Format:

EBook

Pages:

816
That Sweet Enemy
The British and the French from the Sun King to the Present
---
---
---
A magisterial study of the unique and fascinating relationship between France and Britain - and its effects on the world.
From Blenheim and Waterloo to 'Up Yours, Delors' and 'Hop Off You Frogs', the cross-Channel relationship has been one of rivalry, misapprehension and suspicion. But it has also been a relationship of envy, admiration and affection.
In the nearly two centuries since the final defeat of Napoleon, France and Britain have spent much of that time as allies - an alliance that has been almost as uneasy, as competitive and as ambivalent as the generations of warfare. Their rivalry both on peace and war, for good and ill, has shaped the modern world, from North America to India in the eighteenth century, in Africa, the Middle East and South East Asia during the nineteenth and twentieth centuries, and it is still shaping Europe today.
This magisterial book, by turns provocative and delightful, always fascinating, tells the rich and complex story of the relationship over three centuries, from the beginning of the great struggle for mastery during the reign of Louis XIV to the second Iraq War and the latest enlargement of the EU. It tells of wars and battles, ententes and alliances, but also of food, fashion, sport, literature, sex and music. Its cast ranges from William and Mary to Tony Blair, from Voltaire to Eric Cantona; its sources from ambassadorial dispatches to police reports, from works of philosophy to tabloid newspapers, from guidebooks to cartoons and films.
It's a book which brings both British humour and Gallic panache to the story of these two countries, in sickness and in health, for richer for poorer, in victory and in defeat, in dominance and in decline.
Published:

1 August 2011

ISBN:

9781446426234

Imprint:

Vintage Digital

Format:

EBook

Pages:

816
Praise for That Sweet Enemy
An outstanding study of a three-century love-hate relationship... hugely readable.

Andrew Roberts, Sunday Times
Deftly written and meticulously researched... packed with detail and anecdote.

John Thornhill, Financial Times
Well-written and thoroughly researched... There is as good an account as you could want of the rivalry in the 18th century...and of the Napoleonic wars that took the story into the 19th... A satisfying and intelligent book, packed with information and provoking in its assertions and conclusions.

Simon Heffer, Daily Telegraph
This is an important book... Gripping, magnificently informative... with a delicious streak of dry humour.

Adam Thorpe, Guardian