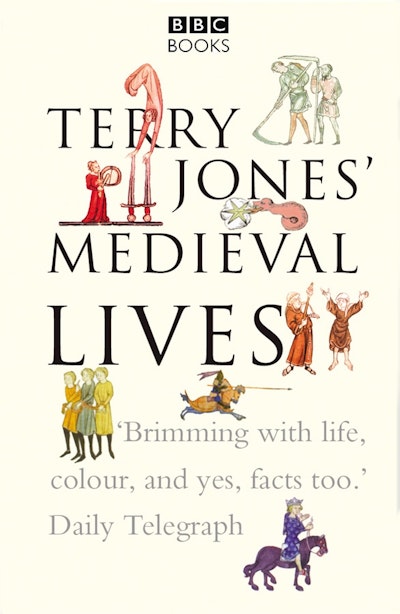 Published:

1 September 2010

ISBN:

9781409070450

Imprint:

BBC Digital

Format:

EBook

Pages:

240
Terry Jones' Medieval Lives
---
---
---
Terry Jones' revealing and entertaining account of life in medieval Britain
Was medieval England full of knights on horseback rescuing fainting damsels in distress? Were the Middle Ages mired in superstition and ignorance? Why does nobody ever mention King Louis the First and Last? And, of course, those key questions: which monks were forbidden the delights of donning underpants... and did outlaws never wear trousers?
Terry Jones and Alan Ereira are your guides to this most misrepresented and misunderstood period, and they point you to things that will surprise and provoke. Did you know, for example, that medieval people didn't think the world was flat? That was a total fabrication by an American journalist in the 19th century. Did you know that they didn't burn witches in the Middle Ages? That was a refinement of the so-called Renaissance. In fact, medieval kings weren't necessarily merciless tyrants, and peasants entertained at home using French pottery and fine wine.
Terry Jones' Medieval Lives reveals Medieval Britain as you have never seen it before - a vibrant society teeming with individuality, intrigue and innovation.
Published:

1 September 2010

ISBN:

9781409070450

Imprint:

BBC Digital

Format:

EBook

Pages:

240
Praise for Terry Jones' Medieval Lives
Brimming with life, colour, and yes, facts too

Daily Telegraph
Jones is a reliable and accurate guide to his period, mercifully free from the pomposity that afflicts so many telly historians. Three cheers for Terry Jones

London Evening Standard
Jones laces the latest academic research with his own increasingly avuncular humour. Who says history can't be fun? In the hands of Professor Jones, how could it be anything else?

Observer
Jones really knows his subject, he is also a passionate apologist for the Middle Ages.... and you also learnt things which made your view of the period a little more complex

Independent