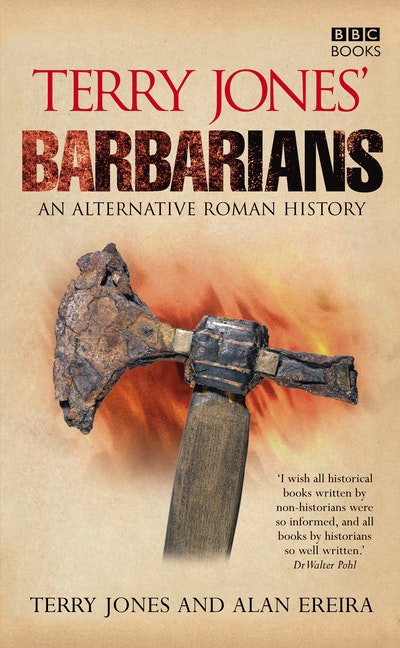 Published:

1 September 2010

ISBN:

9781409070429

Imprint:

BBC Digital

Format:

EBook

Pages:

352
Terry Jones' Barbarians
---
---
---
An entertaining rewriting of Roman history from the perspective of the 'Barbarians' - who weren't really barbaric at all!
Terry Jones' Barbarians takes a completely fresh approach to Roman history. Not only does it offer us the chance to see the Romans from a non-Roman perspective, it also reveals that most of those written off by the Romans as uncivilized, savage and barbaric were in fact organized, motivated and intelligent groups of people, with no intentions of overthrowing Rome and plundering its Empire.
This original and fascinating study does away with the propaganda and opens our eyes to who really established the civilized world. Delving deep into history, Terry Jones and Alan Ereira uncover the impressive cultural and technological achievements of the Celts, Goths, Persians and Vandals.
In this paperback edition, Terry and Alan travel through 700 years of history on three continents, bringing wit, irreverence, passion and scholarship to transform our view of the legacy of the Roman Empire and the creation of the modern world.
Published:

1 September 2010

ISBN:

9781409070429

Imprint:

BBC Digital

Format:

EBook

Pages:

352
Praise for Terry Jones' Barbarians
I have enormously enjoyed this book - it is very lively and really does get to grips with perceptions of the Barbarians. It's just what we need to readdress the balance and to put the Romans in their correct perspective.

Barry Cunliffe, Professor of European Archaeology, University of Oxford
Jones laces the latest academic research with his own increasingly avuncular humour. Who says history can't be fun? In the hands of Professor Jones, how could it be anything else?

Observer
I wish all historical books written by non-historians were so informed, and all books by historians so well written.

Dr Walter Pohl, Head of the Institute for Medieval History Research, Vienna Academy of Sciences